Brain donations and dementia research
Some people living with dementia choose to help to advance research by arranging to donate their brain tissue to science. And this material can be very helpful in learning how dementia changes the brain. Here is some information about this process in Canada.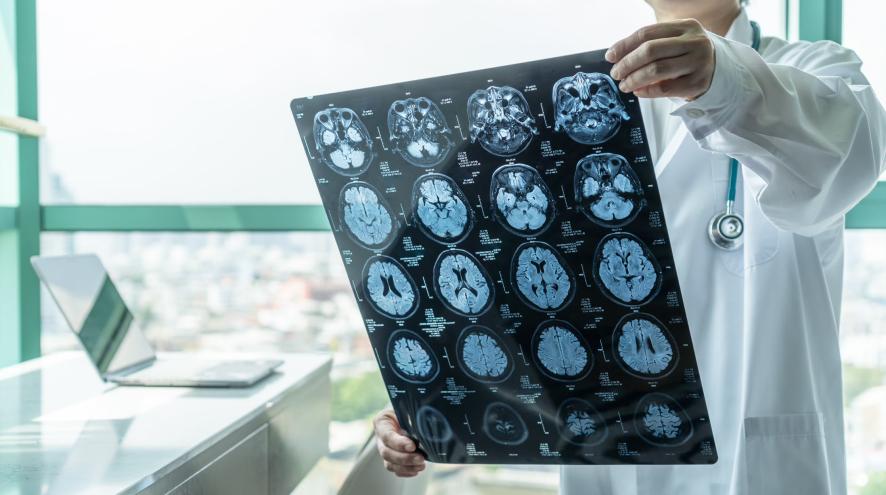 There are many different types of dementia research.
One type of research involves studying the brain tissue of people who were affected by dementia.
This type of research can help scientists better understand dementia's impact on the brain structures and brain cells.
In Canada, there are a few key centres involved with brain donation.
Also, anyone in Canada who wants to donate their brain tissue to science has to go through a series of steps detailed below.
Key centres to know about
For more information about donating brain tissue for research in Canada, contact:
The Huntington Disease Biobank
Centre for Molecular Medicine and Therapeutics
University of British Columbia
950 W 28th Ave, Rm 3007
Vancouver, British Columbia V5Z 4H4
Phone: (604) 858-3811
Website: www.hdbiobank.med.ubc.ca
The Maritime Brain Tissue Bank
Sir Charles Tupper Building
Faculty of Medicine, Dalhousie University
Halifax, Nova Scotia B3H 4R2
Phone: Andrew Reid at (902) 494-4130
Website: http://braintissuebank.dal.ca/tissue-donations/info-for-donors
The Douglas-Bell Canada Brain Bank (residents of Quebec only)
Douglas Hospital Research Centre
6875 LaSalle Blvd.
Borough of Verdun
Montreal, Quebec H4H 1R3
Phone: (514) 761-6131 ext. 0 and ask for the "brain bank"
Website: http://douglasbrainbank.ca/
Note: Brain donation to the Douglas-Bell Canada Brain Bank is currently restricted to participants of longitudinal cohort studies such as CIMA-Q (http://www.cima-q.ca/en/home/) and CCNA (https://ccna-ccnv.ca/).
Step by step: How to make arrangements for brain donation
Inform the attending physician that you would like an autopsy of the brain to be made and request a consent for autopsy form.
Complete a consent for autopsy form as follows:

Indicate that a brain autopsy is being requested,
Specify in writing that a donation to a brain bank is also being requested,
Indicate which location you would like the brain donation to be sent to: 1) Maritime Brain Tissue Bank or 2) Douglas-Bell Canada Brain Bank, and
Ensure that the next of kin signs the consent form

The on-call pathologist within the hospital is to be notified that a brain autopsy has been requested.
Contact the brain bank to inform them that a brain donation is being made following the autopsy.
Following the autopsy, hospital staff will make arrangements to have half of the brain sent to the requested brain bank as per the instructions stated on the consent for autopsy form.
A few other things to consider
Half of the brain tissue will be usually retained by the hospital to confirm the neuropathological diagnosis. A report of the findings should be made available to the family via the physician who requested the autopsy. A copy should also be sent to the receiving brain bank for their confidential records.
In some provinces and territories there is also a fee associated with brain autopsy. It is recommended that you consult your physician for these details.
In cases where the donor passes away at home or within a care residence, costs for autopsy will likely apply.
About funeral arrangements and brain donation
It is important to mention that a brain autopsy does not interfere with the funeral service.
There are generally no visible scars resulting from the procedure and the donor can have an open casket if preferred.
A 24-hour delay should be expected.
Other ways to participate in research
There are many ways for people with dementia to participate in research. Brain donation is just one option.
Other options for participating in research can include observational studies and clinical studies.
Observational studies involve interviews and/or tests with people impacted by a particular disease or condition.
Clinical studies involve trying out a new drug, therapy or behaviour and testing how it impacts someone with a particular disease or condition.
Interested in joining a dementia study?
If you are interested in joining an observational study or clinical study in Canada, you can find a list of current dementia-research opportunities at at alzheimer.ca/find-studies.
Our research portal includes online-only and in-person studies. It also includes opportunities for people living with dementia, carers, family members and others.
The portal is frequently updated with new opportunities to join research studies. If you don't find what you are looking for today, bookmark the portal and check it again soon at alzheimer.ca/find-studies.