Gift ideas for people with dementia
Canada
read
Gift-giving and receiving can be a fun part of many holidays. Here are some ideas on gifts for people living with dementia.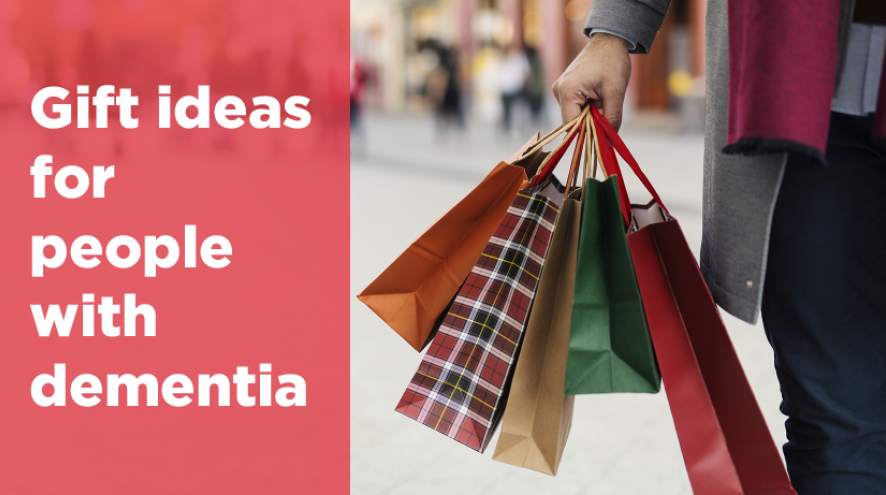 If someone on your list is a person living with dementia, it may be challenging to think of gifts that are appropriate for the person's changing abilities.
But no matter the type or stage dementia, a good gift exists that can bring them joy and support their quality of life.
Read on for some important tips and ideas to consider.
General tips
No matter what stage of dementia a person is experiencing, keep in mind they can often still enjoy some of the same things they used to. Think about the person's unique interests, likes and dislikes and try to personalize your gift as much as possible.
For people in the earlier stages of dementia, look for gifts that can help keep the person active physically and socially. Staying active safely can help with managing symptoms. Assistive products for independent living can also be helpful.
For those in the middle to later stages of dementia, simple gifts that provide sensory stimulation are often the best choice. These kinds of gifts can help promote pleasant memories and feelings.
Scrapbook and photo album gifts
Photos are a great way for people living with dementia to reminisce on pleasant memories. They're also a fun, engaging activity that can spark conversations among everyone at your gathering and help include the person with dementia in the festivities.
Alternatively, consider giving them a framed photo. Whether it depicts new or older moments, giving something that the person can display in their home can bring recurring joy.
Comfy clothes gifts
People living with dementia can struggle with dressing, so anything that can make it a little easier and more comfortable is a great idea. Look for items that are easy to put on, such as sweaters with zippers, comfy pants or warm socks.
Music and video gifts
Music can be a powerful source of joy and comfort for people with dementia, and for those around them, at all stages of the condition. Look for a CD or music DVD from the person's favourite artist or group. Or, for a truly personalized gift, create a playlist with the person's favourite songs and load it onto a smartphone, tablet, computer or other device.
Another great option is a DVD of the person's favourite movie or TV show, or a set of classic movies. If the person is in the more advanced stages, consider nature videos or other soothing videos that are stimulating for the eyes and ears.
If they use a streaming service such as Apple Music, Netflix, Spotify or Google Play, consider getting them a gift card that can help pay for a subscription or digital purchases.
Book and magazine gifts
Great gift options for the person with dementia on your list can range from the latest book by their favourite author to a magazine about their favourite hobby.
If you find that the person previously loved reading but now struggles, consider getting an audiobook. Many popular books today now have an audiobook version, whether on tape, CD, MP3, e-reader or through streaming online. More publishers are also beginning to acknowledge the need for books specially designed for people with dementia. These books have large print, thicker pages and emphasize visuals.
If the person is in the more advanced stages of dementia, consider reading them their favourite book aloud instead.
Game and puzzle gifts
Look for activities that stimulate the brain or promote social interaction such as games and puzzles. These can range from simple to more challenging based on the person's abilities. Try games that use brightly coloured and identifiable cards and pieces, such as Uno or checkers.
Scent and soap gifts
These items can help keep the person feeling special, peaceful and dignified. Anything that provides positive sensory stimulation for the person will be greatly received, regardless of the stage of their dementia. If the person loved the smell of lavender, for example, look for a nice scrub, lotion, cologne or aftershave with that scent.
Assistive product gifts
There are a variety of products that have been designed to help people living with dementia perform and enjoy certain tasks. These products include clocks, calendars, phones, books, games, puzzles and more. These can be purchased from a specialty store or, if you're feeling creative, you could DIY (do it yourself). For example, you might create a memory calendar for the upcoming year with family photos and important dates such as birthdays and anniversaries.
Check out our webpage about shopping for assistive devices to learn more or to get some ideas. 
The gift of time
The best gift by far is simply spending time with the person living with dementia. Take them out for lunch, go see a movie together, or do whatever you think makes that person happy.
Gift cards are sometimes seen as impersonal, but they can be a great opportunity for social time together. If the person is in the early or middle stages of dementia, take them out shopping so they can use their gift card, giving both some independence and a social activity.
If the person is in the more advanced stages of dementia, simply spend time with them. Listen to their favourite music, tell them about your day and make them feel relaxed and appreciated.
This article was last updated on December 15, 2022. If you have any comments, questions or concerns about this article, please contact [email protected]