What Canadians are saying: why does a fully-funded national dementia strategy matter?
Canada
We asked people living with dementia, caregivers and researchers for their thoughts on why a fully-funded national dementia strategy matters. Here's what they have to say: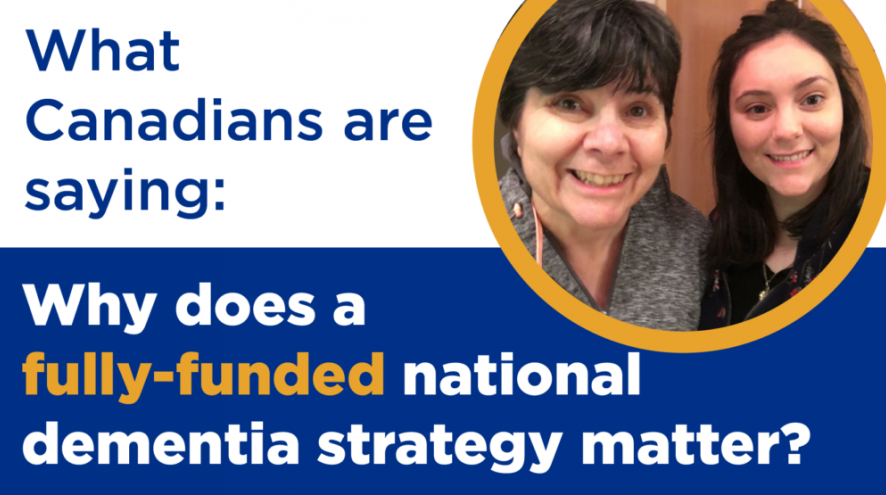 It will foster a network of support for people with dementia and caregivers
Who are you?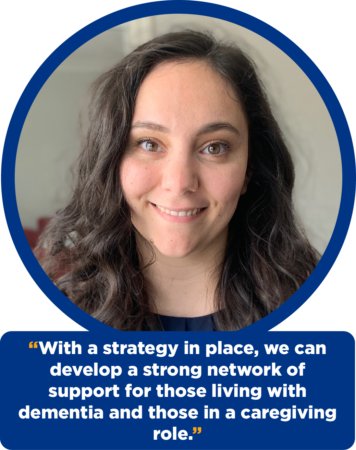 My name is Kathleen Fraschetti and I'm a caregiver to my mom, Moira. She was diagnosed with dementia in her early 50s while I was still in university. At the time, I didn't understand the impact that this diagnosis would have on my mom, my family or myself.
Like many others, my initial understanding of dementia was in the context of a memory disease; people with dementia lost their keys, forgot birthdays and overbought on groceries. However, as my mom lost her ability to drive, feed herself, walk and talk I realized the overwhelming effect dementia has on not only the person with the disease, but the caregiver as well.
What is the biggest barrier you have faced in your experience with dementia?
Throughout my journey as a caregiver, I've found the lack of resources for both people living with dementia and caregivers to be a significant barrier in providing care. When my mom was first diagnosed, there were few supports for young caregivers, including ways to get connected to each other. In fact, it took five years until I met another person who was in the same situation as me.
I now understand the significance of having these friendships and relationships with other caregivers — they provide an outlet for those who understand the challenges associated with caregiving at a young age. Being connected to others like myself also gives me the opportunity to discuss the services, resources and 'life hacks' that help make life easier.
What is one way in which a fully-funded national dementia strategy will help you?
I live in a major city where there are some resources available to my mom and myself. However, the process to access those resources is often confusing and associated with significant waitlists and 'hoops' to jump through. Besides giving some needed clarity to this overwhelming process, a national dementia strategy would help provide targeted resources for both people living with dementia and caregivers.
A national dementia strategy also has the potential to connect caregivers across the country. With a strategy in place, we can develop a strong network of support for those living with dementia and those in a caregiving role, especially for young adults such as myself.
It will ensure people get the help they need from the moment of diagnosis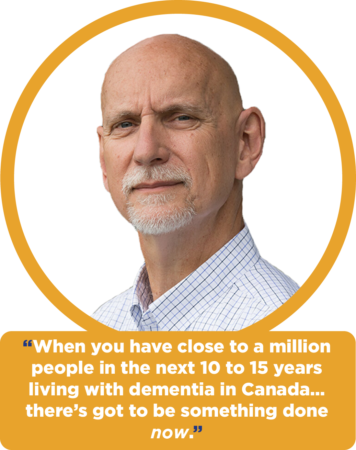 Who are you?
My name is Keith Barrett, I'm 59 years old, I live in Ontario and I'm a person living with dementia.
What is the biggest barrier you have faced in your experience with dementia?
Three years ago, at age 56, I was diagnosed with young onset dementia – probable Alzheimer's. I couldn't believe it – there was no family history of the disease and I was still working and driving. But the test results said otherwise.
One of the hardest parts about my diagnosis – besides the fear of losing my abilities and the fact that there is no cure – was facing the stigma associated with dementia. The disease often conjures up the image of someone medicated and confined to a nursing home, or locked away so they won't wander, as well as not being able to make decisions.
Yes, I have many difficulties in processing and retaining new information, recognizing people and places and I'm challenged with anxiety and impatience. But I still drive to work every day. Thanks to an understanding and supportive team, I'm still able to contribute.
I'm working really hard to keep everything that I have – my memories, skills and abilities – for as long as I can. I want everyone to know that a diagnosis doesn't mean that you have to stop everything and give up a meaningful life.
What is one way in which a fully-funded national dementia strategy will help you?
The national dementia strategy is long overdue. When you have close to a million people in the next 10 to 15 years living with dementia in Canada… something needs to be done now. I want everyone living with dementia to get the best possible support and services. I want people to understand that you don't necessarily become a person who needs a lot of support at the very moment you're diagnosed. I don't want people to be afraid to seek a reason for their symptoms.
I still have a lot of life to live. With increased awareness and understanding, more people like me can live well with dementia and continue to enjoy life for as long as possible. The national dementia strategy is the first step.
It will support quality of life programs that help people with dementia, families and caregivers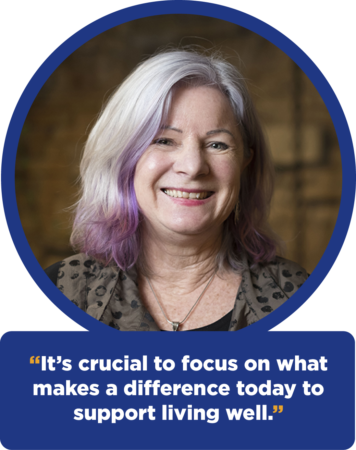 Who are you?
I'm Debra Sheets, PhD, MSN, RN, FAAN. I'm 62 years old, and live in Victoria, British Columbia. I'm a nurse researcher.
What is the biggest barrier you have faced in your experience with dementia?
In my experience, the biggest barrier facing people with dementia is delayed diagnosis. The assumption seems to be that without a cure, there's no point in seeking medical care.
This limits treatment of conditions that can be reversed and interventions that may slow or delay progression of dementia. There is so much stigma associated with dementia that people are afraid to get diagnosed.
What is one way in which a fully-funded national dementia strategy will help you?
A fully-funded national dementia strategy is needed to effectively address dementia-related stigma in Canada. For people with dementia, stigma can increase the risk factors for social isolation and diminished quality of life. A social movement is needed to create dementia-friendly communities where people with dementia feel comfortable, safe and can participate fully in meaningful activities.
Rather than pinning all our hopes on a medical cure for dementia, it's crucial to focus on what makes a difference today to support living well. Social prescriptions are needed to move beyond the focus on the disease and improve access to non-clinical programs that improve life in the shorter-term.
For example, the Voices in Motion multigenerational choir is a social program that brings together individuals with dementia, their caregivers and high school students to socialize and sing in a professionally directed choir. Funded by the Alzheimer Society Research Program and the Pacific Alzheimer Research Foundation, the choir offers a joyful inclusive experience for members that is meaningful, fosters social connections, and gives a sense of accomplishment.
It also reduces stigma in the broader community by making dementia visible and showing the potential to learn and contribute while living with dementia. Policy support is needed for programs like the Voices in Motion choir, a relatively inexpensive program, bringing significant health benefits and delaying transitions from community to care settings.
It will challenge Canadians' assumptions about dementia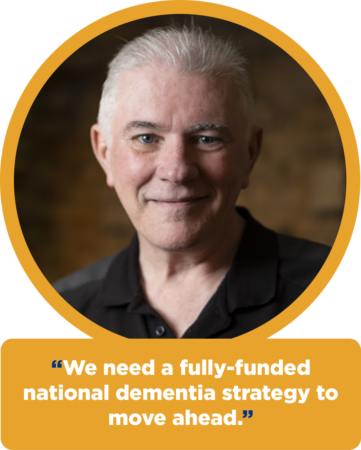 Who are you?
I'm Roger Marple, 61, from Medicine Hat, Alberta. I'm a person living with dementia.
What is the biggest barrier you have faced in your experience with dementia?
Personally, it's not so much the challenges I experience and the care I receive; the biggest barrier I face is the stigma associated with forms of dementia.
Although I acknowledge there has been progress made in public awareness towards stigma, largely due to efforts by our Alzheimer Societies across Canada, I still feel there is much to be done.
I can remember giving a talk to a group of people on dementia from a lived experience point of view. I asked anyone in the room if they could give me a definition on what stigma is for people living with dementia and their families, friends etc. I waited quite a while for answers to this question – to the point people were getting uncomfortable looking around at each other in the room for someone to answer my question.
You see, if you don't know what stigma looks like, then it's just a word.
Stigma rears its ugly head in many ways and in many different perceptions. I have shared a story of people making fun of people with Alzheimer's in a grocery store lineup and everyone bursting into laughter by the comments, while in the same breath a person with dementia, in the same lineup, is choking back tears from a recent diagnosis.
Every time I see dementia jokes in birthday cards, social media and in our communities it feels like a punch in the stomach to me.
This behaviour is virtually unheard of with other terminal diseases and the backlash is immediate from our community if people try this. Fair game for dementia though.
That is my #1 pet hate. This is the largest barrier to living well with Alzheimer's that I've faced.
What is one way in which a fully-funded national dementia strategy will help you?
Something I've learned is that challenging stigma can go a long way to promote awareness. One example is that I challenge Alzheimer's jokes on social media like Facebook and Twitter. Every time I respectfully challenge a joke on public media, and explain why it's not cool, most of the time I get the same response: "I never thought of that."
I also wonder if people would rethink what they're about to say if they knew that people with dementia, and families who live with this disease, were reading their comments.
One thing is for sure – stigma is a taught behaviour from one generation to the next. If I'm indeed correct on this (and I believe I am), with the same logic we can teach a more understanding approach for walking in each other's shoes.
My money is on our national dementia strategy making some meaningful headway in pushing people to rethink how they view dementia. My hope is that the strategy is successful in reaching out to mainstream Canada. Reaching out to people who would not normally go to an Alzheimer Society website to learn more about countering stigma.
How can we do that? I don't have all the answers. I'm betting, though, if enough of us put our heads together we can come up with some meaningful solutions.
We need a fully-funded national dementia strategy to move ahead.
It will assist people with dementia to engage with their communities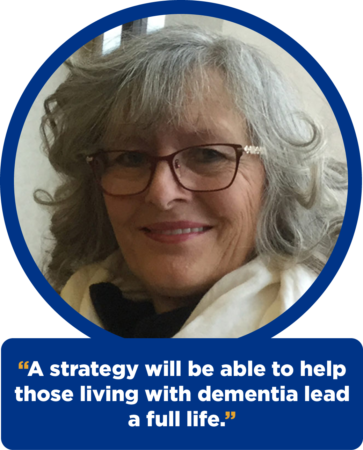 Who are you?
My name is Phyllis Fehr and I'm a person who is living well with Alzheimer's. Prior to my diagnosis I worked as a critical care registered nurse. I remain involved in research; I sit on a number of boards or tables. I have been and am still involved in advocacy, human rights and public speaking.
What is the biggest barrier you have faced in your experience with dementia?
Immediately after my diagnosis, my physician treated me as a person who was unable to make decisions or understand anything. She spoke only to my husband. It was like I no longer existed. Other people projected that I had lost my competency – and in the beginning, I believed them. It took me a year to realize that this wasn't true and to stand up for myself.
What is one way in which a fully-funded national dementia strategy will help you?
It will help educate people about dementia and hopefully eliminate the stigma around this disease. A strategy will be able to help Canadians living with dementia lead a full life, one where they feel included in their community and stay engaged longer.
It will prepare us for our future needs surrounding dementia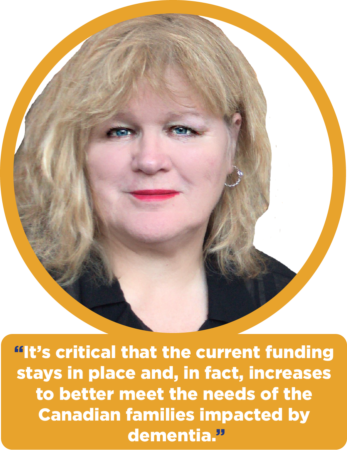 Who are you?
My name is Danielle Barrette-Marcuccio, I'm a full-time caregiver. My husband, John Marcuccio, was diagnosed with Frontotemporal dementia (FTD) in 2015. I retired from my position as Director of Change Management for Shared Services Canada in 2016 to take care of John.
Since then, I've spent my time researching and learning all I can about FTD and caregiving techniques, as well as service and care options for John. I've also become a strong advocate, not only for our family, but for other families dealing with young onset dementia (YOD).
What is the biggest barrier you have faced in your experience with dementia? 
The biggest barrier we've faced has been finding programs and resources geared to people with YOD. John was physically very fit and active — he played and coached competitive soccer up until 2016 — and yet the only programming available was sedentary, aimed at a much older age group. There were virtually no programs age-appropriate for him.
So, we tried to change that. In early 2018, we collaborated with Carefor in Ottawa to pull together close to 20+ families and conduct focus groups to identify the needs of people with YOD. The resulting report helped prompt the establishment of a working group chaired by the Champlain Dementia Network (CDN) and the Champlain Community Support Network (CCSN). This group was to develop a multi-year strategy with recommendations aimed at improving services, programs and systems available for people living with YOD in the Champlain region.
Carefor has leveraged some of this work to establish a clubhouse program for people with YOD. In designing and shaping this program, they're working with me, representing caregivers, and another individual, Keith Barrett, who can offer perspective as someone living with YOD.
The program will begin this fall in collaboration with a local university. Sadly, my husband won't be able to benefit from the proposed clubhouse. The program will require some independence and active participation, and unfortunately his dementia has progressed to a stage where he's no longer able to follow instruction, and his communication has become quite limited.
What is one way in which a fully-funded national dementia strategy will help you?
I believe that the funding currently committed in the national dementia strategy is a good start, but may not go far enough to meet the future needs of those living with dementia. We're talking about an aging population with significant, anticipated growth in the next 10 years.
In addition, I'm very concerned with the scarcity of programs and resources available to younger folks living with dementia, including FTD, that not only meet their present needs but their evolving needs as well. For both caregivers and those living with dementia, these evolving needs will be ongoing for a longer period of time.
In addition, there's no association or organization where Canadians can access resources or supports for those living with Frontotemporal dementia in Canada.
It would be wonderful to have funds to establish a central, Canadian resource that could pull together resources and supports and share best practices across the country. It's critical that the current funding stays in place and, in fact, increases to better meet the needs of the Canadian families impacted by dementia.
It can uncover the mystery behind the disease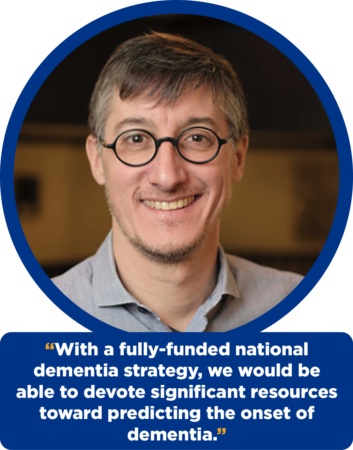 Who are you?
I'm Simon Duchesne, I'm 47 years old. I'm a Professor with Université Laval and a researcher at the CERVO Brain Research Centre in Quebec.
What is the biggest barrier you have faced in your experience with dementia?
The root causes of Alzheimer's disease, the major cause of dementia worldwide, are still unknown. This has resulted in a long string of failures at the therapeutic level.
What is one way in which a fully-funded national dementia strategy will help you?
With a fully-funded national dementia strategy, we would be able to devote significant resources – time, effort, but more importantly people and their creativity – toward predicting the onset of dementia.
With the support of the national dementia strategy, we can investigate new hypotheses and revisit older ones to identify the individual causes that, together, create this perfect storm in the brain of individuals with dementia. Only then can we hope to address each individual cause, and work to prevent the onset of dementia.
If you also feel strongly about supporting a fully-funded national dementia strategy, your help is needed. Write to your local candidate for Member of Parliament (MP), and ask for a fully-funded strategy. Your participation will help make a difference.
Though the national dementia strategy has been announced, more work needs to be done. Not only does the strategy need to be fully funded, but we also must ensure that it remains a top issue in Ottawa throughout and beyond the federal election in October.