The Pauline Spatz Leadership Award
Do you know someone that gives their time, energy and resources to make their community a better place? Consider nominating them for the Pauline Spatz Leadership Award. Learn more about the award on this page.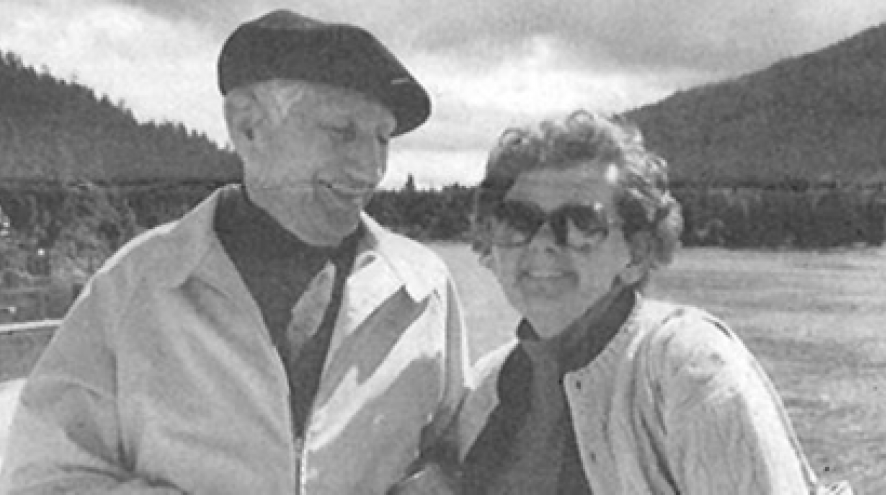 If you have questions about the nomination process or selection criteria, please do not hesitate to contact us at 1-800-664-8411 or [email protected].
Pauline's story
Each of us can look back on our lives and share stories of people who may have crossed our paths unexpectedly but left an indelible mark. In lives of many of those who met her, one of those people was Pauline Spatz.
Although Pauline was a private person, her generosity was well-known. We came to know Pauline at the Alzheimer Society because of her financial support of the Dr. and Mrs. Albert Spatz Research Award and Endowment Fund.
In the early 1990's, Pauline started to see significant changes in her husband Albert's health. After he received a diagnosis of Alzheimer's disease, Pauline reached out to the Alzheimer Society for information and support.
"From the moment I contacted the Alzheimer Society there was a tremendous sense of caring. There was always someone there who listened and responded to me. Our relationship has grown stronger over the years."
It was this relationship that inspired her to create the Dr. and Mrs. Albert Spatz Doctoral Award, and later the Dr. and Mrs. Albert Spatz Endowment Fund when she lost Albert to this disease in 1998.
In addition to supporting the Alzheimer Society, she was instrumental in initiating the Friends of the Owens Art Gallery, was a long-time board member of the Sackville Hospital Foundation, and a member of the Sackville Memorial Hospital Auxiliary since 1972.
One of her greatest joys of her later years was seeing a series of her efforts culminating in the opening of the Boultenhouse Heritage Centre in September of 2006, where Pauline donated many gifts from her Wry ancestors for display at the centre.
Pauline and Albert were passionate patrons of the arts:
Walking through their home, you were lucky to experience their beautiful art collection, including a beautiful piano that Albert would play for Pauline.
While in Buffalo, Pauline had the opportunity to become a docent, and volunteered each week at the Albright-Knox Art Gallery to take groups of school children on tours through the gallery.
She and Albert also joined a group of gallery members on several art tours abroad, meeting artists, visiting their studios, and visiting museums.Having dinner with Peggy Guggenheim at her Palazzo in Venice was one experience that she cherished from one of these tours.
On July 19th, 2016, Pauline passed away peacefully in her beloved home, just as she wanted. In her honour, in 2017 the Alzheimer Society of New Brunswick instituted an award to be given to an individual, individuals or a group who live the same values that Pauline demonstrated in her community.
Pauline not only gave financially, but also gave her time, her passion, and her energy to make her community a better place to live. Through this award, it is our intention to allow her memory to live on, and for her legacy to be one that inspires others to live a life of gratitude, service and kindness.
Nomination criteria
Nominees may be an individual, a family, a business or an organization
Nominees must demonstrate a commitment to improving the lives of others and their community through philanthropic acts (through financial support or volunteering their time)
There must be a demonstrated, measurable impact of their efforts
Nominees must not be self-nominated
Submission information
All nominations are confidential, and must be submitted using the form found here:
Pauline Spatz Leadership Award: Nomination Form (PDF)
The deadline for submissions is April 30, 2023.
The award is presented at the Annual General Meeting of the Alzheimer Society of New Brunswick in June of each year.
More useful links and resources
Living her legacy: Pauline Spatz. After Pauline Spatz's husband passed away to Alzheimer's disease, she decided to make a difference, becoming a consistent and loyal contributor to Alzheimer's research. Read about how Pauline chose to live her legacy. Read more here.