2021 Pauline Spatz Leadership Award recipient: Lilli Lin
New Brunswick
read
The 2021 recipient of the Pauline Spatz Leadership Award is Lilli Lin of Quispamsis, NB.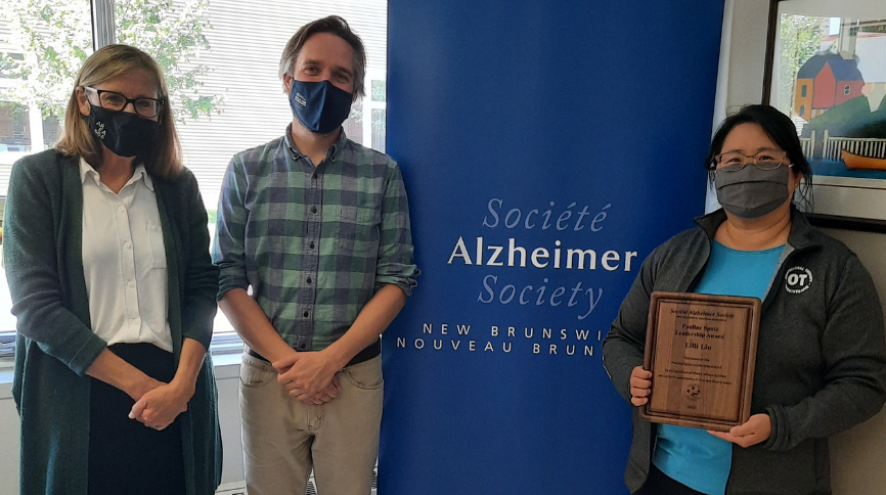 The 5th annual Pauline Spatz Leadership Award was presented to Lilli Lin of Quispamsis, NB. Pictured above is Lilli with Mark Harris and Cathleen Belliveau of the Alzheimer Society of New Brunswick Saint John Resource Centre.
As a dedicated volunteer, a valued community partner, and an exceptional educator, Lilli demonstrates incredible leadership through her dedication to education and her commitment to her community.
Lilli began volunteering with the Alzheimer Society in 2014, and quickly became an indispensable part of the team in the Saint John area. Lilli helped establish the Memory Café in the Kennebecasis Valley—a social program for those living with dementia, their care partners and family members—and has continued to volunteer as a Committee Member since the program's inception.
Because of her background in healthcare and her rich experience working with those affected by dementia, Lilli is typically the one responsible for creating and delivering the presentations at the Memory Café. Lilli's presentations are full of incredible tools and information that make a real difference for the program's participants. In fact, one of her presentations called "Wish I Knew About That: Adaptive Aids and Other Helpful Things for Home," shared tips that helped a client to keep their spouse living with dementia at home longer. What a meaningful impact!
As a frontline worker, Lilli is passionate about taking a person-centred approach to helping those affected by dementia and supporting them in living well with dementia. Through her work as an Occupational Therapist, Lilli helps people living with dementia to maintain activities of daily living. She analyzes their strengths, and supports their ability to be as independent as possible and continue to participate in meaningful activities. She also excels at helping families understand the progression of the disease and how to navigate these changes by using analogies and examples.
Not only does Lilli support families by providing care, she also shares information with them and connects them with community services. As a referral partner of the ASNB, this often means telling them about our programs and services, and sharing resources with them.
An incredible resource in her community, Lilli gives selflessly of her time and energy in service of those living with dementia and to help them live well with the disease. She is passionate, dedicated and committed to improving the lives of those living with dementia.
Do you know someone like Lilli who gives generously of their time, energy and resources to make their community a better place? Consider nominating them for the Pauline Spatz Leadership Award.