2022 Pauline Spatz Leadership Award recipient: Denise Boudreau
New Brunswick
read
The 2022 recipient of the Pauline Spatz Leadership Award is Denise Boudreau of Nigadoo, NB.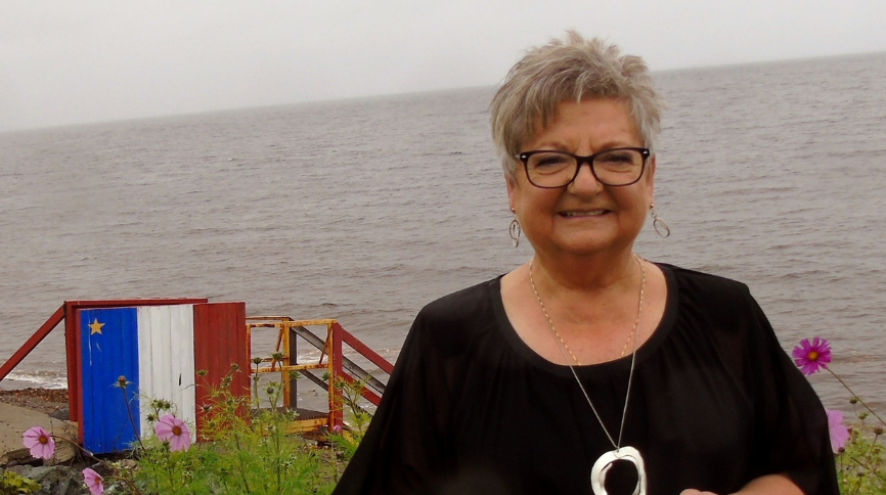 The 6th annual Pauline Spatz Leadership Award was presented to Denise Boudreau of Nigadoo, NB. Denise first came to know the Alzheimer Society in 2015 when the love of her life, Donald, was diagnosed with dementia. They reached out to their local Resource Centre in Tracadie where they received information and support to help them navigate the dementia journey.
In 2016, after her husband moved into a long-term care home, Denise decided to start volunteering with the Society. "It was my way of giving back to the Alzheimer Society, who gave me so much throughout my spouse's illness" Denise explains.
Passionate about spreading dementia awareness and supports for care partners, Denise works very hard to make a difference for those affected by the disease in her community. Having seen first-hand the difference support services and programs can make for families on the dementia journey, Denise began volunteering her time to organize fundraisers so the Alzheimer Society could continue to provide these services for families like hers.
Along with 5 other women, Denise helped found the Volunteer Committee for the IG Wealth Management Walk for Alzheimer's in the Chaleur region. Since their inception in 2016, the committee has raised over $158,000 for their community. Denise is a core member of the Volunteer Committee and has contributed greatly to the growth of this event in the community due to her sense of initiative and strong organizational skills.
Born a natural leader, Denise's passion and empathy motivates others into action. Her drive and enthusiasm to make a difference for those touched by dementia is truly contagious. She has inspired over 20 people to give their time to our cause and become volunteers, and has helped build new relationships to benefit people affected by dementia in her community.
In the fall of 2021, Denise spearheaded a bake sale to help raise additional funds for the Walk. Countless friends and family members rallied behind Denise, and together they baked enough goodies to fill three large freezers. The event was an incredible success, raising significant awareness and a total of $2,716.20 for the Alzheimer Society in the Chaleur Region.
A true champion in her community, Denise is always giving her time and resources in service of others and her community. In addition to the work she does for the Alzheimer Society, she also supports the Festival Blues d'la Baie in Petit Rocher and local initiatives like Le Greenhouse Lounge.
Denise is proof that one person can make a difference in the community and the world around them. Her impact in her community is truly immeasurable and we at the ASNB are incredibly grateful for her support.
Do you know someone like Denise who gives generously of their time, energy and resources to make their community a better place? Consider nominating them for the Pauline Spatz Leadership Award.