Memories from the Walk
New Brunswick
read
As we celebrate the 20th anniversary of the Walk in New Brunswick, we look back on how the event has grown over the years and the stories of people who have participated year after year.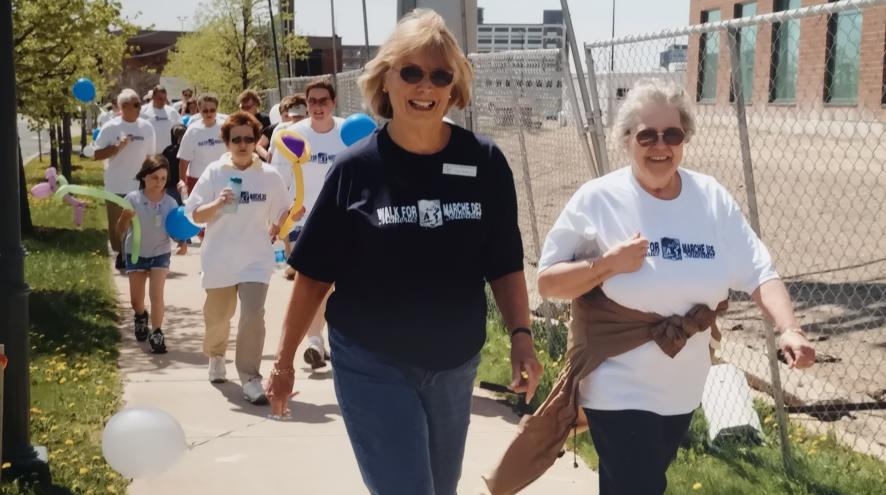 This year, we are celebrating the 20th anniversary of the Walk and, remarkably, I have been there from the beginning. We had our first Walk on a sunny Sunday in Fredericton in 2003, and we were thrilled to have 60 people there who raised $16,500. The next year, we expanded to two additional locations in Saint John and Moncton, followed by a growing number of towns and cities in the years to come. 
Now, the event is supported by hundreds of people around the province and has become more than a fundraiser — it is an event where families, people living with dementia, and the greater community feel united for a common cause. 
Many families have walked with us year after year, and we have had the honor of getting to know them and what makes this event special to them. I cannot think of this event and not think of these stories. Here are a few that have stuck with me over the years.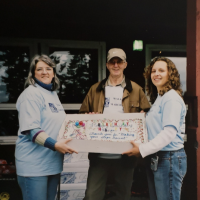 When Roger Macdiarmid was diagnosed with dementia shortly after retiring, he and his wife, Donna, immediately decided to call the Alzheimer Society. Roger's birthday was right around Walk time, so each year he and Donna would reach out to friends and family from coast-to-coast to honor Roger with a donation to the Walk in lieu of gifts.  In doing this, they raised thousands of dollars each year for this event.  Roger and Donna both loved this event and what it represented, and even in the advanced stages of his disease, Donna still brought Roger to be with his "Alzheimer's family" at this event each year. 
Barb Hatfield walks each year to honor her family members who she has lost to dementia. Barb has watched those she loved most, including her mother, 6 siblings and several aunts and uncles, be impacted by dementia. She has been a caregiver and an advocate. Barb has walked with us for all 19 years, and will be walking with us on May 28th for the 20th year in a row. Over time, Barb has raised at least $100,000, and has been a spokesperson at our events sharing how the Alzheimer Society has helped she and her family.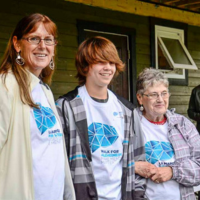 On Tanner Price's 9th birthday, he asked his friends to donate money for the Walk instead of birthday presents because he wanted to help people living with dementia, like his Grammy. Tanner raised just over $170 that first year, and then grew this amount year over year as he added collecting recyclables to his fundraising amount.
Leona Gallant came to the Alzheimer Society as a caregiver of her mom after she was diagnosed with dementia, then later became an employee. Leona worked at the Alzheimer Society until she was 73, and has continued to support the families she cares so deeply for by continuing to be a top fundraiser for the Walk each year. Leona's passion and commitment to our cause is remarkable!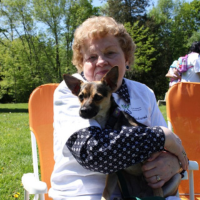 Elizabeth Davenport was not directly impacted by dementia, but saw a need and made our cause her priority to support those impacted in her community. Elizabeth planned Gospel Concerts, did bake sales, and even planned turkey dinners to fundraise for the Walk and people impacted by dementia. Elizabeth planned and worked year-round, and raised close to $100,000 over the years.
Paulette Noël not only fundraises, but works with a committee of mighty volunteers to plan a Walk in her community in honour of the memory of her daughter, Marie-Claude, who was diagnosed with frontotemporal dementia at the age of 31. Paulette is a tireless advocate, fundraiser, and volunteer who works hard to make a difference in the lives of other families like hers who have been impacted by dementia.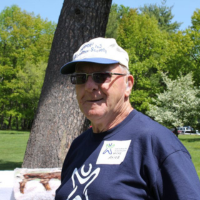 When Omer Caissie's beloved wife, Alice, was diagnosed with Alzheimer's, he immediately reached out to the Alzheimer Society to learn everything he could to be able to keep Alice at home for as long as possible. When the time came for Omer to get help with Alice's care in their home, instead of leaving the home when the caregiver would come to relieve him, he would go into his work shed and hand hook rugs which he then would sell tickets on to raise funds for the Walk. Omer raised thousands of dollars selling these tickets, but what he loved most was connecting people to the organization that help he and Alice on their journey. 
Some walk because someone they love has been impacted by dementia. Others walk because a program we offer has helped them and in return they want to support these programs. Some walk because they want to help people in their community. We all walk because we want to make a difference. And step-by-step, that's exactly what we are able to do together. 
As we walk into this 20th year, I will be reflecting on all of these stories and remembering the memories we have made together. If you have been a part of our Walk story at any point over the past 20 years, know you are appreciated. Your efforts matter and your story is interwoven with ours. Thank you and see you on May 28th!