Online Programming
read
Many of our programs are now available virtually using the Zoom platform. See what's coming up and register online today!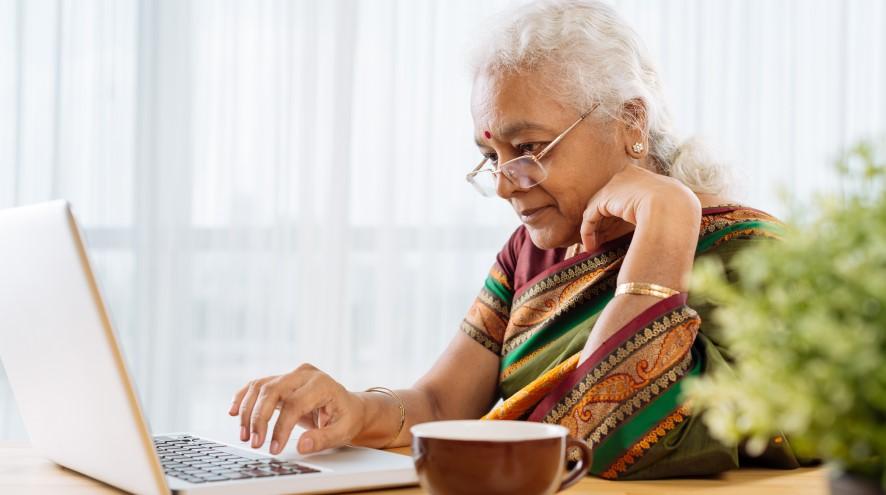 We are offering various learning opportunities online to help families and friends continue to stay connected and enhance their knowledge of dementia. If you need help with learning to use Zoom, please contact our Education Coordinator Angela Cancellara and she will be happy to help.
To be notified when we resume in person groups make sure you join our e-mail list!
Zoom Instructions and Training
If you would like to participate in any of these on-line programs, please:
Use a computer, tablet or iPad to install Zoom (download instructions)
On a computer, go to https://zoom.us/ and download and install the platform (top right corner, it's safe, easy and free! May take about 5 minutes)
On an iPad, go to the App Store and install "Zoom Cloud Meetings"
On a tablet, go to the Google Play Store and install "Zoom Cloud Meetings"
Choose any on-line education/program that interests you and register using the link provided below
You will be sent a confirmation email with the instructions for accessing your class
If you have questions about the zoom platform, please email 

[email protected]

 for more detailed instructions
Respite Recreation Hour
We invite everyone across Ontario to join us for a virtual variety show! Every Monday @ 11:00 am we will present fun and engaging activities such as:
Trivia
Word puzzles
Games
Reminiscent stories
And much more!
Next Steps and Care Essentials
Next Steps and Care Essentials is a 4 part series offering an opportunity for families and friends of individuals with a diagnosis of dementia to learn more about dementia, develop caregiving strategies, and become familiar with community resources and supports.
Part 1: Overview of Dementia, Diagnosis & Healthy Brain Strategies
Part 2: Communication & Environmental Strategies 
Part 3: Understanding & Managing Challenging Behaviours
Part 4: Difficult Discussions, Role Changes & Self Care
U-First!
U-First! for Care Partners (please note this session is not intended for frontline service providers)
U-First! for Care Partners is an innovative education program for individuals who are supporting someone with behaviour changes due to dementia or cognitive impairment. This 8 hour education program is run in 3 weekly sessions.
It is recommended that participants have completed week one of the Next Steps & Care Essentials series, or attended a "What is Dementia?" presentation prior to attending this program. 
Enhance your well-being and that of the person you are supporting who is experiencing behaviour changes
Improve collaboration among all team members through a common knowledge, language and approach to care
Reduce responsive behaviours by using the U-First! framework
Upcoming session:
January 31, February 7 & February 14 2022
Caregiver Wellness
The Caregiver Wellness program provides social and educational opportunities through different workshops in the Staying Connected series. 
Options for Care
This workshop focuses on giving participants the opportunity to explore the care options that support persons living with dementia in the moderate to late stages of their journey.
November 11, 2021 @ 1:30 pm - 3:30 pm
February 8, 2022 @ 1:30 pm - 3:30 pm
Connections First
Connections First is an 2.5 hour interactive forum that explores living well with or without memory changes. This program runs monthly and is open to persons concerned with normal aging, persons living with a diagnosis of dementia, care partners or anyone who just wants to learn about keeping their brain healthy and plan for the future.
Connections First is the perfect introduction to the Alzheimer Society of Niagara Region, our programs and educational opportunities.
Other Education
Public forums are held throughout the year on various dementia related topics to help educate the general public, as well as those caring for someone living with dementia.
Brain Wave Café
Join us every Friday from 1:00 pm - 3:00 pm for our Brain Wave Café - a fun social gathering using the Zoom platform!  Individuals living with cognitive change or dementia, care partners, family and friends are all welcome!  Stay connected with friends and meet some new ones as you participate in healthy brain activities together!  Note: you only need to register using the form once - the Zoom link you receive can be used week after week!
Minds in Motion
Join us every Wednesday from 1:30 pm - 3:30 pm to keep your mind & body healthy. The first hour will be filled with gentle guided exercises by Ros-Z from YMCA Niagara.  Then in the second hour you will participate in brain stimulating activities.  Socialize with your peers during this fun-filled afternoon! You only need to register using the form once - the Zoom link you receive can be used week after week!  Participants are welcome to join the group at 2:30 pm if they don't want to participate in the exercise portion.
Qigong Exercise Program
Back by popular demand! Join us via Zoom every Monday and Thursday from 1pm - 2pm for Qigong facilitated by George Picard from the Village of Healing. Qigong (pronounced chee-gong) is an ancient Chinese exercise and healing technique that involves meditation, controlled breathing and movement exercises.
Exercise is an important component to maintaining a healthy brain. Due to the fact that Qigong can be performed standing or sitting, it is a physical conditioning program that is suitable for all ages and fitness levels. The soft, slow, gentle movements of Qigong practice stimulate the body to increase muscular stability, flexibility, and range of motion around all joints of the body.
The Power of Music
Our new Power of Music program offers persons living with dementia the opportunity to engage in social activities that promote:
Rhythm and Melody

Sound and Harmony

Dancing and Movement

Reminiscing and Singing our favourite songs
Please join us via Zoom Thursdays from 10:30 am to 12 noon and let the music take you away! This is a 6 week closed program and limited spots are available.  Care partners are welcome to attend!
Upcoming Program Dates: 2022: March 10, 17, 24, 31 & April 7, 14 (Registration will open in the new year)