Fundraise and Participate
read
Be a fundraiser for the Alzheimer Society on your time on your terms!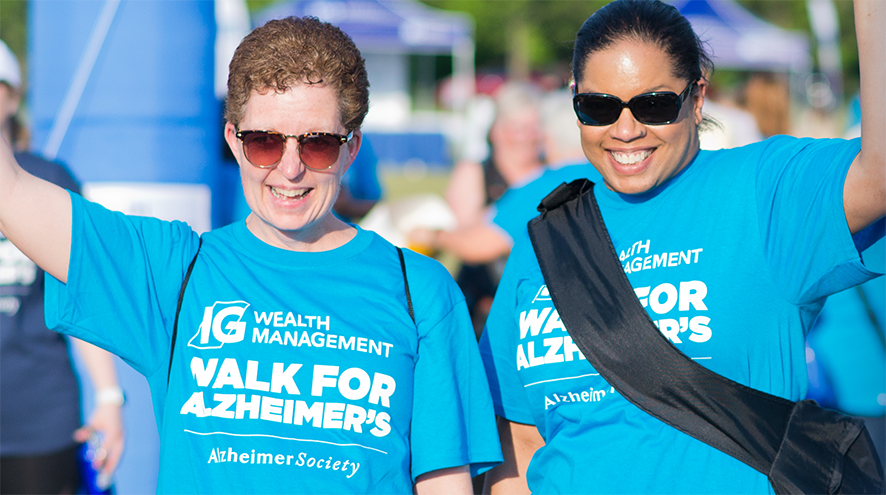 North Eastern 50/50 Online Raffle
The local Alzheimer Societies in North Eastern Ontario are pleased to announce that we will be hosting an online monthly 50/50 draw! 50/50 Ticket sales start at 9:00am on Saturday, December 31, 2022.
IG Wealth Management Walk for Alzheimer's
Join us on 

Sunday, May 28th, 2023
How many steps will you take to make a difference?
12:00pm- Registration
1:00pm- Opening ceremonies, warm up, and in-person Outdoor Walk.
Visit the websites below for more information and to register. Pledge forms are also available.
Consider taking a minimum of 3,328 steps each day in the month of May which represents the number of persons living with dementia in the Algoma District, then join us for an in-person walk in Sault Ste. Marie and Elliot Lake.
Share your pictures on social media and tag us and use the hashtag #IGWalkforAlz
Host a Social with a Purpose
The power of coming together virtually and hosting a Social with a Purpose will provide those living with dementia are their care partners with needed social programming and other services such as family support, education, and recreation therapy. Learn more about how to host a Social with a Purpose here.
Anything for Alzheimer's
Whether it's a birthday party, a cycling trip, a garage sale or marathon, you can raise funds your way to support the Alzheimer Society of Sault Ste. Marie and Algoma District through "Anything for Alzheimer's". Register your event and find ideas, tips and helpful suggestions to make it fun and rewarding for you and your friends.
Other Ideas?
We are happy to work with you to help you fulfill your goal of raising money for this important cause. The Alzheimer Society relies on people like you to help us support people living with dementia and generate new knowledge about this devastating disease. Here are some ways that you can help us generate even more funds for our mission.