Online safety
Seniors are one of the fastest growing demographics of Internet users in the world. When someone has been diagnosed with dementia, it is vital to help them keep their online identity safe. It is always important to stay informed and know the threats to their security.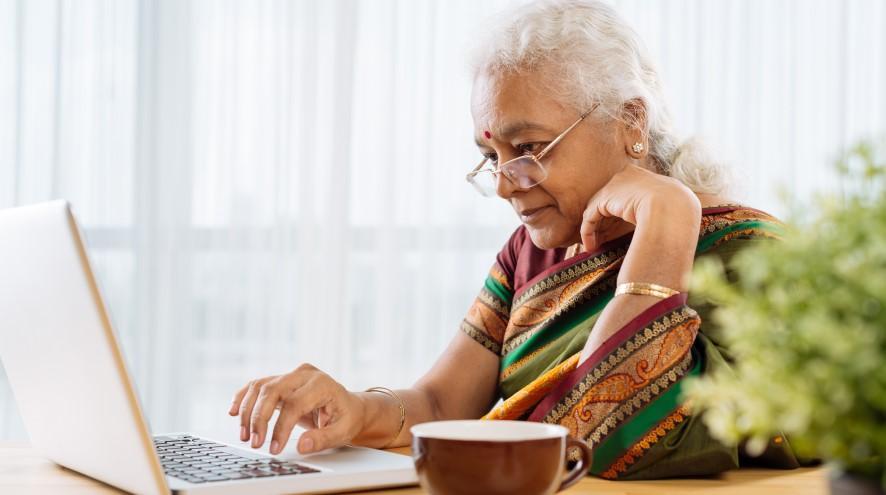 Reporting fraud
If you believe you have provided personal or financial information to an unknown source it is imperative that you notify your bank, credit card company, and credit bureau to inform them of the breach and to prevent any further access to your financial information.
To report an incident or any suspicious activity to the authorities please contact your local police and the Canadian Anti-Fraud Centre at 1-888-495-8501 or http://www.antifraudcentre-centreantifraude.ca/
More information
For more information on how to protect you and your family's online presence please visit the Government of Canada's official Cyber Security Website.
Caregiver tips
There are many things to consider when it comes to cyber security. By keeping informed and working with those you care for you can help keep their online identity safe.
What you can do:
Limit computer usage to times of the day they are most aware
Install browser add-ons that block unsecure and unsafe websites
Install and run anti-virus software regularly
Educate them on fraud and cyber security
Make using the computer a group activity by surfing the web and answering emails together
Make their online life part of your daily life by discussing what activities they enjoyed online today
Email
Email is a part of daily life and essential for both work and personal life, which makes it one of the highest risks for fraudulent content. Cyber criminals can use emails in a variety of ways; from simple spamming of unsolicited messages and attaching spyware as a file to sending unsafe links to their own website.
A common form of fraud is 'phishing'. This is when a person attempts to appear as a corporation or business. They will even go so far as to using the corporation's official logo, contact information, and/or personnel signatures. It is important to note that official businesses will never ask for private information over email.
What you can do:
Always check to ensure the emails you receive are from a trusted source
Check for grammar and spelling mistakes – These are key indicators of fraudulent emails
If possible have your anti-virus program scan emails and documents before opening
Never give out private information such credit card numbers or bank statements

Official businesses will never ask for private information over email

Do not click links from unknown senders
Do not open attachments from unknown senders
Delete or mark as spam if the email seems out of the ordinary or suspicious
If in doubt, contact friends and family directly via phone to ensure they have sent the email in question
Websites
Websites are important tools for educating, informing, and entertainment but not all are created equal. Some webpages can save malicious cookies or temporary files to your computer, create popup spam, impersonate other official companies/businesses or redirect you to another more dangerous site.
You must always be aware of the dangers of browsing the internet and make sure the webpages you are visiting are respectable and reliable.
What you can do:
Use Google's Safe Browsing Site Checker

to see if a particular URL holds any risks

Do not visit any unfamiliar or suspiciously named websites – For example www.a892.com
Do not submit any personal or private information to an unknown website
Webpages that start with https:// in their URL are secure while others with http:// are unsecure
Regularly delete your cookies and cached files
Do not click on any popup browsers as they are traditionally spam
Text and phone
With the growing popularity of mobile and smart phone usage, cyber security is becoming an increasing concern for the platform. Threats and risks can come from a variety of ways; text and phone phishing scams, spam from advertisements, downloading of malicious or infected apps/documents, or stealing of data from open network connections.
With many personal mobile phones being tied to online accounts such as banking, social media, credit cards, and medical documents it is important to take the appropriate steps to securing your information
What you can do:
Do not respond to numbers asking for private information or promoting deals
Do not give out your phone number to anyone you do not trust
Avoid calls that claim you have won a good or service
Keep Bluetooth turned off whenever it is not in use
Do not use any open and/or unsecure WiFi networks
Create a password to unlock your phone
Logout of sensitive applications and webpages, such as online banking apps, when not in use
Only download trusted apps from official online stores such as iTunes or Google Play
See Email - What you can do for important safety etiquette around mobile email
Social Media
Social Media is a great tool to communicate, share videos/images and personal updates with family and friends, as well as make new connections. With all this personal information being made readily available you may be providing others with ways to impersonate your identity.
What you can do:
Reduce the amount of personal data you make available on your social media profiles

Ie. Do not place your address or phone number online

Reduce the amount of Geotagging on posts, images, and videos which can help others track your location
Do not add unknown people to your social media network
Do not respond to messages or posts from persons or businesses you do not know
Do not upload or post any sensitive content that could be used against you
Take the time to set the privacy settings for your profile on each Social Media platform
See Passwords for more information on having a secure profile
Downloading
Download and sharing files and documents are common practise in both personal and business life but is one of the easiest avenues in which to infect computers with viruses and malware.
What you can do:
Download files and documents from official, trusted, and secure websites

Ie. iTunes, Google Play Store, News Outlets, etc.

Use your anti-virus program to scan newly downloaded files prior to opening
Regularly run your anti-virus program to scan your full computer
See Email concerning downloading email attachments
Virus and malware
Viruses, Trojan horses, malware, worms, spyware, and adware can all affect you and your online life in different ways. From stealing personal information to disrupting computer functionality these malicious programs are common occurrences. Computers can become infected through unsecure websites, downloading infected files, or using an infected data storage device (flash and hard drives).
Diligence and care must be taken when conducting yourself online.
What you can do:
Install and regularly run anti-virus software to check for security risks
Use your anti-virus software to scan new files and documents prior to opening
Only open download links and files from trusted sources
Passwords
Passwords are the gate keepers of all personal information, and as such need to be strong. By using a number of common practises you can help create a password that gives you the best protection against hackers and cyber criminals.
What you can do:
Ensure your password is a minimum of eight characters long
Use a combination of capital letters, lower case letters, numbers, and if possible non-number/letter characters
Utilizing sentences or phrases makes the password harder to guess
Do not use your or your relatives name's, birthdays, or private information as your password
Do not use repeating numbers or just numbers
Do not use single words or simplistic phrases

Ie. Password, qwert, 1234, abc

Use different passwords for different accounts/profiles
Change your passwords every 6 months
Delete browser cookies and cached files after completing online transactions