Dressing
When a person with dementia has difficulty getting dressed, it's important to allow them to make their own decisions for as long as possible, and to carry out the activity as independently as possible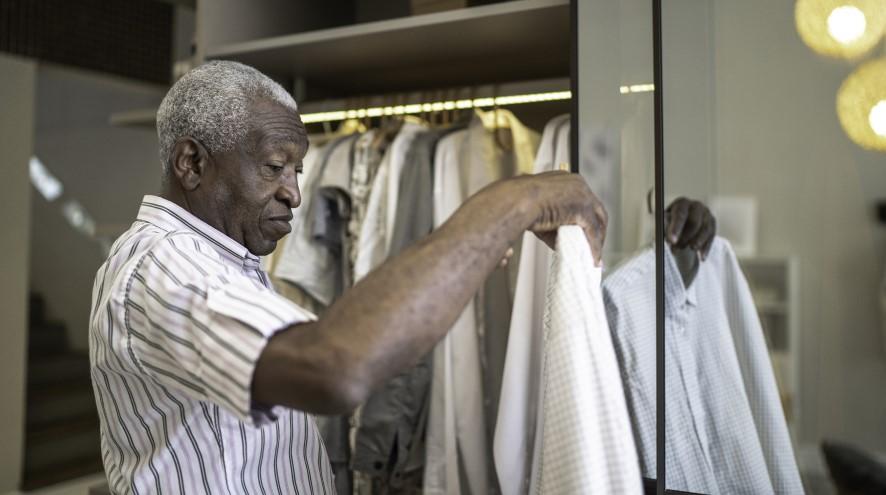 Reasons for difficulty dressing
She may have physical difficulties, for example stiffness in her fingers or problems with her balance.
He may have memory problems that make it confusing to remember how to get dressed, such as what to put on first.
Depression may make her lose interest in getting dressed and looking after her appearance. She could also be confused about what you want her to do, distracted by noise, or too cold or warm to change clothes.
He may also feel self-conscious about dressing in front of someone. Do what you can to create privacy, e.g., closing the door or leaving him on his own for a few minutes, after setting up his clothing.
Tips for making dressing easier
Whenever possible, allow her to choose the clothing to be worn that day. Limit the number of choices, to make the decision easier.
Lay out clothing in the order that it should be put on.
Remove extra clothing from the closet. Seeing a lot of clothing can be confusing.
If he insists on wearing the same clothes every day, try to launder these clothes often.
On the outside of dresser drawers, place labels or pictures from magazines to describe the contents. For some people it may be helpful to group items of the same colour or ones that are worn together.
Hang ties, belts or other accessories on a hanger with the matching shirt, dress or pants.
If she makes a mistake, be tactful about pointing it out, or find a way that you can both see the humour in it.
Try not to worry when she dresses in unusual combinations of clothing. It may not be worth risking a confrontation and she may be more contented having made her own decision. In the long run, you want her to feel good about the way she looks and take pride in her appearance.
Dressing can take a long time, particularly if he is doing much of it himself. Set aside enough time so that he doesn't feel rushed.
Comfort and ease of dressing
Choose clothing that is easy to wear and care for. Zippers and Velcro™ are easier to fasten than buttons. Skirts and pants with elastic bands are easier to put on.
Soft, stretchy materials are often the most comfortable, and shouldn't be too tight.
For women, a front-closing bra may be easier to put on herself; for men, boxer shorts may be easier to manage than fitted underwear.
Slippers are comfortable, though they may not offer enough support to be worn all the time.
Shopping for clothes
If possible, involve the person with dementia in shopping for clothes. If you do the shopping, check his size regularly, as he may have lost or gained weight.
Choose clothing that is comfortable, easy to put on and easy to wash.
Remember that she may need to wear new clothes often before they become familiar to her, and she may think any new clothing doesn't belong to her.
Buy several of the same, favourite outfits, so she believes she is wearing the same familiar clothes.
Getting undressed
People with Alzheimer's disease may not understand why they are being expected to undress, and may be reluctant to do so.
Make sure to find a way to get him to change his clothes frequently so that they can be washed. A good opportunity to give him new clothes to put on is when he is bathing.