A few tips on art, creativity and dementia
Canada
read
Focus on fun. Don't judge. Reduce distractions. Reach out to your local Alzheimer Society. All these tips can bring more art into your life.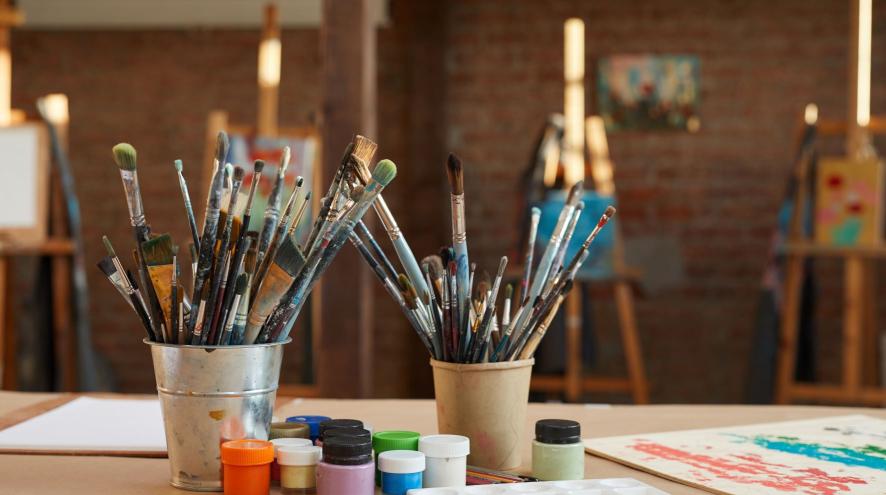 You can enjoy art and creativity at any age. This is true if you are living with dementia or caregiving, too. 
Some researchers think that certain types of dementia can boost creativity. Other researchers have looked at how art made by people with dementia can improve public views of this condition.
A 2017 McMaster University study found that art-museum programs for people with dementia "opened up new possibilities for care partners by making it possible to see the creative side of the person with dementia." Care partners reported "feeling less stressed" after these programs.
Canada is home to many great projects around art and dementia. The Society for the Arts in Dementia Care was founded in BC in 2005. The University of Waterloo co-hosts the project Re-imagining Dementia through the Arts. In 2018, the Alzheimer Society of Calgary became Canada's first Opening Minds through Art training centre. These are just a few examples.
If you want to find or join art programs for people affected by dementia, try these tips
Contact your local Alzheimer Society to see what arts programs they run.
Ask your local Alzheimer Society what arts programs are available in the wider community. They might know about programs not widely advertised.
Call or email your local museum or art gallery to ask about their programs for people affected by dementia.
Talk to your care navigator or local health centre about art programs for people affected by dementia. More are opening all the time. For example, another opened this summer at the Drumheller Health Centre in Alberta.
Ask at your local music, dance or theatre venue about relaxed performances. These kinds of performances can sometimes be a better fit for people with physical, sensory or cognitive needs.
If you want to do more art at home, try these tips*
Encourage self-expression. Activities can include painting, drawing, music, conversation, reminiscing or more.
Make activities safe. Remove furniture or floor coverings that can be tripped over. Also remove supplies that are not needed for the activity.
Reduce distractions. Turning off the radio or television can help in trying to focus.
Leave art supplies, art books, magazines or music out to encourage activity. And have things ready before beginning an art activity.
Focus on enjoyment. Rules of the "right way" to do things are not needed. Keep an open mind. Take a no-judgment approach.
Know that energy levels can change. If an activity doesn't go well, it might just be the wrong time or activity. Try again later.
*Adapted from the Alzheimer Society of Saskatchewan's Meaningful Activity booklet.
And if you want to start an art program for people living with dementia, note these five factors
Take a group approach. People who did art programs in a group experienced more peer support, relationship building and sense of being included. "I don't think that I would have benefitted from one-to-one arts," said one person living with dementia. "It was just nice being with others. It meant I had time to sit and think without the teacher forcing something out of me, like… a one-to-one kind of thing does."
Hire a skilled, supportive facilitator who has empathy and compassion. It's best if the facilitator knows artistic practice and the impact of living with dementia.
Offer people choices. Start with a few age-appropriate project choices or material choices. One facilitator said they prefer "an informal chat before we start any sessions, to get an idea of the client's preference with art. I find if the client has never had any experience with art, I give them options. The ones they say yes to, I can bring them all along, so they are able to play around with them all and choose."
Make sure no previous art training is required. An open, no-judgment attitude is also valuable. "It doesn't matter at all if you can't draw," said one facilitator. "It's about using a different medium other than verbal language to express yourself. Providing that non-judgement and allowing them to use art exactly how they want is essential."
Take a smart approach to activity content. Think about session format and session length to create an "enjoyable, failure-free activity …with a strong focus on the creative process." The session should be long enough to build interest, but not tire people out. Most of the facilitators recommended meeting weekly for 4 to 6 weeks. Some people really enjoyed including a care partner, while others found value in doing something independently.
*Identified by researchers at Leeds Beckett University in 2020.