Meet our researchers: Matt Parsons, Memorial University
Dr. Matthew Parsons, Assistant Professor of Biomedical Sciences at Memorial University of Newfoundland, talks about his research and how it could ultimately lead to new preventative treatments.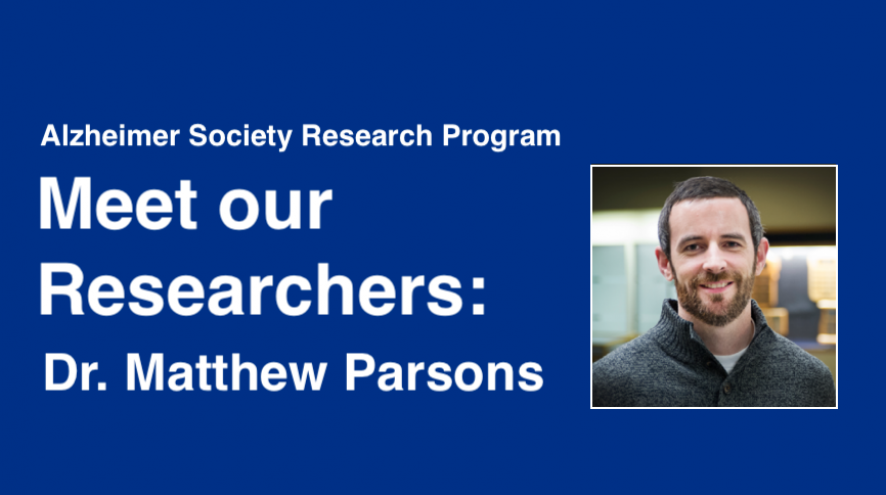 Ever since my first undergraduate neuroscience course, I've always been fascinated by the ways in which the brain forms and retains memories. Recently, however, I've had the misfortune of seeing first-hand the cruel progression of cognitive decline in family members with dementia. So, my desire to research Alzheimer's disease and other dementias is fueled by my personal connection; by my passion for how we learn and make memories; and by my strong belief that by increasing our understanding of how normal cellular processes fail in the brains of people with Alzheimer's disease, we'll be able to prevent or substantially delay cognitive decline and significantly improve the lives of these individuals and their families.
Consider this: The average North American knows about 600 people. Alzheimer's disease, a disease that strips away your cognitive function and sense of self, affects 1 in 20 Canadians over the age of 65. Without further research, 30 people that you know will develop Alzheimer's disease.
While we've come a long way in our understanding of this disease, there is still so much to learn. That's why, with the funding received from the Alzheimer Society, I want to explore Alzheimer's disease at the level of the synapse—the tiny space where one brain cell communicates with another. It's thought that the efficiency with which our brain cells communicate with each other is compromised in the earliest stages of Alzheimer's disease—well before any cell death occurs. So, my research lab aims to better understand why cellular communication breaks down, with the ultimate goal of identifying new therapeutic targets that may prevent this synaptic dysfunction and subsequent cell death. If we can get to the root of why these early changes occur, we can then develop therapies that can be administered early in the disease progression, before brain cells die.
To find more effective treatments for Alzheimer's disease, we need to understand the disease at so many levels: from the behaviour of cells in a dish to clinical trials in people with the disease. This kind of research is notoriously expensive, whether it be salaries for research assistants, graduate student stipends, consumables, laboratory equipment or the cost of the drugs themselves. Virtually everything we know and everything we'll learn about Alzheimer's disease depends on funding sources like the Alzheimer Society. That's why, as a new investigator, I can't put into words how much this opportunity means to me and how grateful I am for the support of the Alzheimer Society Research Program.