The Art Program
read
The Art Program is designed for individuals living with dementia to spend a few hours exploring story-telling and observing the details of life in a variety of ways.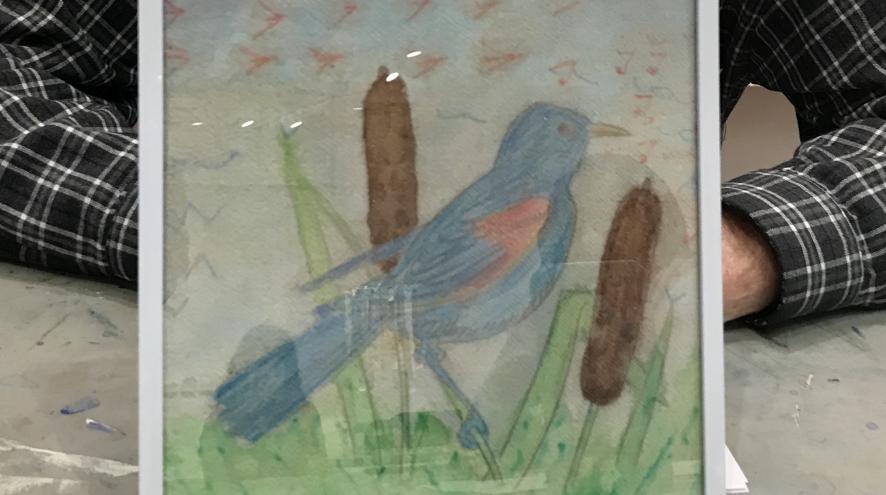 Contact
For more information, or to register for the Art Program, contact Shauna at: 807-345-9556 ext. 2003 or email [email protected].
About the Art Program
(re)Creating the self is a program designed for individuals living with dementia to spend a few hours exploring story-telling and observing the details of life in a variety of ways: through watercolour paints, collage, quiet reflection, sharing and writing. The Art Program offers participants who are living with dementia and their care partners to engage in wellness activities that provides the opportunity for social engagement, improve quality of life, and increase informal supports through connection with other participants. The art created during these sessions will be shown at a variety of locations throughout the city of Thunder Bay.
The Art Program is currently being held virtually via Zoom. Participants will receive an Art Program kit before each session, that includes all materials. 
Our instructors
Art Instructors, Eleanore Albanese and Betty Carpick work with the group to gently guide and encourage their creativity to surface, working at a comfortable distance, knowing when to provide support and when to step back and let the creative 'flow' take over. The process is broken down so that the person with dementia is given the opportunity to make manageable decisions at each stage, offering an opportunity for personal choice and control as participants are encouraged to choose colours, materials and textures; this alone can be an empowering and refreshing change from daily life. "Art experiences through the Alzheimer Society Art Program provides fun, reflection, and companionship" says Betty "Art opens portals into new and different ways to express and articulate. Through painting, collage, writing, and music; participants express emotions, exercise choice, and enhance their self-esteem. The Thunder Bay Art Gallery is delighted to be a partner in this inspirational and powerful program".
Shauna Fossum, Public Education Coordinator for the Alzheimer Society of Thunder Bay and facilitator for the Art Program has witnessed first hand the progress of the program: "The Art Program continues to be a huge success as we see the benefit that it brings to our participants. It is amazing to see how engaging in art can bring out so much creativity and joy for a person living with dementia. Currently we are holding the art program in 4 week sessions, 4 times per year."
Our participants
The program had shown great success with its members:
"It let's your imagination come out".
"It's nice to be with others who are adjusting to a new way of life".
"We're all in the same boat and I like that."
The benefits
Stimulating the senses.
Can trigger dormant memories and encourages conversation.
Can be used as a form of expression.
Can be used as a way to explore a new vocabulary.