Programs and services
The Alzheimer Society of Timmins-Porcupine District provides a variety of programs and services to the Cochrane and Temiskaming districts. We provide services in English and in French.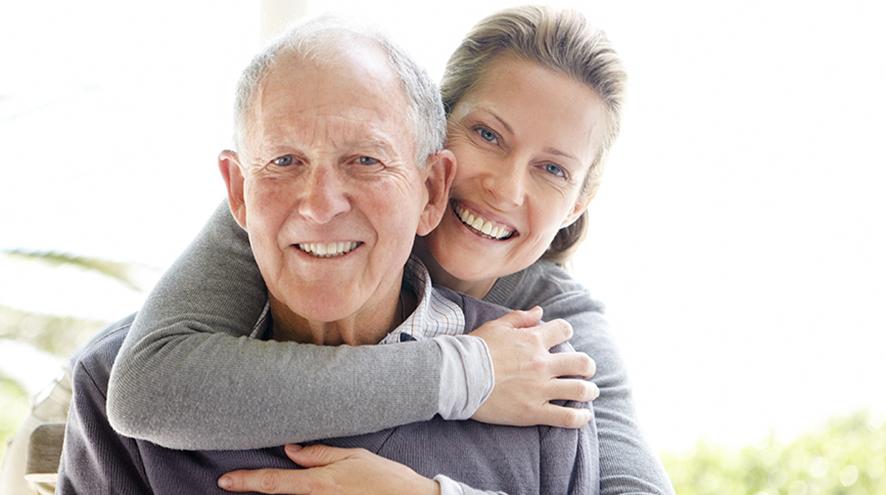 We are here to help
Our staff and volunteers provide support programs, educational resources, referral services and more to ease the burden of care and improve the quality of life for people living with Alzheimer's disease and other dementias, as well as their caregivers and families.
Experience has shown that the earlier people begin to learn and strategize about living with dementia, the better they are prepared. Earlier preparation can also help caregivers and families provide support as the disease progresses.
We hope you will find relief in knowing that you are not alone.
Scroll down to learn more about the programs and services we offer at the Alzheimer Society.
Educational programs
Our Society is responsive to the educational needs of its geographic area by identifying what knowledge and skills are required to support those providing care for people with dementia and their caregivers
We initiate and facilitate public education activities.
We provide specialized and accurate information by trained presenters to various target groups.
We reinforce public awareness of Alzheimer's disease.
We advocate for people affected by Alzheimer's disease.
We provide education and support training for caregivers, volunteers, professionals and long-term care staff on issues pertaining to Alzheimer's disease and other dementias.
We recruit, train and manage volunteers.
We maintain and update educational resources.
First Link Learning Series
Learning Centre
We have several books, videos and information sheets in our library, which we will lend from both our New Liskeard and Timmins offices.
We also have many information pamphlets which we distribute free of charge.
Programs for healthcare providers
Please contact us if your group may be interested in the following programs: UFIRST, Advance Care Planning, Enhancing Care or Gentle Persuasive Approach.
Adult Day Program
A bilingual, safe environment for intentional activities and programming for those living with a diagnosis of dementia as well as frail older adults wanting socialization and friendships
Caregiver support and social groups will operate concurrently to support the well-being of caregivers
Cost $20 per day- covers meals and resources.
LOCATIONS; Timmins (5 days per week)

Kapuskasing (5 days per week)
Hearst (weekly on Tuesdays)
COMING SOON: Cochrane, Iroquois Falls and Matheson ( all 1 day per week)
Referrals can be done via Caredove - you will need to create an account for your organization and then search the Alzheimer Society Timmins or call us at 705-268-4554 for any self referrals..
First Link® referral
The Alzheimer Society of Timmins-Porcupine District connects people with Alzheimer's disease or other dementia and their caregivers with healthcare professionals and community support services.
Referrals to the Alzheimer Society of Timmins-Porcupine District are made by healthcare providers through First Link®.
People may also make self-referrals by contacting us at (705) 268-4554 or by email at 

[email protected]

.
Individual and group support
We provide a variety of support for people living with Alzheimer's disease and other dementias, families and care partners, whether it is through individual support or a support group.
Information packages
The Alzheimer Society of Timmins-Porcupine District responds to inquiries from people with dementia, caregivers, healthcare professionals and the general public. Information is offered on the following:
Alzheimer's disease and other dementia's
Early warning signs
Diagnosis and treatment
Supportive strategies
Community resources
Research developments
Public awareness
We provide many learning opportunities for the general public. Through these opportunities and sessions, you can learn more about dementia and how you can help make our community more dementia-friendly.
Workshops, seminars, in-services and information meetings can also be developed to meet the specific needs of your group.
Safety services
When Alzheimer's disease and other dementias progress, the person living with the disease has the potential to go missing. This situation presents a serious safety concern, but know that help and support is available.
Finding Your Way®
Finding Your Way® is a website dedicated to helping people living with dementia, their families, caregivers and communities to recognize the risk of going missing, be prepared for incidents of going missing, and ensure that people with dementia can live safely in the community.
Related pages
Please take a few moments to read the article here written by Shelly Hosman RN BScN MScN; A LITTLE TOO FORGETFUL. WHAT DO I DO?