First Link® information for healthcare providers in Chatham-Kent
read
First Link® is a partnership program between the Alzheimer Society of Chatham-Kent, physicians and allied healthcare professionals to provide direct referrals that link individuals diagnosed with Alzheimer's disease or related dementias to a community of learning, services and support.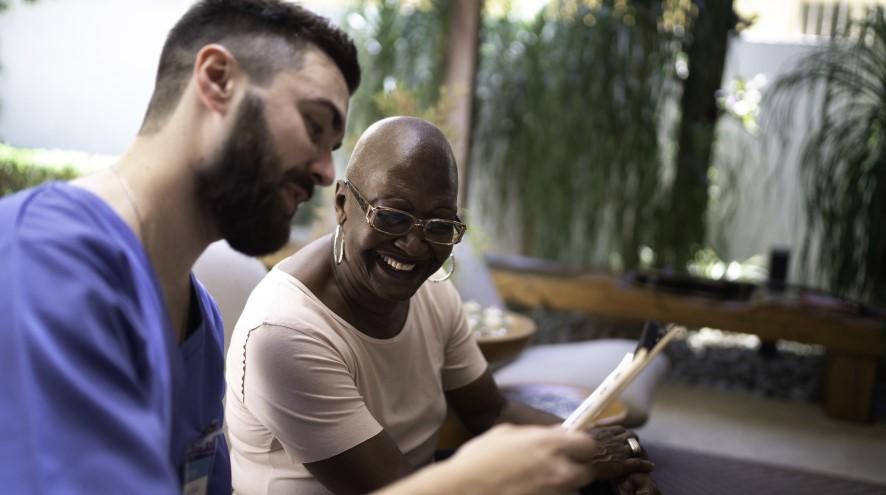 How does First Link® work?
When your patient permits you to share their information with our First Link® staff, we will contact them directly.
We will immediately connect them with a network of education and support services specific to their situation. We are their link to community help, both at the time of their diagnosis and throughout their illness.
Because First Link® focuses on service coordination, resources and planning, clients become more confident and involved in their own care, reducing the burden on family physicians, long-term care and emergency services. Families also are better equipped to create their own action plans to tackle future legal, financial and health needs.
Why use First Link®?
Presenting a diagnosis of dementia to a patient is never easy. They may be bewildered and distressed about the challenges ahead, and unsure about how to navigate the health system.
Families are often too overwhelmed to pick up the phone and ask for help. When you refer them to First Link®, we call them, connecting them to the information and resources they need to make informed choices.
First Link® gets them the help they need right away, averting possible crises and helping them meet challenges as they come up. That translates into fewer emergency room visits and lets caregivers keep family members with dementia at home as long as possible.
With a projected 40 percent growth in the number of Ontarians diagnosed with Alzheimer's disease and related dementias by 2020, the support First Link® offers your patient is more important than ever.
What exactly can First Link® do for your patient?
Quickly connects them to programs and services at their local Alzheimer Society, including:

One-on-one and family counselling and support groups
Tips for navigating the health system to get the care they need
Five-part learning series of workshops tailor-made for families at various stages of the illness. Topics include practical information about the disease and daily living, positive approaches to care, strategies for challenges and how to prepare for the end of life.

Links them to other health and social service providers in their community
Helps them find resources to manage issues such as decision-making, adjusting to the loss of a driver's licence, financial planning, power of attorney and long-term care placement
First Link® Referral Form
You can begin the process for your patient by clicking here.