Board of Directors
read
Our Board of Directors is integral to the work that we do. Learn about the leadership volunteers guiding the Alzheimer Society of Simcoe County.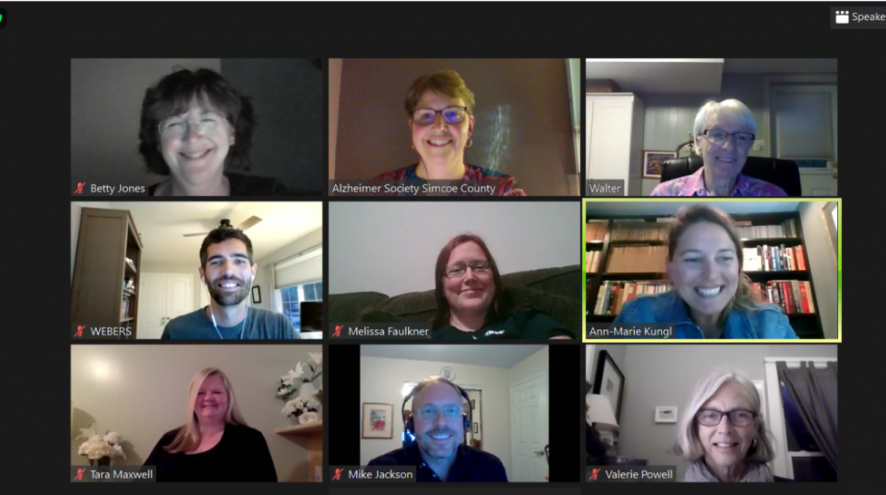 Board of Directors
Alzheimer Society of Simcoe County
Board of Directors 2020-2021
Ann-Marie Kungl, Chair
Jordan Weber, Vice-Chair
Valerie Powell, Secretary
Dan McMahon, Treasurer
Melissa Faulkner, Director
Jonathan Friedman, Director
Deena-Kay Froese, Director
Mike Jackson, Director
Betty Jones, Director
Tara A. Maxwell, Director
We are Seeking New Board Members!
The Alzheimer Society of Simcoe County is seeking applications from candidates across Simcoe County and its diverse demographic population to fill upcoming end-of-term vacancies on our Board of Directors. We are seeking individuals who are able to exemplify and reinforce our organization's Values of Collaboration, Accountability, Respect and Excellence.
Through its Vision, the Alzheimer Society of Simcoe County foresees that persons living with Alzheimer's disease and other dementias, and their care partners, live well and thrive in their community. Toward this vision, our Mission is to improve the quality of life of persons living with dementia, and that of their care partners, through the provision of support services, education, social programs, and research support. 
Currently, we are focusing on the upcoming need for individuals who will bring skills and experience in the Health Care field, including Home Care/Long Term Care; Mental Health and Addictions; Health Administration and Policy; Public Health as well as Human Resource Management/Labour Relations; Government, and Government Relations.
Please contact Marguerite Glanfield, Volunteer Resources Coordinator at 705-722-1066 ext. 230 or [email protected]
Applications in the form of a resume and letter of interest are due by January 31, 2021.