Board of Directors
Our Board of Directors is integral to the work that we do. Learn about the leadership volunteers guiding the Alzheimer Society of Simcoe County.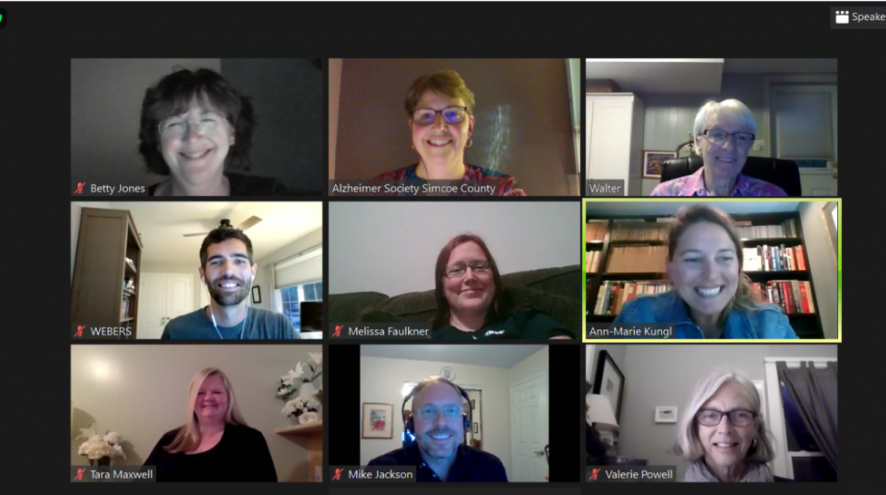 Board of Directors
Alzheimer Society of Simcoe County
Board of Directors 2022-2023
Karie Warnar, Co-Chair
Betty Jones, Co-Chair
Mike Jackson, Vice-Chair
Valerie Powell, Secretary
Dan McMahon, Treasurer
Sandra Catalano, Director
Jonathan Friedman, Director
Carolyn Moran, Director
Christine Rush, Director
Shannon Brett, Director
Board Membership Opportunities
The Alzheimer Society of Simcoe County always welcomes applications from people across Simcoe County and its diverse demographic population to fill vacancies on our Board of Directors. We seek individuals who are able to exemplify and reinforce our organization's Values of Collaboration, Accountability, Respect and Excellence.
Through its Vision, the Alzheimer Society of Simcoe County foresees that persons living with Alzheimer's disease and other dementias, and their care partners, live well and thrive in their community. Toward this vision, our Mission is to improve the quality of life of persons living with dementia, and that of their care partners, through the provision of support services, education, social programs, and research support. 
The Board of Directors is composed of individuals who bring skills and experience from various areas of expertise and sectors of society, and persons who have lived experience with dementia. 
If you are interested in exploring membership on the Alzheimer Society of Simcoe County's Board of Directors, please contact Ann-Marie Kungl, CEO at 705-722-1066 ext. 222 or by email at [email protected].