Minds in Motion®
read
Connecting people living with early to mid-stage symptoms of dementia through exercise, socialization and stimulating activities.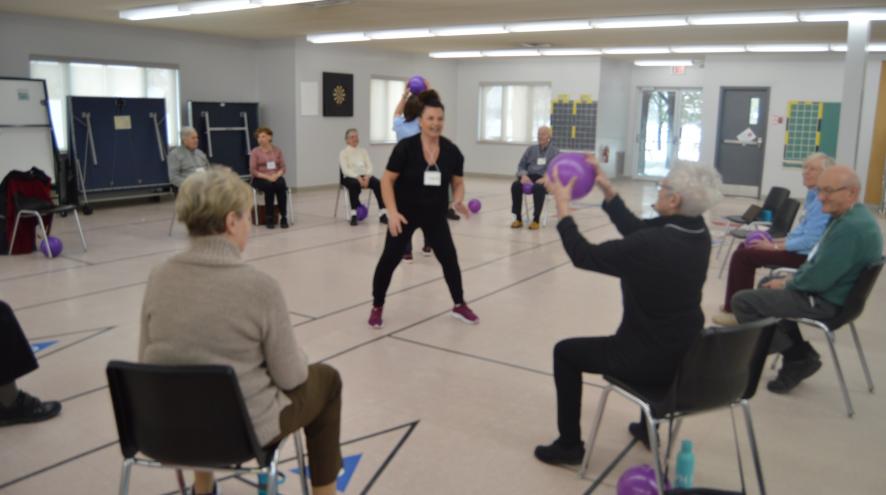 Currently, select in-person and online programs are running.  Interested individuals can contact Leigh Ann Febrey, Minds in Motion® Coordinator for further information and registration details.
What is Minds in Motion®?
Minds in Motion® is a community-based social program that incorporates physical activity and mental stimulation for people with early to mid-stage signs dementia and their care partners.  Minds in Motion® take place over two-hour weekly fitness and social program that runs for eight weeks at a time. It is designed for people with early to moderate symptoms of dementia to attend with a family member or friend.
Program Details
Registration takes place at community recreation or seniors resource centres.

Limit of 22 participants (11 pairs).

In some circumstances individual living with dementia may register on their own, please connect with us for more information on this option

Program includes up to 50 minutes of gentle exercises followed by refreshments and 50 minutes activities that stimulate your brain.

Cost per participant pair is $40

(fees may vary across regions).
Program Activities
Engage in chair exercises that improve overall fitness.

Meet and socialize with others over refreshments and conversation.

Stimulate the brain with fun and challenging activities.

Access information about dementia and Alzheimer Society services.
Program benefits
For the person with dementia:
Improved balance, mobility, flexibility, and alertness
Increased confidence, and comfort with their own circumstance
Mutual support from others facing similar experiences
For the care partners, it's an opportunity to focus on their own health, and have fun with their partner. Other benefits include:
Seeing the person they are caring for enjoying themselves
Mutual support and learning from other care partners
All participants can benefit from:
Sharpened mental functioning, sometimes lasting 2-3 days.
Increased sense of social participation
Pilot findings:
Participants' endurance improved by 20% and strength by 15%.
Participants reported decreased social isolation and an increase in informal networks of support
79% of participants continue with physical and social programs after participating
Close to 100 volunteers and students have been trained and are active in program delivery
90% of staff, volunteers and students identified an increase in their dementia knowledge
Why join the program? Here's what participants had to say about it:
"I enjoyed participating in both physical exercise and social activities. It was wonderful meeting and getting to know all the participants. A great group! Overall, a great program. We both love coming. Leaders are excellent - always empathetic and great teachers." –Care Partner
"The people involved are the most helpful. Pleasant and understanding- it's been a very worthwhile course." - Person with Dementia