Coffee Break®

read
Coffee Break® is about community. It's a way for us to connect with others and for you to show your support for those living with Alzheimer's disease and other dementias. By coming together to share a cup of coffee we can help combat the social isolation that affects those who live with dementia.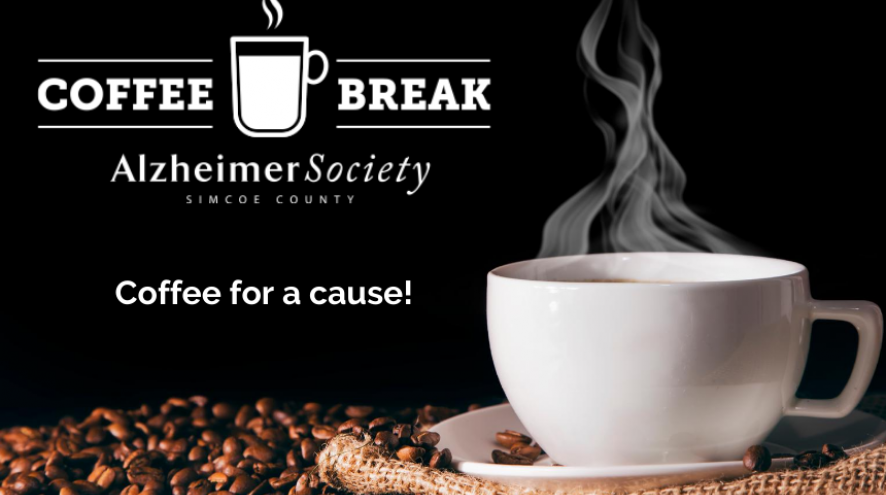 What is Coffee Break®?
Help us raise money in celebration of World Alzheimer's Day – September 21, 2020
This is one of the Alzheimer Society's longest running and most successful fundraisers. For many years it has been helping us to raise awareness, combat social isolation, and fund local programs. The money raised in the community stays in the community to help support local programs and services.
When and where does Coffee Break® take place?
The Alzheimer Society of Simcoe County's Coffee Break® takes place every Autumn across Canada. This is a non-traditional event in that it takes place in many places, over many days, in different ways. Coffee Break® is our invitation for your help in raising funds and raising awareness.
Who can do it?
ANYONE can take part! Past hosts have included: private individuals, large factories, small businesses, schools, hospitals, churches, and many, many, more. Whether you're thinking of a large or small event by taking part you're helping to raise awareness and create a dementia friendly community.
Why Host a Coffee Break®?
Each year the Alzheimer Society of Simcoe County is required to raise 40% of its yearly budget to provide our current level of service. Those funds support incredible local programs like The Music Project and Art Therapy, but most importantly they allow us to offer individualized counselling services and support to local people across the Simcoe County Region.
Consider hosting a Coffee Break® or having a donation box. To register or learn more, please visit www.coffeebreaksimcoe.com or contact Katherine Breeson at [email protected]