IG Wealth Management Walk for Alzheimer's
read
When you participate in the IG Wealth Management Walk for Alzheimer's, you join thousands of Canadians who want to see a world without Alzheimer's disease and other dementias.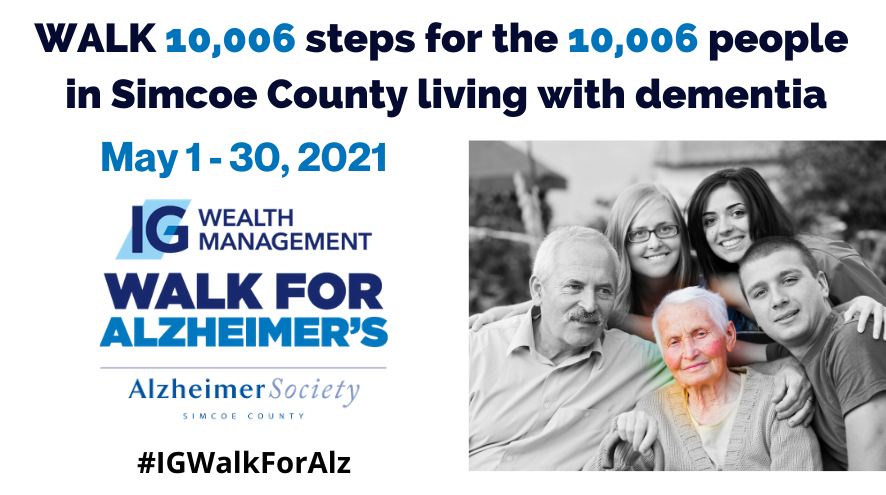 We asked you to walk throughout the month of May 2021, 10,006 steps for the 10,006 people living with dementia in Simcoe County.   And did you ever!
We set new records this year

– 314 participants, 48 teams, and a record number of corporate and media sponsors!
Together we raised over $100,000! And we are still counting.
This year our theme was walk 10,006 steps for 10,006 people living with dementia in Simcoe County. Many of you walked with us and showed the people living with dementia in Simcoe County that they are not walking this journey alone.
We send our thanks to everyone who participated, donated and sponsored the walk. The funds raised will stay in the community to support critical programs and services offered across Simcoe County by the Alzheimer Society of Simcoe County. As the number of people diagnosed with dementia continues to climb we ultimately hope for a cure, but until then we will keep walking!
We thank you and look forward to your continued support!  If you still wish to donate, you can do so HERE
If you are interested in sponsosring or volunteering in 2022, please contact Events Coordinator Katherine Breeson at [email protected] for more information.