The Adult Day Program
Are you a care partner looking for some respite or person living with dementia craving socialization? Look no further than the Adult Day program.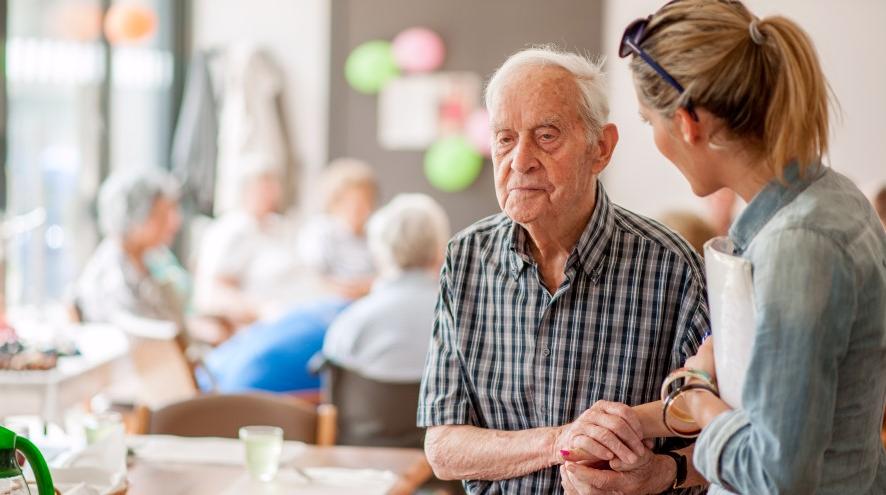 About the Day Away program
The Day Away program is a social program for individuals with Alzheimer's disease or related dementia and the frail elderly. The goal is to provide socialization and support for individuals who reside at home while providing the caregiver with respite relief.
Objectives
Provide supervised programming in a group setting,

Assist clients to achieve and maintain physical, intellectual, and social abilities,

Alleviate isolation and loneliness,

Provide caregivers with respite and helpful information, and

Help people to live in the community as long as possible as they age.
Services provided
Activation and social activities on an individual and/or group basis, tailored,

To the needs of participants,

Qualified staff providing supervision and care in a safe and comfortable environment,

Assistance with daily living tasks and

Nutritious lunch and breaks.
Common activities
Physical: Exercises and games that promote the benefits of movement.

Intellectual: Activities that provide mental stimulation and promote brain health.

Social: One-on-one and group conversation, musical activities, recreation.

Environmental: Outings, gardening, adapting to various surroundings.

Confidence building: Asset focused activities, to build self esteem.
Schedule
Programs run from 9:30 am to 3:00 pm.
Mondays
Almonte

Carleton Place

Perth

Smiths Falls

Brockville
Tuesdays
Carleton Place

Perth

Smiths Falls
Wednesdays
Almonte

Carleton Place

Perth

Smiths Falls

Brockville
Thursdays
Almonte

Carleton Place

Perth
Fridays
Carleton Place

Perth

Smiths Falls
Site Locations
Almonte site: 453 Ottawa St.

Carleton Place site: 5 Bates Drive, Unit 13

Perth site: 115 Christie Lake Rd

Smiths Falls: 179 Elmsley St.

Brockville site: 100 Strowger Blvd., Unit 107