IG Wealth Management Walk for Alzheimer's 2023
The IG Wealth Management Walk For Alzheimer's is back! Join us Saturday, May 27th as we walk for the over 3100 people living with dementia in Huron and Perth counties. This year, our goal is to raise $128,000!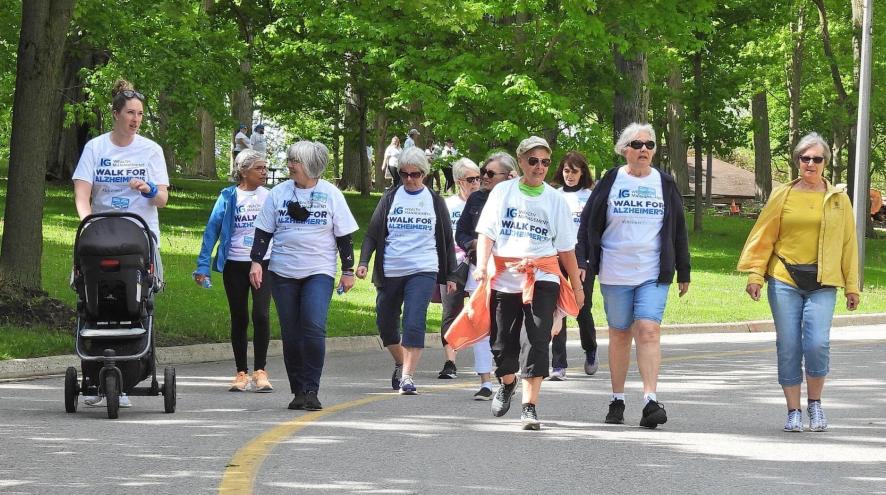 Walk in-person on Saturday, May 27!
We call you to lace up your shoes, fundraise and walk over 3100 steps in honour of the 3100 people living with dementia in Perth and Huron counties.
To register and find out more details about our walks:
Why join the Walk?
Make memories matter! When you walk, you're sending a message of hope to Canadians living with dementia, and thousands more who care for them. When you fundraise, you're promising them that help will always be available.
By 2031, close to a million Canadians will be diagnosed with dementia. This is the health crisis of our time.
Join our Walk today! It's fun, keeps you fit and raises much-needed funds and awareness for our community. 
Donations
If you have collected any pledges, you can drop them off at the Alzheimer Society Huron Perth office in Clinton or Stratford. The office is open Monday - Friday 9:00 am - 4:30 pm. If you need to arrange a pickup or drop off of your donations outside of office hours, please call us at 519-482-1482 or 519-271-1910.
If you would like to support the event with an online donation, donate here and choose Clinton, Exeter, Goderich, Listowel, St. Marys, Stratford, or Wingham.
Thank you!
Thank you to everyone that participates and donates to the IG Wealth Management Walk for Alzheimer's!  

Lots of people are sharing their pictures of how they are walking in support of people affected by Alzheimer's disease and other dementias using the hashtags #IGWalkForAlz or #AlzStepChallenge
Our national title sponsor
The Alzheimer Society is pleased to have IG Wealth Management returning for its sixth year in 2023 as Title Sponsor for our annual Walk.
IG Wealth Management has a long heritage of community involvement, corporate funding and project initiation that has created a strong corporate culture of caring. The Alzheimer Society is proud to partner with IG Wealth Management and looks forward to making 2023 the most successful Walk season yet!