Lights On Stratford
read
Join us December 16th - January 27th as Lights On Stratford features Affinity lights display on the Tom Patterson Island.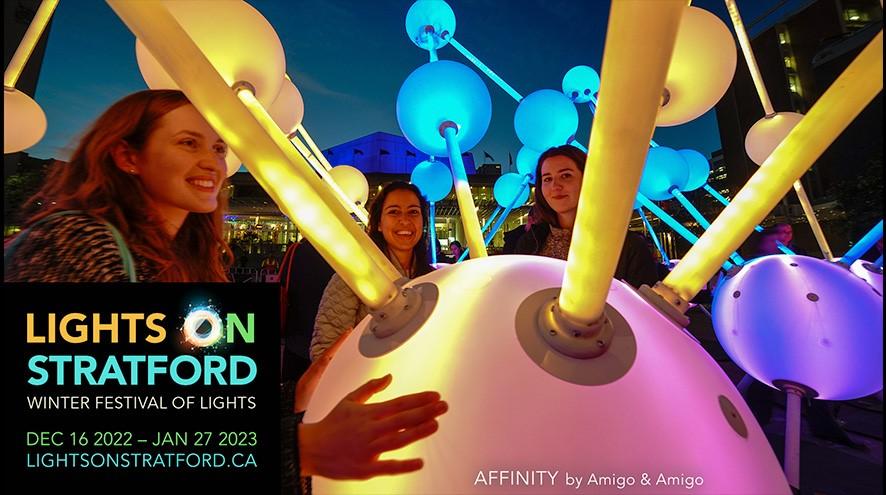 Learn more about Lights On!
A massive brain-inspired light sculpture designed in Australia to raise awareness about Alzheimer's disease will make its North American debut on Stratford's Tom Patterson island this winter.
Affinity is an interactive public art display launched several years ago by artist Simone Chua, the founder of Australian-based company Amigo & Amigo. Measuring more than three metres tall and 13 metres wide, the dome-shaped sculpture's web of interconnected globes are reminiscent of neurons in the brain, firing colourful pulsing light streams when they're touched by visitors. 
After touring across other parts of the world, Affinity will make its first ever Canadian stop in January during the upcoming Lights On Stratford festival.
"We are very excited to debut the artwork Affinity in Canada," Chua said. "This is a multisensory interactive artwork that raises awareness about Alzheimer's. We hope that people not only enjoy interacting with the work but also engage with this important social issue."
In Canada January is also Alzheimer's Awareness Month, the perfect opportunity for festival organizers to partner with local advocates for people suffering from dementia.
"Our festival loves to premiere new and exciting light art that's never been to Canada, especially when it can be leveraged for local charities," said Zac Gribble, Destination Stratford's executive director. "Affinity was originally developed to raise awareness for Alzheimer's Australia, so it's an ideal fit for supporting the great work in our region by Alzheimer Society Huron Perth."
According to the Alzheimer Society of Canada, more than half-a-million Canadians are living with dementia today, a number expected to reach almost one million in the next decade.
"People living with dementia have knowledge, perspectives and experiences to share," said Cathy Ritsema, executive director of the national charity's branch in Huron-Perth. "Their lives – before and after diagnosis – remain meaningful and inspiring to friends and family and we believe that this interactive light display will showcase how connections matter for those affected by dementia."
Lights On Stratford, a weeks-long winter festival designed to help tourism officials market the city as a year-round destination, debuted two years ago and has since featured displays from multiple international artists. Last year's event, visited by more than 80,000 people, included the North American debut of Australia's Sky Castle, an interactive light and sound exhibit set up outside of city hall.
Affinity is the second major attraction officials have announced for the upcoming festival. Also coming to Stratford this winter is The Pool, another well-travelled, large-scale and interactive public art display by world-renowned artist Jen Lewin.
"As a cultural destination, Stratford continues to punch well above its weight, including in the depths of winter," Gribble said. "We can't wait to welcome the community and visitors to an even bigger experience this winter." 
The third annual Lights On Stratford festival – with this year's theme of REKINDLE – is set to launch on Dec. 16 and runs through to Jan. 27, 2023.