Soup's On 2023
read
Back in person to sample Perth Counties best soups! Join us Saturday, January 14, 2023 from 11:00 am-2:00 pm at the Stratford Rotary Complex. Don't forget to bring your own spoon!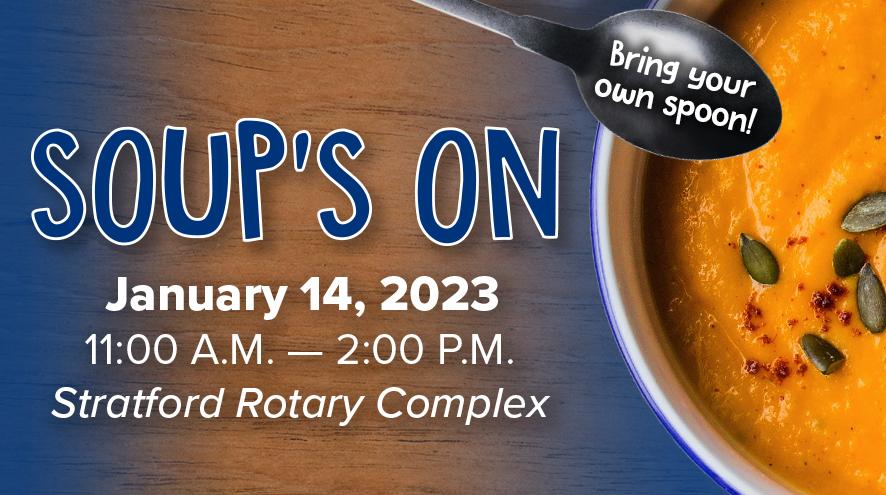 Event Details
The Alzheimer Society Huron Perth is excited to be back in person on Saturday, January 14, 2023 at the Rotary Complex Stratford. We will be celebrating our 28th year of Soup's On, January's premier event which is always a hit with all ages. Come on out to sample great soups from vendors across Perth County. At the heart of this event is the generosity of people in our community who support us year after year. We believe it really does take a collective, community effort to support people living with dementia. 
Getting Involved
We love to have the community involved in our event. To find out more details about sponsorship, becoming a soup vendor or donating towards our silent auction, please contact Teresa Weicker by email or by calling 519-271-1910 ext. 33.
To volunteer at the event, please contact Paulina Balch by email or by calling 519-271-1910.
2022 Soup's On Trail Vendors
Black Angus Bakery & Catering
Fellini's Italian Cucina
Heritage Hops Brew Co.
Peter Maranger & Associates Inc. with Madelyn's Diner
Remax a-b Realty Ltd.
Revel * bonus - Gouda Cheese Biscuit*
Revival House
Soup Surreal
The Bruce Hotel
The HUB Pub & Patio
The Pulp
The Alley Thrift Store
YSK Bistro
2022 Soup's On Trail Sponsors
Presenting Sponsor: Hyde Construction
Silent Auction Sponsor: The Rutherford Group
Site Sponsor: Revival House
Gold Sponsors: W.G. Young Funeral Home, Hunter Steel Sales Ltd., Stratford Farm Equipment
Bronze Sponsors: Blowes Stationary & Office Supplies, Pund-IT, W J Holman Plumbing & Heating
In-Kind Sponsors: Brenda's Place & Bakery, Cozyn's Garden Gallery, Food Basics, Downie Street Bakehouse, Olive Your Favourites, Pelee Island Winery, Revival House, Stratford Tourism, Zehrs Great Food