Soup's On 2023
Thank you for joining us at our 28th Soup's On. 2000+ attendees, 24 soup vendors, 150+ volunteers, Kid's Corner, Silent Auction, live music and more.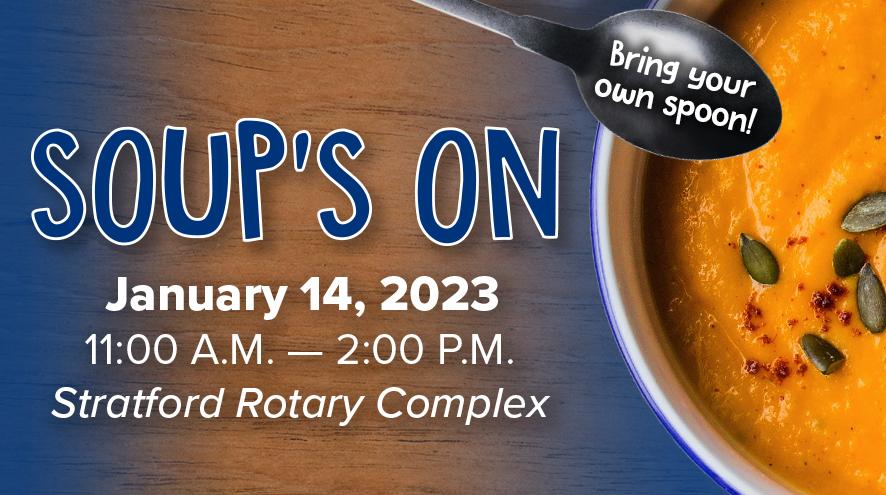 2023 Soup's On Environmental Impact
2000+ attendees
5 bags of garbage
960 litres of compost
3 bags of recycling
6 bags of tasters recycled in Waterloo County
All leftover soup donated to local shelters and community groups
2023 Soup's On Sponsors
Presenting: Hyde Construction
Silent Auction: The Rutherford Group
Venue: Hunter Steel Sales
Gold Spoon: 
Stratford Farm Equipment
W.G. Young Funeral Home Ltd.
Stage: Orr Insurance & Investment
Print: Commerical Printers
Silver Spoon:
Libro Credit Union
McCutcheon & Pearce
Children's Area: Nesbitt Financial Strategies Inc.
Bronze Spoon:
Blowes Stationery & Office Supplies Ltd
RBC
Refresh Recreation Therapy
Sinclair Pharmacy
W.J. Holman Plumbing and Heating Ltd.
In-Kind:
Festival Furniture
Zehr's Stratford
2023 Soup's On House Party Sponsors
Thank you to everyone that purchased Soup's On House parties. Thank you to our sponsors:
Brenda's Place & Bakery
Downie Street Bakehouse
Flowers on York
Food Basics
Olive Your Favourites
Pelee Island Winery - Lori Lupton
Sobeys
2023 Silent Auction Donors
Alley Cat Cafe
Bear + Fox Apparel
Bentley's
BK's Clothing
Black Angus Bakery & Catering
Boston Pizza Stratford
Bungalow
Burnt Brydges Wood Company
Cafe Bouffon
Chartwell Anne Hathaway
Chocolate Barr's
Coventry Animal Hospital
Crabby Joe's Listowel
Denise Nonomura - Artist
Designs by Cate
Destination Stratford
Donald Van Galen - Sun Life Financial
Dunny's Source For Sports
El Cactus Taco Shop
Features
Fellini's
Got it Made
Groenestege Home Hardware
Headlines
Illume Wellness Spa
Impressions Bakery Cafe - Listowel
Jillian's
Judy Preston
Julie Hawkins - Artist
Karen Wilson
Keystone Hospitality
Kitchen Cupboard
Krantz Machine & Welding Inc.
Krug's Meat Market
Lenora Hopkins
Lyric Flowers
MacLeod's Scottish Shop & Peter Maranger
Mercer Kitchen Beer Hall
Meridian - St. Marys
Mike's Bowling Lanes Inc.
Modo Yoga Stratford
MS Creations
One Off Shakespeare
Orr Insurance & Investment
Pazzo Pizzeria
Pursuit Climbing
Resonance Fashion
Revel
Revive Holistic Health Centre
Rheo Thompson
River Valley Golf Course & Winter Tube Slide
Rockwell Lounge
Ross' Bike Works
Samsonite
Sirkel Foods
Snapping Turtle Coffee Roasters
Soup Surreal
Spinrite
Stone Home Creative
Stratford Fighting Irish Hockey Club
Stratford Golf & Country Club
Stratford Honda
Sue & Jeff Orr
That's A Wrap
The Bruce Hotel
The Garden Stand
The Gentle Rain
The Green Hair Spa
The Green Room
The HUB Family
The Milky Whey Fine Cheese Soup
Tim Adair
Troyers Spice
VIA
Walther's IDA
Watsons Chelsea Bazaar
Watsons Home Hardware
Wild Hog
Wuerth Shoes
Yantzi's Home Building Centre - Tavistock
Zenfire Pottery
2023 Soup Vendors
Alzheimer Society Huron Perth

Avon Co-operative Nursery School

Boston Pizza

Chartwell Anne Hathaway

Co-operators / Black Angus Bakery & Catering

Festival Hydro/Rhyzome Networks

Gilly's Pub House

Heritage Hops Brew Co. 

Hillside Manor

Hometown Hearing Centre

Lights On Stratford & Sirkel Foods

Little Green Grocery

Mercer Kitchen Beer Hall

Orr Insurance & Investment

Rockwell Lounge

Soup Surreal

Stratford Air Cadets

Stratford Country Club

Stratford & District Agricultural Society

Stratford Fighting Irish Hockey Club

Stratford Winterfest

The Bruce Hotel 

The Hub Stratford

The Gentle Rain
Getting Involved
We love to have the community involved in our event. To find out more details about sponsorship, becoming a soup vendor or donating towards our silent auction, please contact Teresa Weicker by email or by calling 519-271-1910 ext. 233.
To volunteer at the event, please contact Paulina Balch by email or by calling 519-271-1910 ext. 231.