Donate
There are so many ways to take action! Find out how you can make a difference in your community and in the lives of people living with dementia by making a donation today.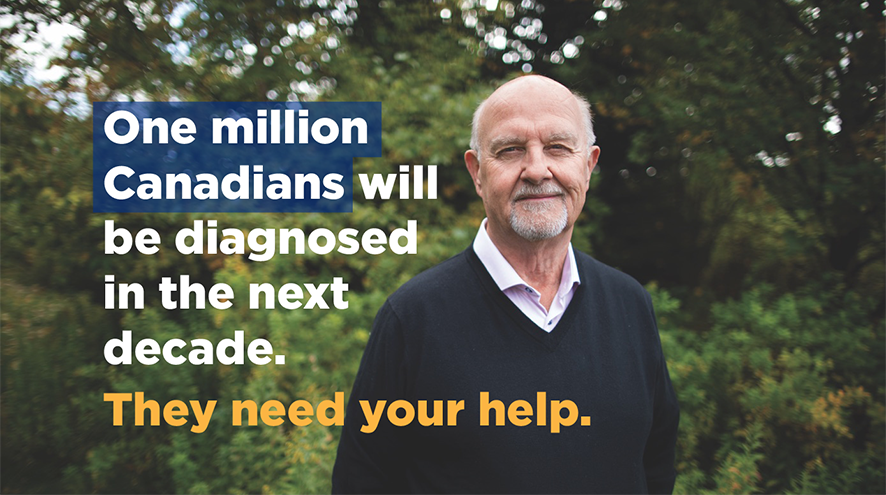 Planned Gifts - Make A Will Month
Over 50% of Canadians do not have a Will. By taking action and creating or updating your Will and Powers of Attorney, you will protect your family, your assets, save taxes and help in the fight against dementia. Your planned gift could be a bequest, gift of securities, gift of life insurance, major gift or other assets.
Benefits of Planned Giving include:
Save on taxes
Customized giving based on personal and financial circumstances
Donation is made from assets, not current income
Gifts are planned today for future distribution
Planned giving is easy to arrange with help from your financial or estate advisor
Click here to download our fact sheet on Planned Gifts and Benefits
Corporate Giving
There are many ways that your business can get involved with the Alzheimer Society. We have many sponsorship opportunities throughout the year for various fundraising events, as well as in-office fundraising opportunities your team can participate in. Get your business involved today by:
Office fundraising (i.e. dress-down days, baked good sale, etc)
Matching Gift program
Employee Charitable Giving program
Corporate Sponsorship
Hosting Your Own Fundraising Event
Host a Coffee Break
Monthly Giving
Monthly giving is an easy and convenient way to support the work we do, every month!
Your dependable monthly gift allows us to plan ahead, so that any gift, large or small, makes an ongoing difference in the lives of those living with dementia. We will mail you a tax receipt at the end of the year for your cumulative donations. Monthly giving allows for a bigger impact than single time giving as it is able to help us plan for the future, save money and ensure sustainability within ASSL.
Set up your monthly gift now
Special Occasion Giving
Wedding/Anniversary/Birthday/Tribute
Celebrate the moments that bring us closer together by using a celebratory event to help support people living with dementia and their families. Many of our supporters choose to give to ASSL in lieu of favours, gifts or flowers at special occasions. If you can't think of the right gift for that special someone, why not pay tribute to them with a gift to ASSL? Would you prefer your family and friends to make a donation to a cause close to your heart rather than giving you a gift? Or would you like to make a donation on behalf of your wedding guests in lieu of favours? Our team can offer you a unique way to help celebrate your special day or event. Whether it be a wedding, birthday, anniversary or retirement, your day will be memorable, meaningful and make a difference to the community.
To find out more about how we can help celebrate your special day, please contact Marie Marcie-Smids, Fund Development and Communications Coordinator:
Memorial Gifts
Memorial donations to the Alzheimer Society Sarnia Lambton are a significant way to pay tribute to a relative, friend or colleague who has passed away. You are honouring a special life by helping us improve the lives of those facing the challenges of Alzheimer's disease and other dementias.
Gifts can also be made over the phone, by mail or by dropping by our office. An acknowledgement card of your donation can be sent to the family upon request.
Donate by phone, online or in person
Donate by telephone
From 8:30 a.m. to 4:30 p.m.
Please have your credit card number ready.
We accept donations on these major credit cards - Visa, Mastercard, American Express.
All donations are processed in Canadian dollars.
Donate by mail
Please make cheques out to Alzheimer Society of Sarnia-Lambton and mail to:
Alzheimer Society of Sarnia-Lambton, 420 East St North, Sarnia, ON N7T 6Y5
Donate online
Log into Canada Helps and make a donation.
Donate in person
Come into our office on 420 East St, Sarnia, beside Benjamin Moore and make a donation in person. We accept cash, cheque and credit card in the office.
Questions or comments?
Email us at [email protected] or call 519-332-4444.
Receipts
Official income tax receipts are automatically issued for all donations of $20 or more. If you would like a receipt for less than $20, please advise us.