The IG Wealth Management Walk for Alzheimer's
read
When you participate in the IG Wealth Management Walk for Alzheimer's, you join thousands of Canadians who want to see a world without Alzheimer's disease and other dementias.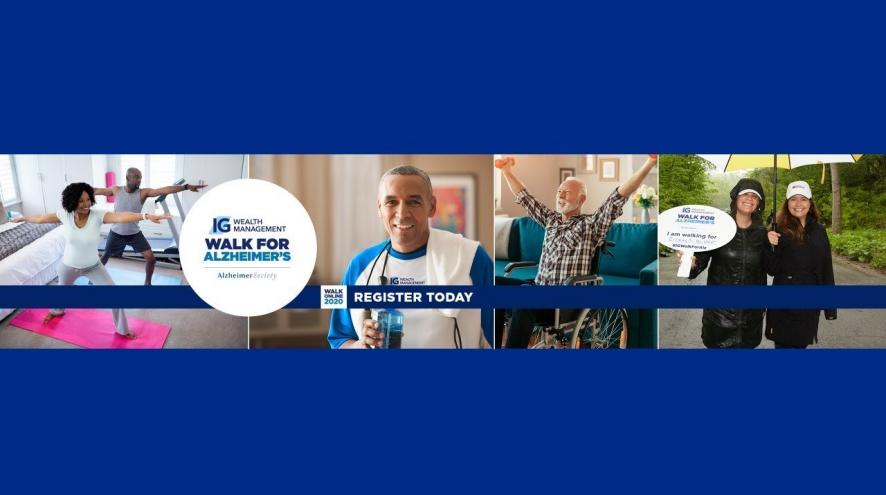 To find out more about the IG Wealth Management Walk for Alzheimer's and to register for a Walk near you, visit http://www.alzgiving.ca/ww today!
Walk Your Way in the Month of May 
During the month of May we are challenging YOU to "Walk Your Way" by taking 16,500 steps to honour the 16,500 people living with dementia and those that care for them in Waterloo Wellington.  Choose how you would like to participate in this year's virtual 'walk'.  Take your 16,500 steps each day, each week or throughout May.  Walk your Way- Anything goes! 
The IG Wealth Management Walk for Alzheimer's is a great opportunity for communities to rally around this increasingly prevalent disease, but it is also a fun way to raise awareness and vital funds that will make a world of difference for the 16,500 people living in our community who are affected by dementia.  
Please reach out and connect with friends, family and neighbours. Remember to use the hashtags #IGWalkForAlz and #AlzStepChallenge. on social media and 'Participate IN your community FOR' your community!  
So come on, join us, and "Walk" Your Way"!   All funds raised will stay in the Region to help the 16,500 people who are living with Alzheimer's and Dementia: people who reside in our homes: our friends, neighbours, and family.
Every step that you take is a step towards supporting one person impacted by dementia! 
For more information email Kathy at [email protected] or call 519-742-8518 ext. 2045