Minds in Motion®
read
Minds in Motion® is a community-based social program that incorporates physical activity and mental stimulation for people with early to mid-stage signs dementia and their care partners.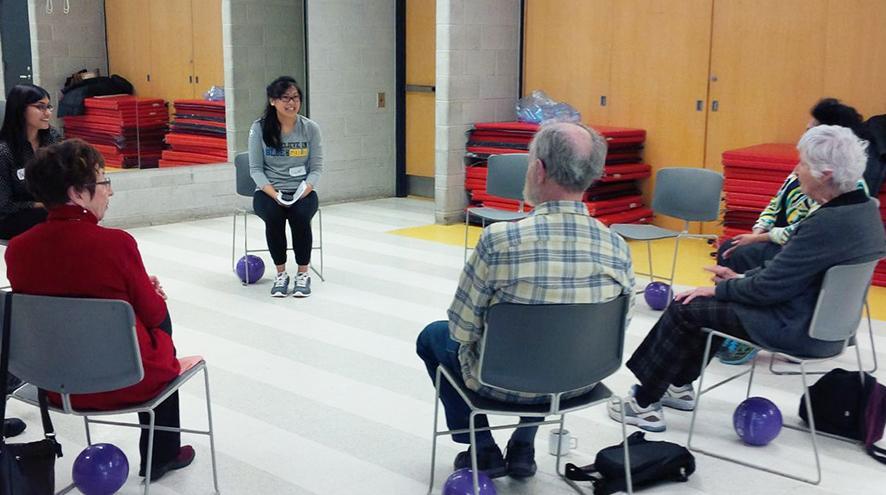 Refer to the program guide or call us at 519-742-1422 for more information and to register.
What is Minds in Motion®
Combining physical activity and mental stimulation, Minds in Motion unfolds to laughter and chatter, with new friendships forming and stories being shared.
Here's what participants had to say about it:
"Excellent program - great people, got me out of the house and got a lot of information and communication with other people. I felt more comfortable being here a second time, saw an improvement in my mother - she smiled often!"
"Should have on repeat all year long"
"The meaningful activity portion of the program is an excellent concept for mental stimulation, positive encouragement [and] promoting self-esteem. My relative really enjoyed the interaction and social aspect with the other participants."
"I already requested to be in the next MiM program, good job by all involved"
"I enjoyed participating in both physical exercise and social activities. It was wonderful meeting and getting to know all the participants. A great group! Overall, a great program. We both love coming. Leaders are excellent - always empathetic and great teachers." –Care Partner
"The people involved are the most helpful. Pleasant and understanding- it's been a very worthwhile course." - Person with Dementia
The participants
Minds in Motion participants have early to mid-stage signs of dementia and are accompanied by their care partners
In some circumstances  individuals register on their own, please connect with our program services line at 519-742-8518 x 2090.
A maximum of 11 couples, or 22 participants, enrolled in each eight-week program
The program
The 2-hour program runs once a week, for 8 weeks, in a community-based program centre, and offers:
Gentle and easy to follow physical activities
Fun social activities focused on building personal skills
The program benefits
For the person with dementia:
Improved balance, mobility, flexibility, and alertness
Increased confidence, and comfort with their own circumstance
Mutual support from others facing similar experiences
For the care partners:
It's an opportunity to focus on their own health, and have fun with their partner.
Seeing the person they are caring for enjoying themselves
Mutual support and learning from other care partners
All participants can benefit from:
Sharpened mental functioning, sometimes lasting 2-3 days.
Increased sense of social participation
Pilot findings
Participants' endurance improved by 20% and strength by 15%.
Participants reported decreased social isolation and an increase in informal networks of support
79% of participants continue with physical and social programs after participating
Close to 100 volunteers and students have been trained and are active in program delivery
90% of staff, volunteers and students identified an increase in their dementia knowledge
Facts & resources
Want to keep your Brain healthy?
Staying active in the community has many benefits for your brain health. It can help decrease the risk of developing dementia, can delay the onset of dementia, and may slow the disease progression. Canadian Physical Activity Guidelines recommend all adults (18 and older) should accumulate at least 150 minutes of moderate-to-vigorous physical activity per week, in bouts of at least 10 minutes.
The brain is one of your most vital organs. It plays a role in every action and every thought, and just like the rest of your body, it needs to be looked after.
Can dementia be prevented? There are no guarantees, but healthy lifestyle choices will help keep your brain as healthy as possible as you age.
Be good to your brain. It's never too soon or too late to make lifestyle changes to improve your brain's ability to sustain long-term health and fight illnesses.
Our partners
Thank you to all of our participants, sponsors and supporters across Ontario! Thank you to the Ontario Trillium Foundation for their long standing funding of Minds in Motion.
The Alzheimer Society recognizes the founding partners of Minds in Motion:
The Alzheimer Society of Ontario also wishes to gratefully acknowledge the Minds in Motion delivery partners:
The Canadian Centre for Activity and Aging developed the physical activity framework and program curriculum and will provide training to the physical activity program leaders, either directly or through the training of regionally-based trainers.
A team from Brock University's Department of Recreation and Leisure Studies developed the mental stimulation and meaningful activity framework for the program.
Older Adult Centres Association of Ontario is prepared to support the delivery of this program in their local centres.
Parks and Recreation Ontario, a provincial membership-based association, is supporting the project by engaging their municipal and non-profit recreation members.
A team from the University of Waterloo's Kinesiology Department, is leading the evaluation of the Minds in Motion® pilot project.
We also wish to thank Baycrest Centre for Geriatric Care for advising the Alzheimer Society of Ontario on the use of a Therapeutic Recreation framework for inclusion in Ontario's Minds in Motion program.
If your organization wishes to get involved with the Alzheimer Society, please contact Gail Roth at [email protected].