Wellness, Connect & Care
The Wellness, Connect & Care program is open to all seniors and provides experiences of healthy active living, social connection, engaging activities, and health and wellness education. Join us for arts, music, games, storytelling, and discussion groups.
Registration may be required.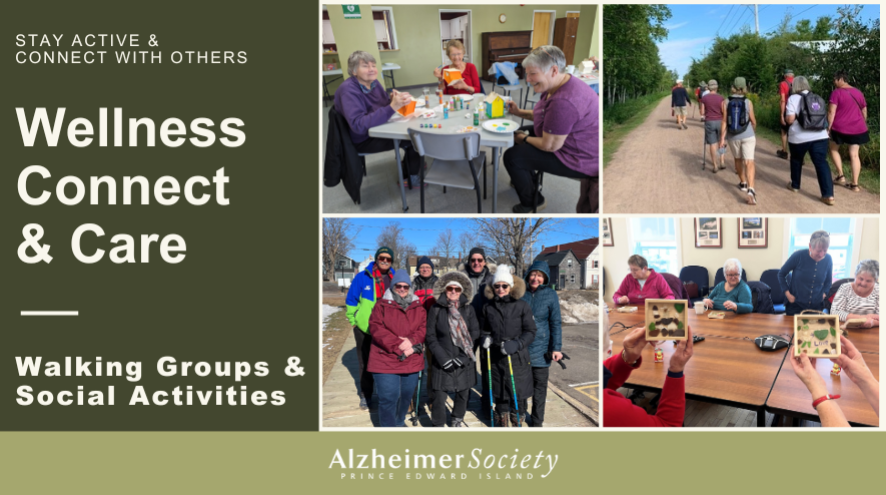 For a list of all upcoming Alzheimer Society of PEI events, please see our Event Calendar.
Walking Groups for Seniors
Walk with us to stay active and fit, chat with others, and explore new routes and trails. Open to all seniors, these free walking groups are also a dementia friendly environment, perfect for a person living with dementia and a family member to attend together. Walking is an excellent way to promote cardiovascular and brain health, build strength to reduce the risk of falls, and lift mood! 
Charlottetown Walking Group
Casual walking group for connecting with others while staying active.
Tuesday & Saturday Mornings | Charlottetown
Register Now
Montague Walking Group for Seniors
Thursday Mornings | Montague
Register Now | More Info

*Locations subject to change. Please register to receive updates.
Walking Poles Borrowing Program
We are launching our very own Walking Poles Borrowing Program! We have purchased 10 sets of walking poles to loan to seniors in PEI.
The Urban Poling ACTIVATOR® poles focus on building strength and stability, and the Urban Poling Series 300 poles are built for fitness and performance. Both types are height adjustable and have ergonomic CoreGrip handles for improved wrist support.
The walking poles are now available to borrow in 4-week increments, with the possibility of extension depending on demand. This program will be run on a first come first serve basis, with an ongoing waitlist and a limit of one set of poles per person. Instructions will be provided, novices are welcome.
Contact us to borrow your first set!
Social Activities for Seniors
These events designed for seniors are intended to foster social connection, engagement in activities, and education, virtually and in person. They focus on social connection activities through arts and crafts, music concerts and singalongs, personal sharing and relating games, and health and wellness education like reducing stress/living well, caregiving tips, accessing resources in the community and maintaining brain health.
See our events calendar for upcoming activities!
Become a Volunteer
The Wellness Connect and Care program features rich opportunities for seniors to volunteer and give back to their community. Volunteers are essential to the program, and the experience is rewarding. Openings for walking group leaders and social activity leaders are available all across PEI.
Walking Group Leader – Assist in leading or co-leading an ongoing walking group for seniors in your community, based on your schedule and availability. Training and support is provided!
Social Activities Leader – Do you have a skill, talent, or passion you could share with others in the community? We are looking for seniors to help us lead interesting social activities like arts and crafts nights, music concerts and sign-alongs, hobbies based outings, games nights, story telling, and talking circles.
Contact us at [email protected] or 902-628-2257 for more information.