Give the gift of hope
read
Our First Link Coordinators remain in touch with their clients providing direct service to them. We have moved the rest of our programming including our Learning Series, Support Groups, and more online with great success. You can help us keep that success going by making your donation today.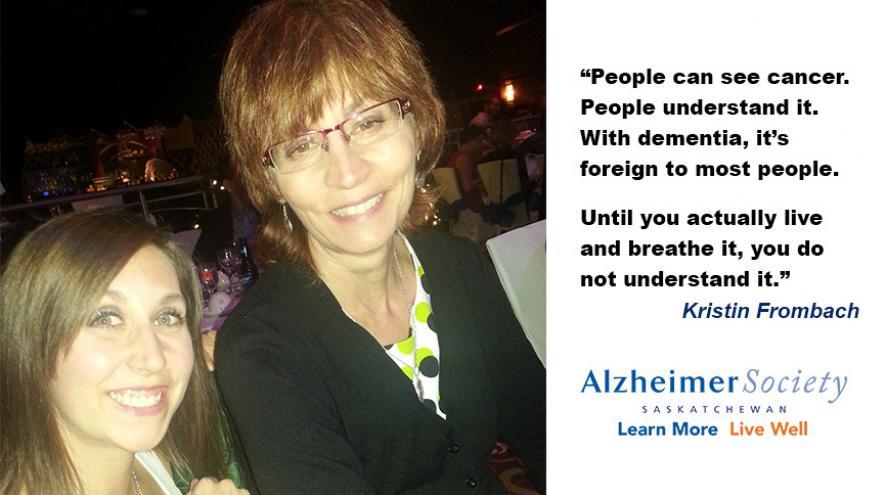 Please give your gift today online or by giving us a call at 1-800-263-3367
Kristin's Story
People can make a difference when it comes to dementia
Kristin Frombach shares a significant part of her life to help make the work of the Alzheimer Society possible and to improve the lived experience of those affected by dementia.
She volunteers, helping to deliver our annual gala fundraiser. She speaks at public events in support of people with dementia, using her voice to advocate for others in Saskatchewan who share her passion for this cause. Kristin uses her voice because she believes that by doing so, she can help make a difference for others living with dementia and their families.
On a very personal level, Kristin often shares something special. The story of her mother Joyce.
"Imagine that one day, your loved one has no idea who you are.
This is what I experienced with my mom when I was only 32 years old.
Then imagine one day you wake up, you don't know your own name, you can't remember how to use the washroom, and even worse, you don't even recognize the person looking back at you in the mirror. You are trapped in your own mind.
This is what my mother Joyce, started to experience at the age of 51.
She just wasn't acting like herself and started forgetting things, like her grandchildren's birthdays.  Looking back now, we know that in actual fact these were the ABC's of dementia; her abilities, behaviours and communication were all changing, for the worst. 
My mom was certain that there was always a lady in her house who wasn't very nice and was stealing from my mom. This lady was my mom's reflection in the mirror.  She wasn't even recognizing herself anymore.
Along with the confusion and paranoia, came aggression.  She'd yell, ball up her fists tight and shake them at you; she'd push you and she had this look that made you think "yep she's mad and wants to hit me".
Dementia robbed our whole family. My brother and I lost our mom, Glen lost his life partner, her mother lost a daughter, and her grandchildren lost their grandmother.  My children's only memories of their Grandma are of her being sick in a wheelchair. Dementia is absolutely heart wrenching.
Dementia makes families mourn twice; you have to mourn the loss of someone mentally, then again when they actually leave this world, physically."
Kristin shares her time and her spirit with the Alzheimer Society because she wants to improve the lives of people who share a story like hers. Please join her today by making a donation to the Alzheimer Society of Saskatchewan.
Please give your gift today online or by giving us a call at 1-800-263-3367