IG Wealth Management Walk for Alzheimer's
read
The IG Wealth Management Walk for Alzheimer's is an annual event to raise awareness and funds to support people and families living with Alzheimer's disease and other dementias. Together we display a combined strength and dedication in the fight against this disease.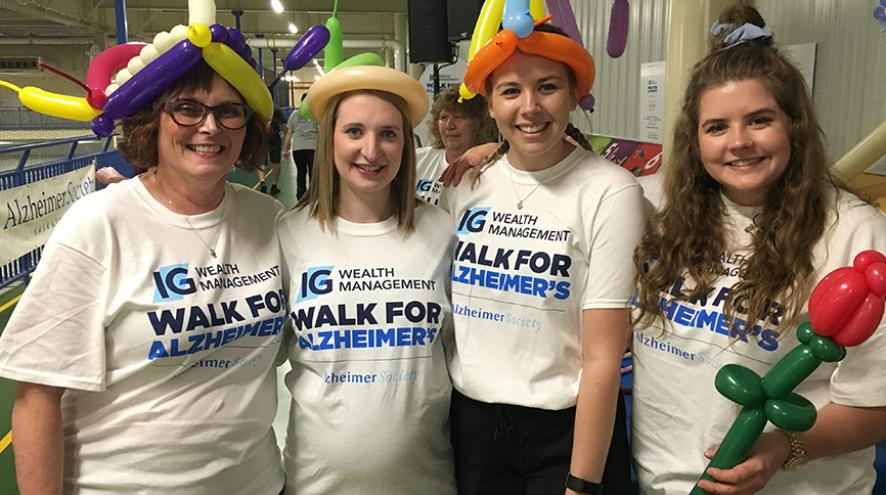 Our next Walk is in Prince Albert! Participate in the IG Wealth Management Walk for Alzheimer's by getting started here
What is the IG Wealth Management Walk for Alzheimer's?
The IG Wealth Management Walk for Alzheimer's is one of Saskatchewan's biggest fundraising events. Taking place in more than 7 communities across the province, these funds will go toward programs and services that improve quality of life for people living with dementia and their families as well as funding research into causes, a cure, and improvements to quality of life.
What's different in 2020?
The IG Wealth Management Walk for Alzheimer's has moved online! For January, we're turning the walk into a week-long campaign of getting active. This January, walkers are lacing up their shoes and running the stairs, walking the dog, hitting the treadmill, doing yoga and otherwise choosing a way to show their support.
Event Details for Prince Albert
Prince Albert IG Wealth Management Walk for Alzheimer's - Online
Jan 24th-30th, 2021
Walk and fundraise in your home community, at your own pace!
Start fundraising by registering online, and share your story and creative fundraising ideas with us on social media @AlzheimerSK
Matching Gift
This year Canadian Tire Prince Albert is matching all gifts up to $10,000 for the Prince Albert Walk. That means your gift will be doubled and will help more people in the community of Prince Albert! Thank you Canadian Tire for your ongoing support and generosity.
How do I get involved?
Click Here 

and register for the walk by creating your own fundraising page to start collecting donations for the walk! 

During the week of Jan 24th -30th 2021, choose how you want to get active. Take a picture or video and upload it to social media with the hashtag #IGWalkForAlz. Walk for Alzheimer's where you are!

Fundraise. Encourage friends and family to join you.
Why join the Walk?

 
Make memories matter! When you walk, you're sending a message of hope to families living with dementia, and thousands more who care for them. When you fundraise, you're promising them that help will always be available.
Join our Walk today! It's fun, keeps you fit and raises much-needed funds and awareness.
Have Questions?
 For more information, contact Angela at 306- 949-4141 or [email protected]   
Our National Title Sponsor
The Alzheimer Society is pleased to have IG Wealth Management returning for its third year in 2020 as Title Sponsor for our annual Walk.
IG Wealth Management has a long heritage of community involvement, corporate funding and project initiation that has created a strong corporate culture of caring. In 2018, IG Wealth Management made more than $7 million in charitable donations across Canada.
The Alzheimer Society is proud to partner with IG Wealth Management.