Mertler family story
read
Gord Mertler and his family are matching the gifts to our annual giving campaign up to $50,000 in support of the Alzheimer Society of Saskatchewan. They are also sharing their story of Gordon's parents - Ann and George Mertler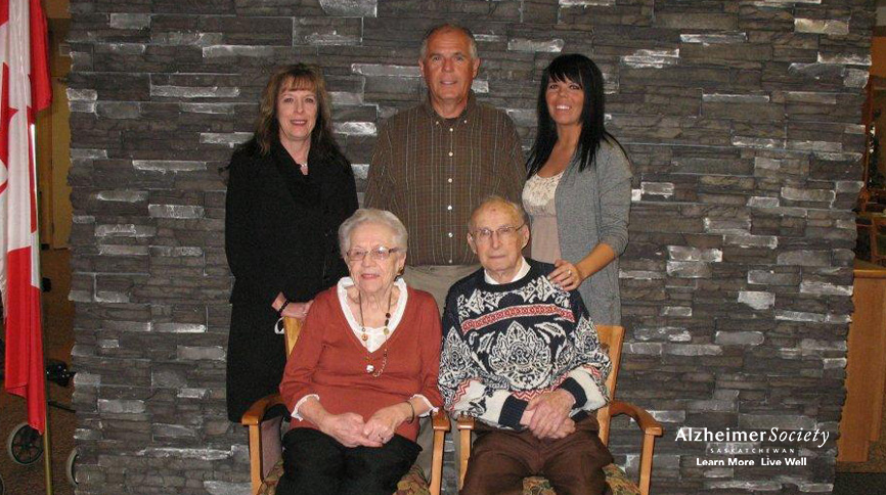 Make your gift today
Gord Mertler and his family are matching the gifts of our donors to our annual giving campaign up to $50,000 in support of the Alzheimer Society of Saskatchewan. They are also sharing their story of Gordon's parents - Ann and George Mertler
Please make your donation to the Alzheimer Society of Saskatchewan.
Make your gift online, or call 1-800-263-3367
Mertler family story
In the spring of 2011, I was visiting my parents at their home; we were sitting in their living room and visiting before going out for supper.  As we visited, the wind was blowing the living room curtains out the patio doors. My father got up from his recliner to pull the curtains inside and close the door.  Instead of pulling the door, he pulled the door casing beside the door. 
My father was experiencing a stroke right before our eyes.
After a week in the hospital, my father was diagnosed with vascular dementia - a result of his stroke.  I know it was a confusing time for him. He was self-aware of the interruptions to his thoughts and he had to be restrained in his hospital bed to prevent him from wandering the hallways and stairwells. 
On the drive home from the hospital a week later, I drove him past Mosaic Stadium. Despite being a 25-year season ticket holder with the Riders, my father didn't recognize the stadium. He didn't recognize Dewdney Avenue either - a street he had driven thousands of times over many decades of his life. 
It was a concerning time for our family as we considered what steps to take next. My parents had already planned a move to a retirement home in four months, but we were unsure of how to manage the months prior to that move. Despite our family's support, the transitional period was stressful for my aging mother who found herself watching my father's every move alongside regular daily activities, and sorting and packing belongings. As my mother and family friend packed boxes for the move, my father unpacked them.
He was lost and confused in his long-time home, how would he fare moving to a new and unfamiliar environment?
I reached out to the Alzheimer Society of Saskatchewan for information and support as we navigated this challenging time.  They invited my mother and I to meet with them, and they opened our eyes to the whole new world of dementia.
We learned so much from this one meeting and continued to foster a relationship with them and attend their programming with my father.
After relocating, my father befriended a man who had early signs of dementia.  The two of them began to attend the weekly Alzheimer Society's programs together.  My father's condition actually improved over the following months leading up to his 90th birthday. He improved so much so that he insisted on giving a presentation at two family suppers we hosted for him. 
His message was to encourage friends and family to seek out assisted living facilities in their senior years. He felt that he and my mother were so well taken care of at the retirement home and were so fortunate to enjoy many engagement activities, including the Alzheimer Society's programming.
My father's presentation impressed us all.
My father passed away four months later of congestive heart disease.  This was devastating for my mother who had been married to my father for almost 64 years.  Over time, my mother's anxiety worsened and she developed early stages of dementia in her 90's. 
The information and support provided by the Society assisted members of our family during challenging times; giving us the knowledge and tools to relocate my mother as she required more care and attention in her final and 93rd year of life.
Our family has been blessed by not experiencing severe conditions of dementia in our immediate family members, but we have seen other family, neighbours and friends who have.
It is truly heart-breaking to see friends and family cope with loved ones affected by Alzheimer's disease.  Our message to all those dealing with a friend or relative affected by Alzheimer's disease is to connect with the Alzheimer Society as soon as possible. 
Although there is currently no cure for dementia, the Society is welcoming, informative and there to help.  Please don't hesitate to reach out to them!
Please join our family in supporting the Society's essential work. Please make your donation to the Alzheimer Society. As a family, we are pleased to be able to match your gift this year and I encourage you to make yours today.
Sincerely
Gordon Mertler
Make your gift today
Gord Mertler and his family are matching the gifts of our donors to our annual giving campaign up to $50,000 in support of the Alzheimer Society of Saskatchewan. They are also sharing their story of Gordon's parents - Ann and George Mertler
Please make your donation to the Alzheimer Society of Saskatchewan.