Dementia Awareness Day
Saskatchewan
The voices of people with lived experience with dementia were heard in Saskatchewan on April 17th. Learn how the Alzheimer Society of Saskatchewan made it possible, here.
On April 17th, the Alzheimer Society of Saskatchewan facilitated a Dementia Awareness Day at the Saskatchewan Legislature to advocate for better support for people living with dementia and their care partners in the province.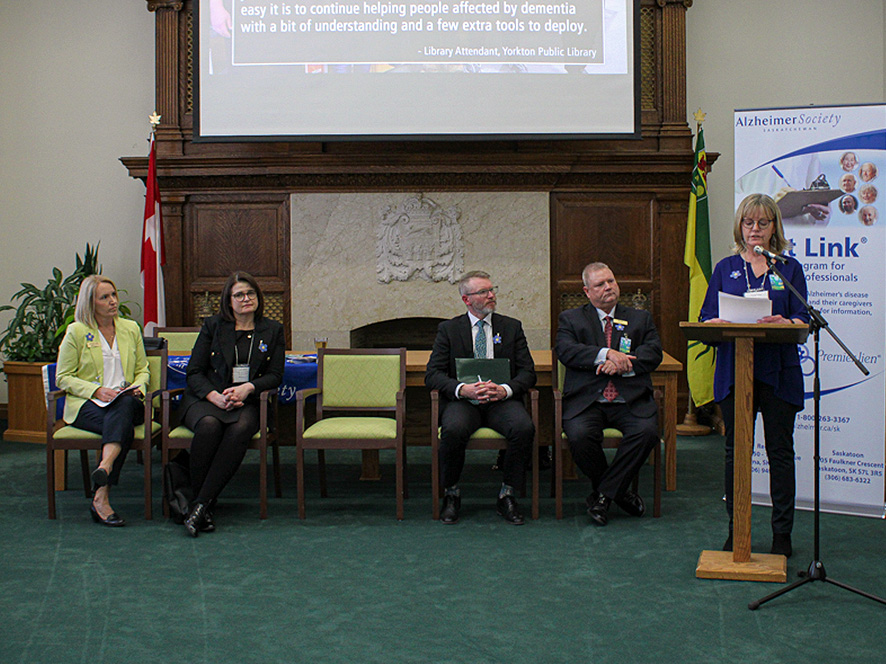 During the Legislative Assembly, the Alzheimer Society of Saskatchewan was introduced by the Honourable Everett Hindley, Minister of Mental Health and Addictions, Seniors, and Rural Remote Health, and Matt Love, Opposition Critic for Municipal Affairs, Tourism, Seniors, Ethics and Democracy, and Parks, Culture, and Sport. The recording of the Assembly can be found here.
After the Assembly, nearly 30 Members of the Legislative Assembly (MLAs) attended our Dementia Awareness Reception, which included a message from Elaine Unrau, a family care partner from Saskatoon; greetings and updates from our CEO, Joanne Bracken, and Board President, Dan Kohl; along with remarks from the Honourable Everett Hindley and Carla Beck, Leader of the Official Opposition.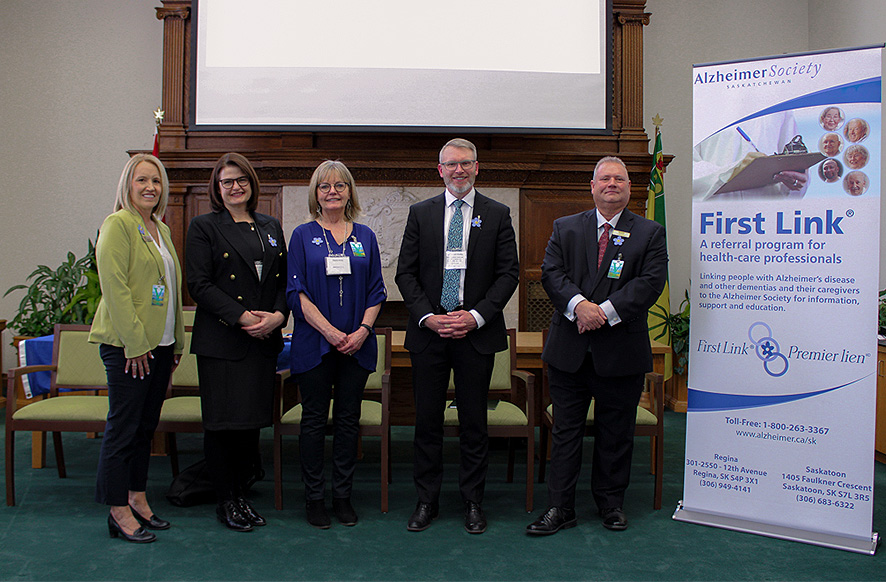 Numerous other families who have been impacted by dementia were in attendance and were able to share their stories and experiences with some of the elected officials who were present.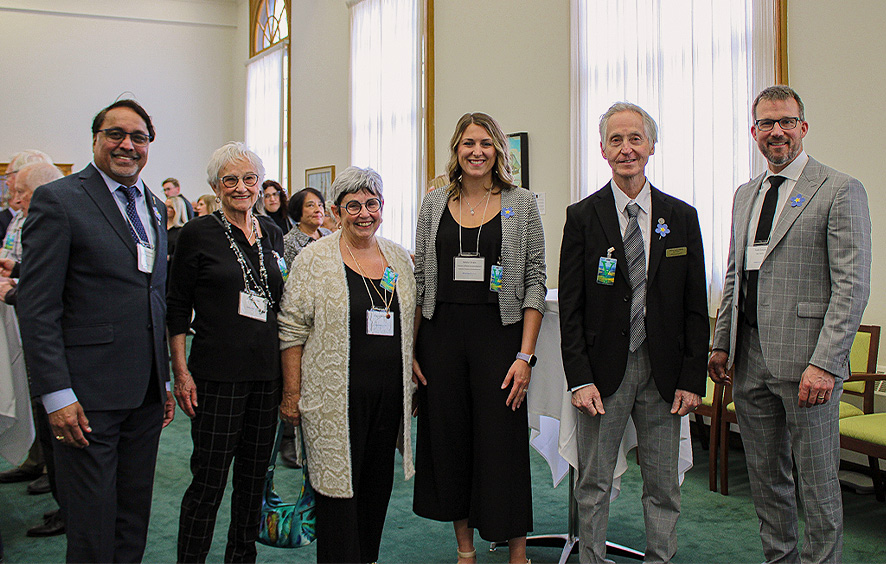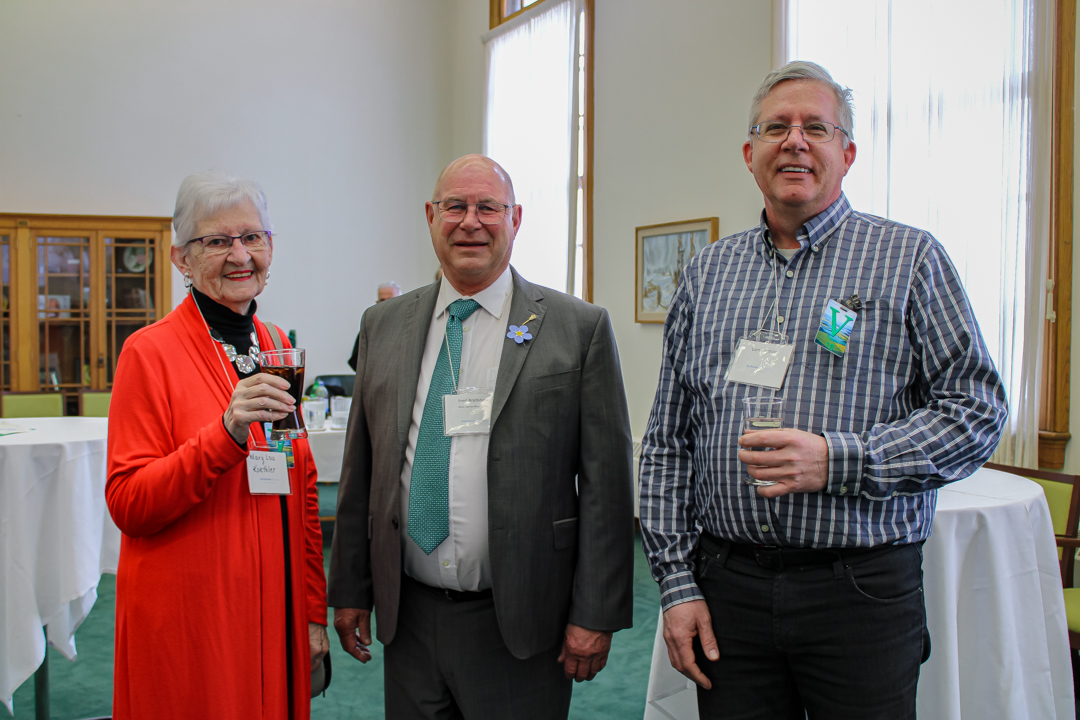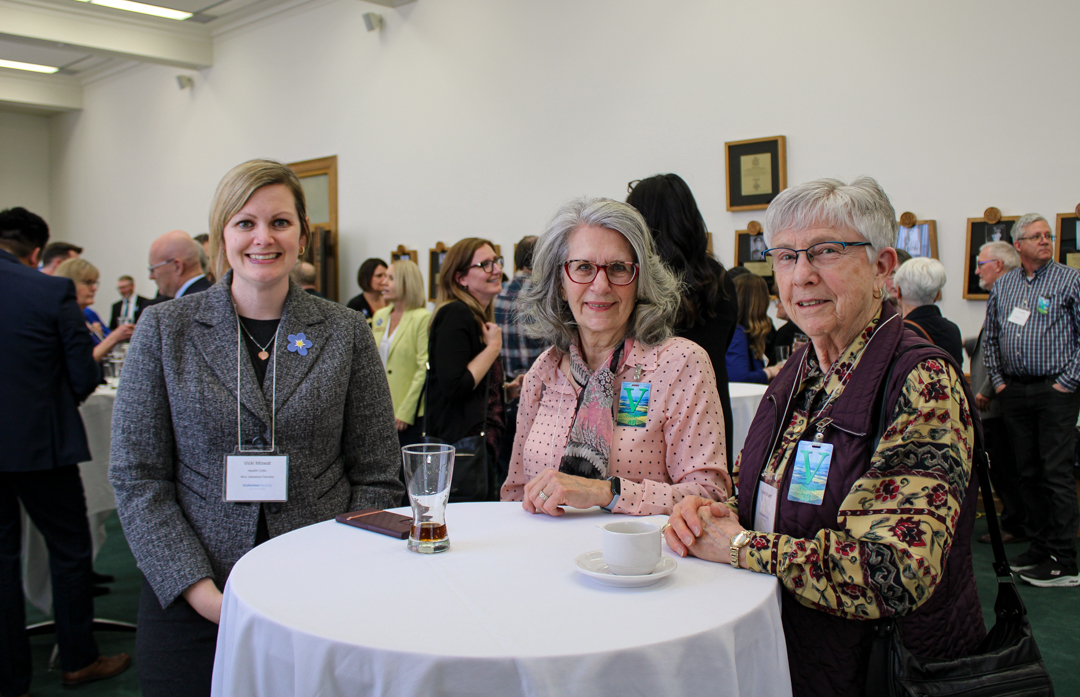 The Awareness Day was an opportunity to challenge stigma by highlighting the many faces of dementia in our province and to explore how the Government of Saskatchewan can work with the Alzheimer Society to increase supports and resources for people affected by dementia.  
"60 percent of people living with dementia live in their own homes and are cared for by their families and friends," Joanne Bracken, CEO of the Alzheimer Society of Saskatchewan, stated. "More than half of care partners for people living with dementia will experience symptoms of distress, which means we need to support them financially and emotionally and give them the training they need so they are equipped for their caregiving responsibilities," added Bracken.  
"We really feel that community day programs would help my sister partake in more activities and to be with others with the same challenges. This would give her husband a break, too," shared Elaine Unrau, Alzheimer Society Volunteer and care partner with lived experience. "When the primary caregiver can't get a break, they develop their own health conditions and the stress seems to age them."
"The Alzheimer Society is very appreciative of the financial support we receive from the Government of Saskatchewan to help us deliver the First Link® Program and create awareness about dementia," said Alzheimer Society of Saskatchewan Board President, Dan Kohl. "Research has demonstrated that programs like First Link can keep people with dementia in their own homes up to a year and half longer than families with no support."
In 2022, more than 10,000 care partners in Saskatchewan provided 12.9 million hours of care, which equates to 6500 full time jobs at the province's current minimum wage, or $160 million worth of care. Over the past year, the Alzheimer Society of Saskatchewan provided services to over 2700 clients from 300 communities across Saskatchewan and the number of referrals to the Alzheimer Society from those who diagnose and treat dementia have increased by 54%.
The Alzheimer Society of Saskatchewan recently surveyed care partner clients about what services and supports would be the most helpful in their caregiving roles. The top three priorities they named are:
Education opportunities about dementia

Education and support to manage responsive behaviours

Access to adult day support programs
If you would like to advocate for yourself or someone living with dementia, we encourage you to set up a meeting with your local MLA to discuss:
Why dementia is an important issue for you.

What supports and services would be most beneficial to you and the person living with dementia to live as safely and long as possible in your community.
If you do meet with your MLA, please let the Alzheimer Society of Saskatchewan know about your experience by emailing: [email protected]