A Recipe for Fun
Saskatchewan
A new culinary-based program has launched in Saskatchewan to help seniors and care partners of people living with dementia socialize, learn dementia risk reduction strategies, and build on their existing food literacy skills. Learn more about the program, how it's offered, and how to apply here.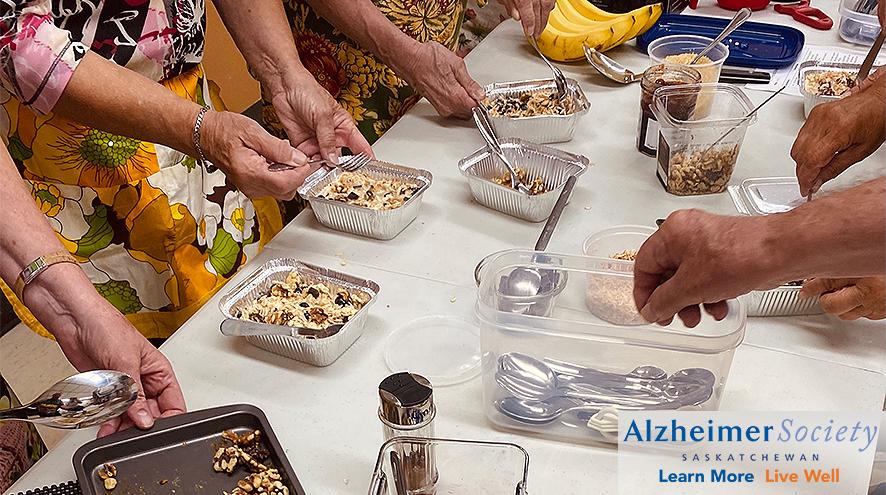 The Cognitive Kitchen Program - a Saskatchewan-based cooking and education initiative aimed at promoting dementia risk reduction and living well with dementia – is currently looking for participants for in-person and virtual sessions.
We asked Julie Beitel and Dr. Allison Cammer, registered dietitians and Cognitive Kitchen leads from the University of Saskatchewan, to tell us more about the program and how someone who's interested can apply. Their responses are below.
So, what exactly is the Cognitive Kitchen Program and how is it delivered?
The Cognitive Kitchen is a cooking and nutrition education program for people who are 55 years or older and those who are caring for someone living with dementia.
Right now, it's being offered in person in communities within a 150 km radius of Yorkton, SK, as well as virtually, so people from across the province can participate. We extend the invitation for people living with dementia to attend with their care partners, provided they feel the learning environment would be suitable for their preferences. We offer options for the degree of each person's participation and can help attendees decide how to divide tasks appropriately and safely.
The program includes six sessions. During each session, a different aspect of eating well to reduce the risk of dementia or live well with dementia will be discussed. A facilitator (usually Julie) will help the group prepare several meal items that illustrate evidence-based nutrition and are based on the group's particular dietary needs. Each of the six sessions will take approximately 90 minutes to two hours, depending on the amount of time each dish takes to prepare.
Participants are provided a recipe workbook for the program that they can follow along with each session and use as a reference after the program has wrapped up. In the virtual sessions, the facilitator will demonstrate each step of smaller (generally 2-4 serving) recipes and attendees have the option to cook along if they want to or watch and take notes so they can make it later. For in-person sessions, preparation of larger batches is shared among group members. Everything is very adaptable to each person's living situation and abilities.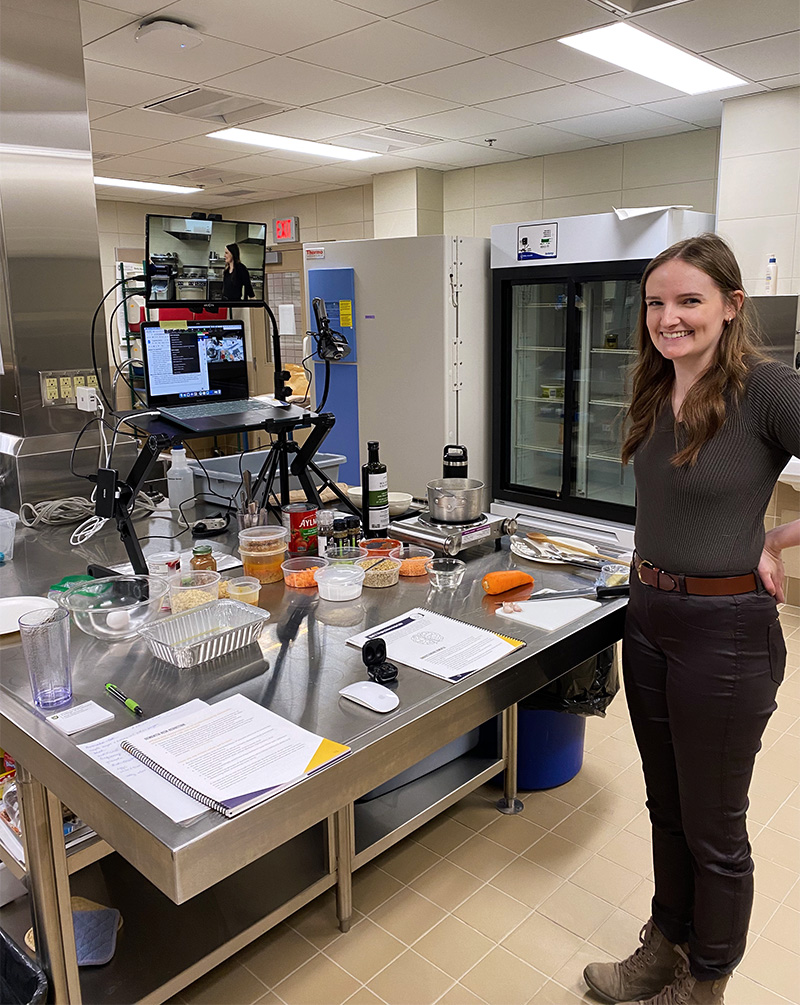 How much does the program cost?
There is no cost to participate. Ingredients are provided for all in-person programs, and, for virtual sessions, the recipes are designed around ingredients that are available in your area. Then, you can submit your receipts - up to $50 per virtual session - for reimbursement.
Are there any prerequisites or special equipment needed to join the program?
We are requesting that participants have a basic familiarity with Zoom if they are applying for the virtual program. That being said, there is a brief training session for participants to attend before they begin the program, which includes activating a test connection so people can practice and use the links.
For those who join the program virtually from their own kitchens, we are encouraging them to use what they already have in terms of tools and utensils. If you only have a desktop computer, it may be a bit challenging if the computer is not in or near your kitchen. If your setup isn't ideal, you are welcome to watch and make the foods at a later time.
How does someone apply to join the Cognitive Kitchen Program?
We are asking people who are interested to complete our Intake Survey: 
https://www.surveymonkey.ca/r/cognitivekitchenintake
Your survey responses will help us meet the unique needs of each group we offer the program to. The survey is intended to help us better understand participants' current level of food literacy, dietary needs/preferences, and budgetary considerations so we can offer accessible and appropriate ingredients. We want attendees to be able to continue with the skills and resources they gained from the program after they've completed their six sessions with us.
Can you tell us more about your intake process?
We are offering a rolling intake process between now and July 2024, which means there will be various start dates throughout the fall and winter. We suggest you sign up as soon as possible so that we know there is interest in your community-- or we can place you in one of our virtual programs.
The program is based on participant interest and availability, so sign up today! We are able to accommodate a variety of schedules, so we encourage you to invite friends to join with you.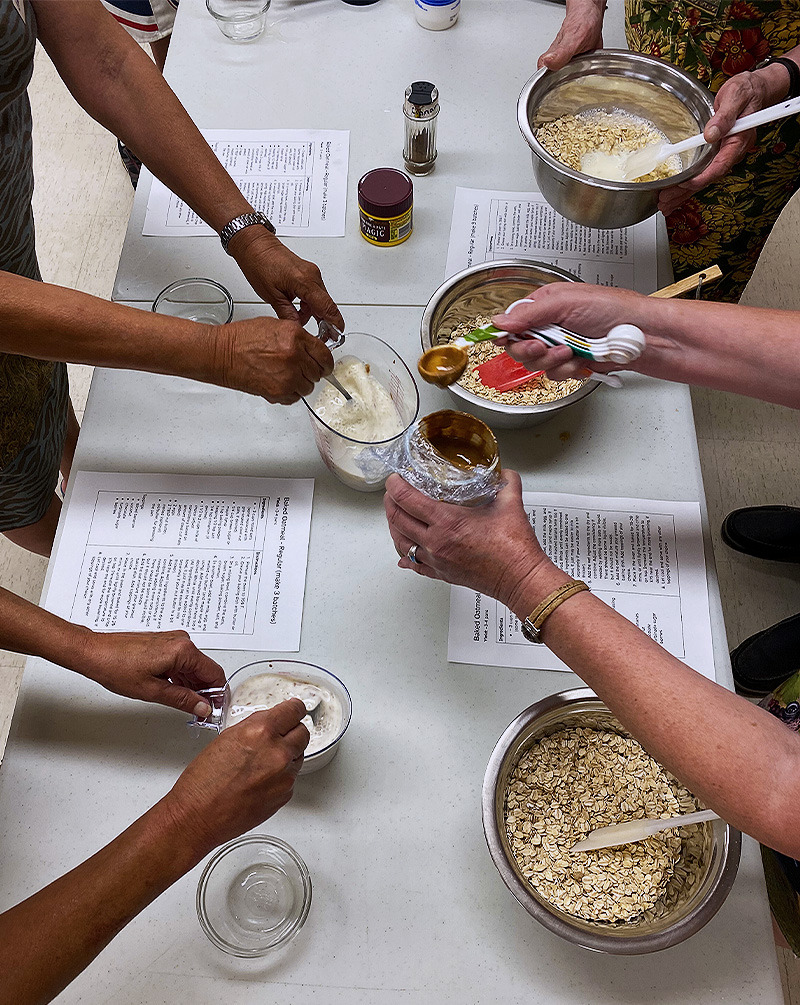 Is there anything else you'd like people who may be interested in the program to know?
Socialization is a key component and benefit of Cognitive Kitchen. Not only is it a great opportunity for folks to empower themselves with practical nutrition strategies to reduce their risk of dementia, it's also a chance to share experiences and connect with a supportive community.

If you have questions about the program or require assistance in registering, please contact Julie Beitel, Project Coordinator, at [email protected] or 306-966-5303.

Cognitive Kitchen is a collaborating organization in the Dementia Supports in Rural Saskatchewan project – a multi-year, federally funded project focused on increasing the social inclusion of people living with dementia in rural communities. The project area is centred around Yorkton, Melville, and the surrounding rural communities.
Dementia Supports in Rural Saskatchewan is led by the Saskatchewan Population Health and Evaluation Research Unit (SPHERU) at the University of Regina and is funded by the Government of Canada.