Board of Directors
read
Alzheimer Society of Windsor & Essex County Board of Directors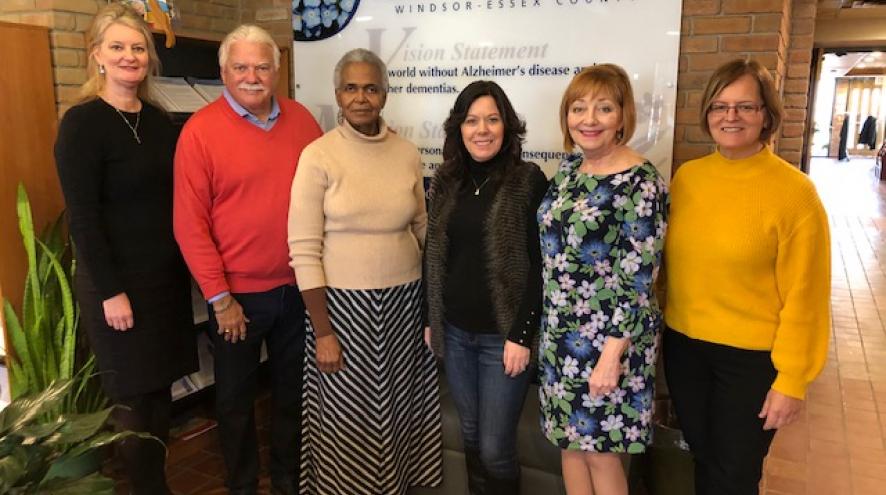 Members of the Alzheimer Society of Windsor & Essex County Board of Directors guide the organization's efforts to improve service and care, educate the communities we serve and mobilize support for those affected by Alzheimer's disease and related dementias.
If you are interested and would like more information on becoming a Board Director or member-at-large on one of the Board's standing committees (Finance & Services. Nominating & Governance, Community Advisory Council), please contact Sally Bennett Olczak, CEO, by email or at (519) 974-2220 ext 223.
Founders
1981
Mrs. Marilyn Brown- Skinner (1933 - 2010)
Mr. George Sims (1920 - 2004)
Honorary Directors
Ms. Marjorie Brown (1930 - 2021)
Mr. Dave Cooke
Mr. Ari Freed
Ms. Mina Grossman-Ianna
Mme. Justice Micheline Rawlins
Mr. Wayne Stevens
Dr. Fouad Tayfour
Mrs. Rochelle Tepperman
Mr. John Vollmer
Board of Directors
BENETEAU, Marty                                                                                       Director
External Partnerships Liaison,
The Odette School of Business MBA Program, University of Windsor,
Former Windsor Star Publisher and Regional Vice-President, Postmedia Network Inc.
BENNETT OLCZAK, Sally                                                                          Non-Voting Member
CEO, Alzheimer Society of Windsor & Essex County
COHEN, Dr. Jeffrey                                                                                       Director
HIV Care Program, Windsor Regional Hospital,
COLETTI, Melissa                                                                                         Vice Chair
VP Financial Reporting & Tax, Global, Farrow
DAS, Dr. Nila                                                                                                 Director
Interim Executive Director, Windsor Essex Child/Youth Advocacy Centre
DRAKE, Michael                                                                                           Director
Partner, Chodola Reynolds Binder Law Firm
DUDDY, Dr. Joann                                                                                        Director
PhD, Retired
FARROW, Rick                                                                                             Director
Chairman, FARROW
HALL, Karen                                                                                                  Chair
Retired, Columnist and Op-Ed Page Editor, Windsor Star
KERSEY, Harold (Hal)                                                                                  Treasurer
Registered Professional Planner, Project Management Professional
MUSHTAQ, Sarah                                                                                         Secretary
Patient Education & Indigenous Program Coordinator, Windsor Regional Hospital
SOULLIERE, Patrick                                                                                     Past Chair
Retired
Chief Executive Officer
Mrs. Sally Bennett Olczak
2002 - Present