Monument of Memories
Leave Your Mark On Our Community And Make A Lasting Impression In The Lives Of People With Dementia...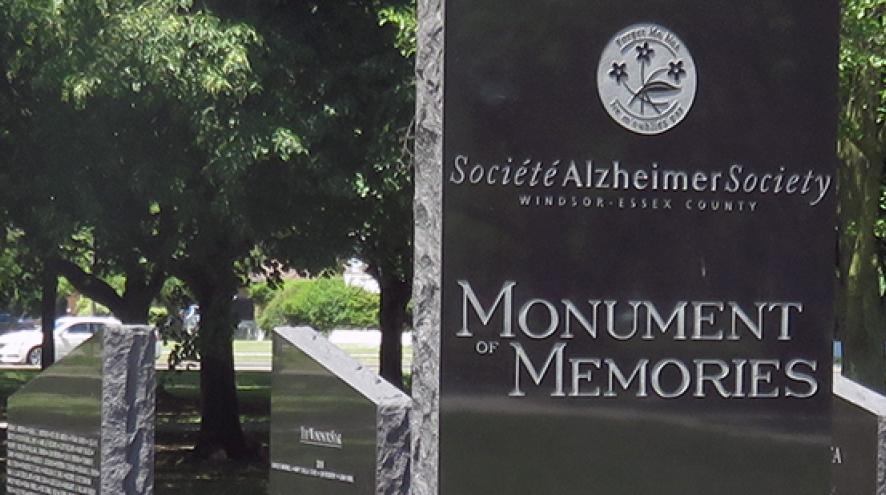 Each engraving on the Monument of Memories is only $150, and is considered a tax-deductible donation to the Alzheimer Society.
To order your engraving today, print the order form, call 519-974-2220 ext. 225, or email [email protected] today.
Monument of Memories
Looking for a way to celebrate your life or the memory of a loved one?
Need a unique and lasting gift, especially for that hard-to-buy-for person?
Consider purchasing an engraving on the Alzheimer Society's Monument of Memories.
Located in beautiful Jackson Park on Ouellette Ave. and Tecumseh Rd East, our Monument for Memories is a way to remember and be remembered.
Your Donation Stays in Windsor- Essex
And with each engraving, you make a donation to the Alzheimer Society of Windsor and Essex County.
Your donation stays in Windsor-Essex and helps us provide:
Free classes about Alzheimer's disease and other forms of progressive dementia, so those who are affected can better understand these diseases and how to manage them
Free support group sessions for people with dementia and their family caregivers, helping them realize they're not alone in this journey, and can share experiences and learn from each other
In-Home Respite Care, which allows family caregivers to get a break from their heavy responsibilities with peace of mind, knowing their loved one is receiving proper and quality care in their own home
Day Away Program, where persons with early-stage dementia can enjoy a full day of appropriate activities, socialization, and basic nursing care in our facility
Support for research to help us better understand Alzheimer's disease and, eventually, how to cure it