Adult Day Program
read
The Adult Day Program is uniquely designed for individuals living with Alzheimer's disease or other dementias. Our clients enjoy social, physical and recreational activities led by qualified, specially trained staff.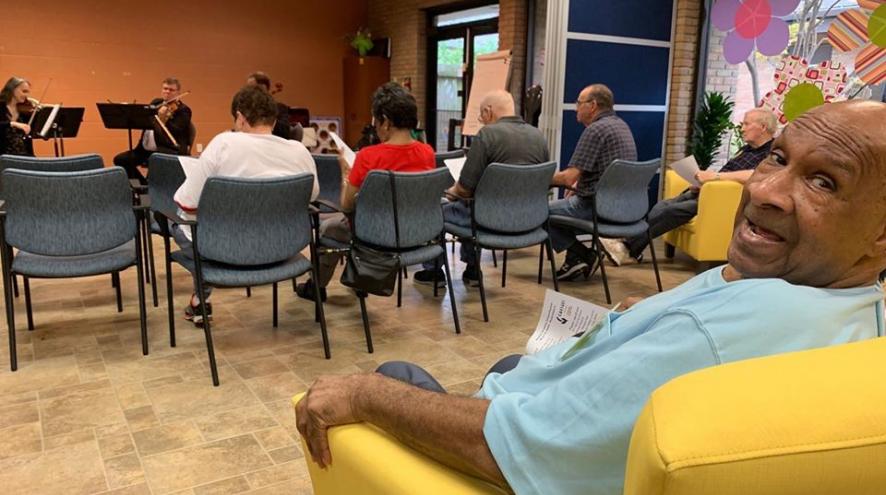 Adult Day Program
Locations
We have two locations to serve you:  in Walkerville at 2135 Richmond Street and in South Windsor at 1881 Cabana Rd. W. (a separate space within Huron Lodge Long Term Care home)
Hours Of Operation and Fees
Monday - Friday, 9:00 am to 3:00 pm*
Program Fees are $20.00* per day which includes all program supplies, lunch, snacks and nursing services
*Subject to change*
A Home–like environment
Our spaces are safe, secure and beautifully custom-designed for the support and enjoyment of our clients.  Each location includes kitchen facilities, accessible washrooms and comfortable gathering areas.
A Program Designed For You
Join us for a choice of evidence-based enjoyable activities - all specially adapted for people unable to attend traditional community and social programs. Whether you enjoy crafts, gardening, pets, music, exercise, group discussion or games, we'll design a program to suit you. Our Adult Day Program team develops an individual Care Plan in consultation with each client and their family. Our staff to client ratio supports our person-centered care philosophy.
Health Monitoring
Monitoring blood pressure and changes in weight is crucial to ensuring optimal health in older adults. To better support the ongoing wellness and optimal health of our clients, our Day Program nurse will regularly monitor the client's blood pressure and weight during program hours. Once completed, regular updates of vital signs can be provided at care partners request. There is no additional fee for this service.
Foot Care 
Our Adult Day Program nurse, certified in foot care, can provide on-site foot care to our Adult Day Program clients at no extra cost.
For more information about this program please contact our First Link® Coordinator at (519) 974-2220 Ext. 231