Find support in Windsor & Essex County
When faced with Alzheimer's disease or related dementias, getting the right help can make all the difference. The Alzheimer Society of Windsor & Essex County offers information, practical advice and support for people living with dementia, including all Partners in Care.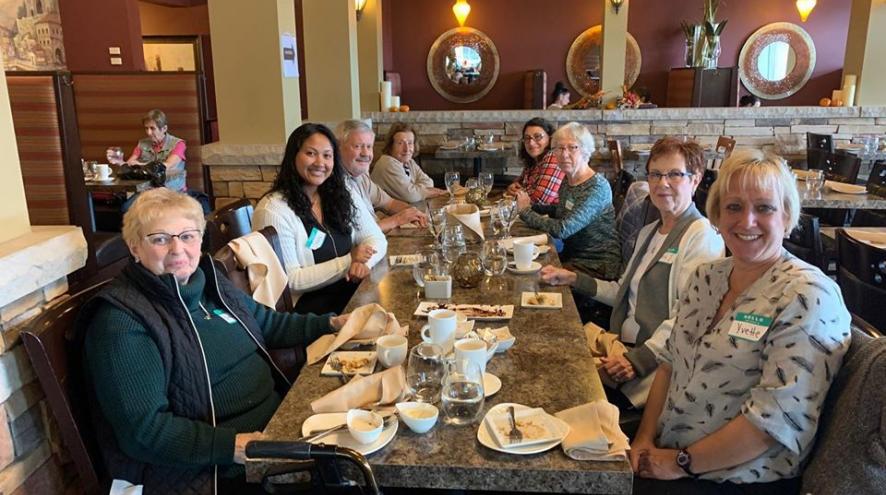 Our services
Education & support services are free of charge and are offered by phone, visit or email. Home and office visits are available.
Our services include:
One-on-one counseling and education

Cognitive testing
Family care planning
Referrals to community resources and assistance navigating the healthcare system
Suggestions for adapting to challenges.

Support groups
Information sessions
First Link® Learning Series
Reitman Enhancing Care Programs
For more information on this service please contact Crystal Desjardins, First Link® Coordinator, at (519) 974-2220 ext. 231.
Information and Referral
This section gives information for persons with dementia, caregivers and health care professionals about services and programs in Windsor & Essex County as well as national & provincial resources.
Click the link below to fill out a referral form...don't forget to print and fax!
Care Programs for Persons with Dementia (PWD)
The Alzheimer Society of Windsor & Essex County provides a number of programs that offer direct care for persons with dementia, affording much needed caregiver relief to Care Partners.
Day Away Program
Persons with dementia will experience meaningful & beneficial socialization and stimulation through a numbers appropriate activities offered at the Day Away Program held at the Alzheimer Society.
In- Home Respite Care Program
The In-Home Respite Care Program provides temporary in-home relief to the primary caregiver. It allows the caregiver to conduct personal activities with the assurance that the person they are caring for is cared for by a professionally trained respite worker.
Education
The Alzheimer Society provides many educational opportunities for people living with Alzheimer's disease and other dementias, caregivers, and health-care professionals.
Understanding the disease and its process is an important step for the person with the disease, as well as their partners in care. The Education & Support Team provide education and support, either in an individual, family or group setting.
Education Series are offered several times throughout the year, including our First Link® Learning Series. These sessions provide clear, concise information about the disease, as well as community resources available.
Individual meetings can be arranged for home or office. Contact the First Link® Coordinator at (519)974-2220 ext. 231 to access these programs. Caregiver education services are offered at no cost.
Support
We provide lots of support for people with Alzheimer's disease and other dementias, caregivers, family members, and health-care professionals.
Individual support
With services in over 150 communities across Canada, the Alzheimer Society supports people with dementia, family members, caregivers, and health-care professionals.
If you are newly diagnosed, we strongly recommend that you visit your local Alzheimer Society for information about counseling, programs and services, and support.
To help you navigate through the changes, whether you are a person with dementia, a family member, or caregiver, we have created a number of brochures with details about what to expect. The Alzheimer's disease Programs & Services brochure outlines the kinds of programs that are available across the country.
If you are newly diagnosed:
If you are a family member or caregiver:
Support Groups
The are many ways to get the support you need, whether you are a person living with dementia, a caregiver or a family member.
For people living with dementia:
The booklet Memory problems? was created by people with dementia for people with dementia. It was produced and is generously shared by the Early Stage Support Groups in the North/Central Okanagan Region of the Alzheimer Society of B.C.
For more information and for support groups in your area, contact your local Alzheimer Society.
For caregivers and family members:
There are many ways caregivers and family members can get the support they need. Whether you're looking for advice, someone to listen, or general information, there is a level of support for whatever you need.
The Alzheimer Society Message Board is a great place for caregivers to share common experiences and advice. It is free to register.
A support group can give you a place to talk with other caregivers who understand the disease and know just what you're going through.
A counsellor or trained professional can help you talk through your feelings and concerns in a more intimate setting.
Your local Alzheimer Society is a great resource for local support and services. Contact us.
Safety
Maintaining a safe, dementia-friendly environment
The home is an important place for everyone. For the person with dementia, a familiar environment can help her connect with the past and maintain a sense of who she is. However, some practical changes may need to be made to keep the home "dementia-friendly."
The MedicAlert® Safely Home® program helps people with dementia find their way back home.
Maintaining a safe environment is in everyone's best interests.
People with dementia can wander. Learn more about locating devices.
The preferred choice is no restraints. Learn more about your options.
Emergencies happen when we least expect them, so it's best to be prepared.
People with dementia are vulnerable to abuse. Learn how to deal with elder abuse.
For the general public
Education opportunities are available for the general public, formal caregivers and students. Understanding the disease can aid in supporting the person with the disease throughout its progression.
A resource library is available for the public to access. Books and videos are lent out, or can be browsed within our office.
In-services, workshops and presentations can be developed to meet your needs, and can vary in length. There is no cost for public education.
Contact Rosemary Fiss, Manager of Education & Support Programs, at [email protected] or 519-974-2220 ext. 229 to make arrangements.
Reitman Centre Enhancing Care Programs
CARERS
The CARERS (Coaching, Advocacy, Respite, Education, Relationship, Simulation) Program is an 8 session skills-based group for family caregivers. It focuses on building practical skills and emotional support for people caring for a family member with dementia. Sessions are run at Alzheimer's Society of Windsor and Essex County and partnering community agencies. Sessions are conducted once a week for 8 weeks, for a span of 2 hours per session.
In this group caregivers will:
develop more effective problem solving skills;
develop practical skills to improve communication and manage dementia related behaviours;
be given the opportunity to learn new skills through therapeutic simulation of challenging situations encountered at home;
receive guidance and coaching by clinical staff through individualized role playing scenarios in order to learn new and more successful ways to cope with common caregiving dilemmas;
have the chance to process their emotional reactions to caregiving;
develop an enhanced sense of capability, feel less isolated, and can continue to provide care in the community.
TEACH
The TEACH (Training, Education, and Assistance for Caregiving at Home) Program is a 4 week interactive group program for family caregivers. Each session covers a unique theme that is central to caregiving for someone with dementia:
Self-Care
Navigating the System
The Changing Relationship
Future Planning
Sessions are run at Alzheimer's Society of Windsor and Essex County and partnering community agencies. Sessions are conducted once a week for 4 weeks, for a span of 1.5 hours per session.
How do I get involved?
Both of these programs are free of charge. Caregivers are welcome to self-refer or to be referred by a health care professional. Referrals and questions about this group can be sent to:

Allison Chandler, Education and Support Coordinator, at [email protected] or 519-974-2220 x 245.
Behavioural Supports Ontario
Behavioural Supports Ontario (BSO) exists to enhance services for older adults with complex responsive behaviours associated with dementia, mental health, addictions and other neurological disorders, providing them with the right care at the right time and in the right place (at home, in LTC or elsewhere). It is hoped that persons who have in the past spent time in hospital beds, will be better served elsewhere in the community or in long term care homes. The project aims to improve the lives of older adults and their families by offering better options for care.
The Guiding Principles of the Erie St. Clair Responsive Behaviours Project are:
Behaviour is Communication: Challenging behaviour can be minimized by understanding the person and adapting the environment or care to better meet the individual's unmet needs. This principle is based on the belief that behaviours are an attempt to express distress, problem-solve or communicate unmet needs, and that most often challenging or responsive behaviour is not meaningless, unpredictable, or only manageable through chemical or physical restraints.
Respect: All persons must be treated with respect, regardless of the situation and are accepted regardless of age, health status, behaviour, etc. Respect and trust should characterize the relationship between staff and clients and between providers across systems.
Collaborative Care: Accessible, comprehensive assessment, and intervention requires an interdisciplinary approach, which includes professionals from different disciplines, as well as the client and family members, to cooperatively create a joint, single plan of care.
Safety: The creation of a culture of safety and well-being is promoted where older adults and families live and visit and where staff work.
System Coordination and Integration: Systems are built upon existing resources and initiatives and encourage the development of synergies among existing and new partners to ensure access to a full range of integrated services and flexible supports based on need.
Accountability and Sustainability: The accountability of the system, health, and social service providers and funder to each other is defined and ensured.
The Windsor-Essex, Chatham-Kent and Sarnia Erie St. Clair Local Health Integration Networks (LHIN) have recruited a BSO System Navigator who will provide guidance to the client and his/her caregiver to direct them through supports they need. The System Navigator will be the family's constant point of contact.
The Alzheimer Society of Windsor-Essex County supports the BSO Program and provides on-site office space for the BSO System Navigator. For more information about BSO, contact our System Navigator, Michele Vigneux, B.S.W.,R.S.W. at 519-974-2220 ext.248.