The Music iPod Program
read
The Music iPod Program provides people with dementia with MP3 players pre-loaded with personally meaningful music.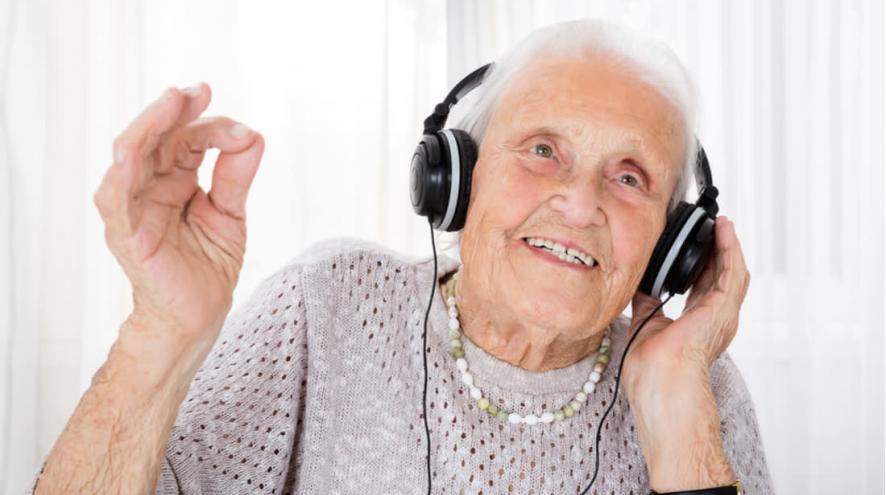 Contact the Alzheimer Society of Muskoka at 705-645-5621 to enroll in the Music iPod Program in Muskoka or Parry Sound.
Benefits of Music
Listening to music is a simple yet incredibly powerful activity with the potential to reignite older memories, increase physical and social activity, and improve mood, cognition, communication, sleep, and overall quality of life.
Music provides a sense of familiarity by:

Inducing memory retrieval,
Reducing behavioural disturbances (i.e. verbal, physical, wandering, sleep disturbances),
Improving functionality,
Initiating meaningful activity, activities of daily living and
Improving mood (reduces irritability, case relaxation, relieves anxiety).

Music is a non-pharmacological intervention which:

Is inexpensive,
Has no side effects/medication interactions and
Reduces the use of anti-psychotics and antidepressants.

Music is an effective, easy to use tool for caregivers.
Living with dementia may affect a person's mood and emotions. When we are not feeling physically or emotionally well, we may react in ways that seem out of character. There are many things we can do to help alleviate these feelings - one of them is using music!
The evidence is mounting that music can be used to help connect with and engage a person living with dementia. Music has been shown to affect a person's mood, help improve communication, and contribute to feelings of wellness and relaxation.
Music can help us connect with each other!
How to Enroll in the Program
The Alzheimer Society of Muskoka Music iPod Program reconnects people with the soundtrack of their lives by providing iPods loaded with personalized music to people living with dementia. There is no cost to participate in this Program.
Anyone at any stage can benefit from the Music iPod Program. The Music iPod Program intends to provide the means and opportunity for a person living with dementia to experience the benefits of a musical intervention so that he or she may enjoy an enhanced quality of life.
Through consultation with the participant and/or family, a personalized playlist will be created and supplied to the person for use on an iPod Shuffle. Shuffles will be loaned out for a period of three months, with an option to renew.
Eligibility
To be eligible for this program, you must:
have a diagnosis of dementia
live in the Muskoka or Parry Sound area
participate in a music preference interview
agree to provide feedback on two separate occasions
All participants who are eligible for the loan program will receive:
one iPod Shuffle loaded with a personalized playlist
a set of over-the-ear headphones and in-ear headphones
one USB cable and wall charger
one troubleshooting tip sheet and ongoing technical support
Contact the Alzheimer Society of Muskoka at 705-645-5621 if you would like to enroll in the Music iPod Program.
Do you already have an iPod and want to do this yourself? Read the 'Advise on Creating your own Music Library' section of this page for more information.
Advise on Creating your own Music Library
Step 1: Find the individual's favourite music - Make a discussion about it. Some ideas of questions to ask:
Do you have any records/CDs/tapes that are your favourites? Where are they?
Can you hum any of your favourite songs?
What songs did you sing to your children?
What do you listen to when to want to relax?
What songs make you feel happy?
Step 2: Download iTunes and set up an account:
This will hold your library (music, audio books, old-time radio programs, etc.)
You can create a variety of playlists
Step 3: Add songs to your library:
Try to aim for 80 - 100 songs (our iPod Shuffles hold approximately 300 songs)
You can use your own personal collection and burn to computer or utilize the iTunes Store
Download a PDF document with links to tutorials on how to use iTunes, burn CDs, etc.
Ideas for building your library:
Sample 90 second clips for free before purchasing. This is good if you aren't sure you want to purchase a song.
The 'Genius' feature on iTunes will link you to songs similar to those already selected.
Try a 'best of' compilation of a favourite artist
Donate your Old iPod
Technology is always changing. Many people have iPods at home they no longer use as they upgraded to the 'newest and greatest' one available. Here is a great opportunity to put those old iPods to use!
We are looking for donations of used iPods so that we have more available to loan. We are also looking for donations on iTunes gift cards to help us build our library.
iPod Drives
Would you like to organize an iPod Drive at your school, workplace, community group or wherever there are people with old iPods to collect? If so, we would love to hear from you! Please contact the Alzheimer Society of Muskoka at 705-645-5621 for more information.