Acadian Peninsula Resource Centre
399-local 203, rue du Couvent
Tracadie-Sheila NB E1X 1E1
Canada
Hours of operation:
Monday - Friday, 8:30 AM to 4:30 PM
Serving the Acadian Peninsula and Chaleur Region
Welcome to the Acadian Peninsula Resource Centre! Located in the historic building l'Académie Ste-Famille (street leading to the hospital).
Contact us to be connected with information, education, and support through individual meetings, presentations and support groups. We are available to help you navigate the health care system and direct you to appropriate community services in your area.
Meet our team
Huguette Duguay, First Link Coordinator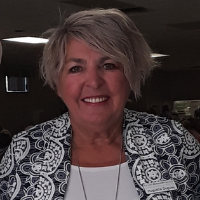 Hello! My name is Huguette and I'm the First Link Coordinator for the Acadian Peninsula and Chaleur Region. Having previously worked in a long-term care facility, I have worked with many people living with Alzheimer's disease and other dementias and gained much experience with dementia care. This work is very rewarding and fulfilling. With the ASNB, you can count on a strong, collaborative, respectful, diverse and helpful team.