COVID-19 and the Alzheimer Society of PEI's response
As the Alzheimer Society of PEI is continues to monitor the situation, the health and safety of our community members remains paramount.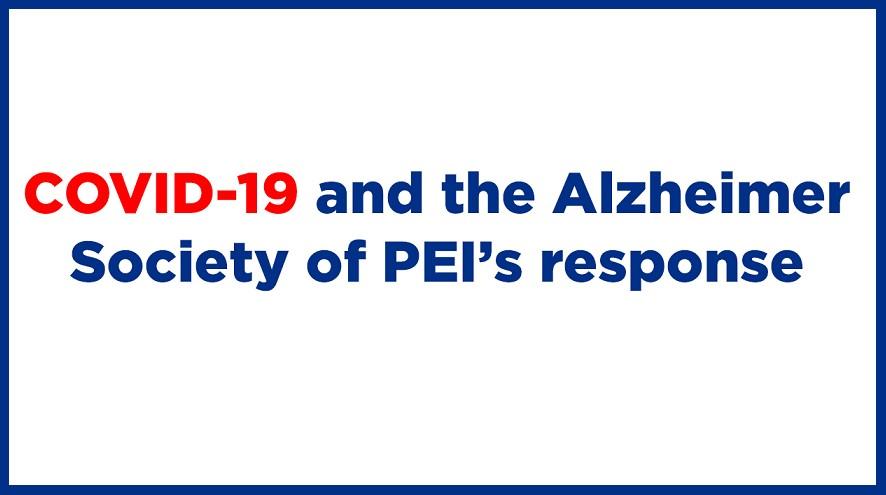 Please continue to visit our website to find updated information. If you have questions or concerns, please contact us via phone or email (Monday to Friday, 9 a.m. to 4 p.m.) at:
Phone: 902-628-2257 (Toll Free: 1-866-628-2257)
Email: [email protected]
September 1, 2020
We remain committed to providing ongoing services while we go through a COVID world. Our office remains closed to the public however we are scheduling appointments.  Our guidelines are based on PEI Public Health requirements and recommendations to ensure our offices are a safe space for everyone:
Islanders are encouraged to make an appointment by emailing 

[email protected]

 in advance or by calling 902-628-2257 or call toll free 1-866-628-2257.
Visitors upon arrival will complete a COVID pre-screening form.  Once completed, they will be invited to our meeting space (first floor).
Visitors are required to wear a mask when entering the office space and will be asked to sanitize or wash their hands.
High traffic public areas are sanitized a minimum of twice daily (door handles, stair rails, seating areas, light switches, desks, counter tops), etc.
Staff will be sanitizing common areas and equipment before and after use.
Posters are on display throughout the office as reminders of physical distancing requirements and etiquette.
Hand sanitizer, spray sanitizer and paper towels are available throughout the office.
Contact us to learn how we can best serve you, either using regular telephone check-ins, email, Zoom or face-to-face meetings following Public Health protocol. We are here for you!
March 27, 2020
March 16, 2020
The COVID-19 (coronavirus) situation is rapidly evolving in Prince Edward Island and around the world. The Alzheimer Society of PEI is continuing to monitor the situation.
On behalf of the Alzheimer Society Board of Directors: Our decision-making is guided by the latest information from the Public Health Agency of Canada, PEI Government Health and Wellness, for up to date news from our Chief Health Officer and Government of PEI as well as up to date closures as a result of Covid-19 via CBC. The health and safety of our community members is paramount to us.
It is our priority to make sure we continue to provide our programs and services for people living with dementia and their caregivers. We have and will remain accessible by phone, and where appropriate, will make use of technology so that Islanders can receive the support needed.