Project Lifesaver
The Alzheimer Society Cornwall and District launched Project Lifesaver in 2023. Local partnering police departments use Project Lifesaver locating technology to assist in the search and rescue efforts for those who wander and get lost.

Call our office or email us for more information.
What is Project Lifesaver?
Project Lifesaver uses technology to assist in the search and rescue efforts for those who wander and get lost. Project Lifesaver has been proven to significantly reduce the search time for police – this timely response can prevent your loved one from harm.
How does it work?
Those who are at high risk of getting lost receive a bracelet transmitter, with a unique frequency. When they wander, a locator housed with Police Services is used to find that unique frequency. The bracelet transmitter that the person living with dementia wears requires daily checks and maintenance to ensure it is always working.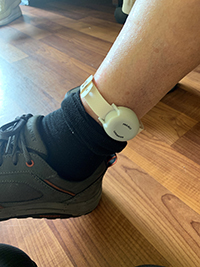 Project Lifesaver Cornwall and District can help to identify individuals who are at risk of getting lost and implement strategies to keep them safe at home. The Alzheimer Society of Cornwall and District and your local police services are working together to prevent wandering and to quickly locate those living with dementia who wander in a few ways:
Project Lifesaver Bracelet – Helps police quickly locate a lost person.
Education – Helps care partners and the community understand why the person who lives with dementia is wandering, what someone who is lost might look like and how to respond.
Education also works with care partners to develop strategies to prevent wandering, and what to do if their loved one goes missing.
Eligibility
Participants must:
Have a confirmed or suspected diagnosis of dementia or a related disorder
Be at high risk for wandering
Have daily contact with a care partner or family member
Be restricted from operating a motor vehicle
Live in Prescott-Russell, Stormont-Dundas-Glengarry, Cornwall, or the Akwesasne First Nations Community.
Project Lifesaver equipment requires daily monitoring by a care partner. Regular visits by an Alzheimer Society worker for equipment maintenance will be included as part of the program.
Enrollment Process
Please contact the Alzheimer Society of Cornwall and District for more eligibility information, to obtain an application package, or speak with a member of our team about this program. There are fees to participate in this program, these will be explained to you upon enrollment. Subsidies are available.
Partners