Join the Advisory Group
read
The Alzheimer Society of Canada believes people living with dementia should have a voice in the work that impacts them. We want to bring people from all over the country together to be part of the conversation by becoming a member of our Advisory Group.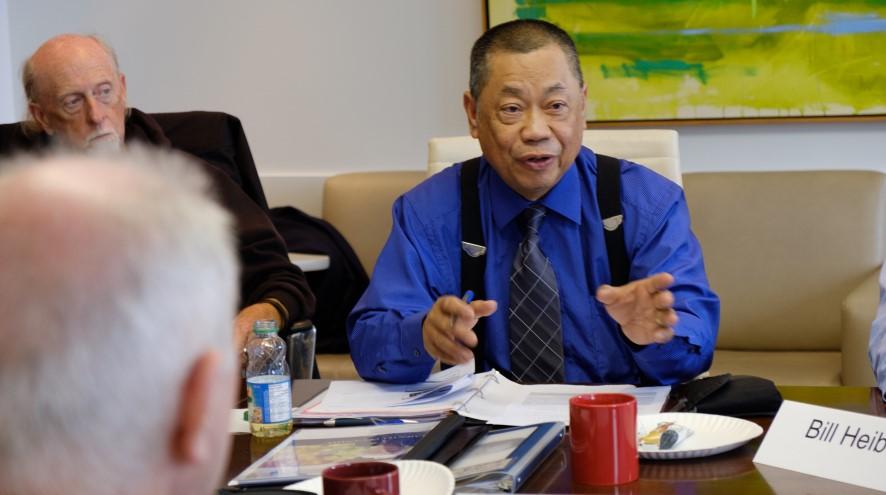 The Position
We need people with dementia and caregivers to work with us, to ensure that the work we do supports you. Our national platform will give you the chance to reflect your experience living with dementia to fight stigma, by influencing what research we fund, guiding the education material we develop and advocating directly to the federal government.
Your voice, combined with others across the country, can make the difference that erases the daily stigma felt by thousands of Canadians.
Requirements
The only requirement is having a medical diagnosis of dementia or being a caregiver. Every type of dementia is important – and we need to hear from you. Examples of dementia include:
The above are just some examples. There are many types of dementias, so please consider lending us your voice and experience.
It doesn't matter if you've just been diagnosed, or if you've been living with dementia for a decade or longer. Your voice is essential, and we want it to be in this conversation.
The Advisory Group will aim to reflect the diversity of people living in Canada. Both in terms of gender, sexuality and ethnicity, and the range of experiences living with dementia brings.
We are also asking for caregivers of people with dementia to join us in a sub-group so their experiences as supporters and carers can advise our work, too. Whether you're a current or former caregiver, we need to hear from you.
Ways to get involved & how it works
The Alzheimer Society of Canada has several ways you can be involved in our work, including:
Advising on our strategic direction
Reviewing educational materials for relevancy to your lived experience
Supporting our Research Program to review, and learn about, dementia research
Being a spokesperson for various initiatives to erase stigma
Advocating for the Alzheimer Society and dementia needs at the federal level
You can decide which activities to take part in as they come up – you do not have to commit to anything yet! Once you sign up, we will inform you of any opportunities as they occur.
Members will meet virtually a handful of times a year, depending on how active you choose to be. At these meetings, all you'll be asked is to provide your own views on different topics based on your personal experience. That's it!
If you'd like to find out more, speak to a member of the Alzheimer Society of Canada by emailing [email protected].
How to sign up to the Advisory Group
It's simple! Just click here and provide your details.
Once registered, we will send you a welcome email and add you to our mailing list. We will let you know of any upcoming meetings, webinars or opportunities you can choose to join.