Minds in Motion®
read
Minds in Motion® is a community-based social program that incorporates physical and mental stimulation for people with early to mid-stage Alzheimer's disease or other dementia (GEMS Sapphires, Diamonds and Emeralds) and their care partners.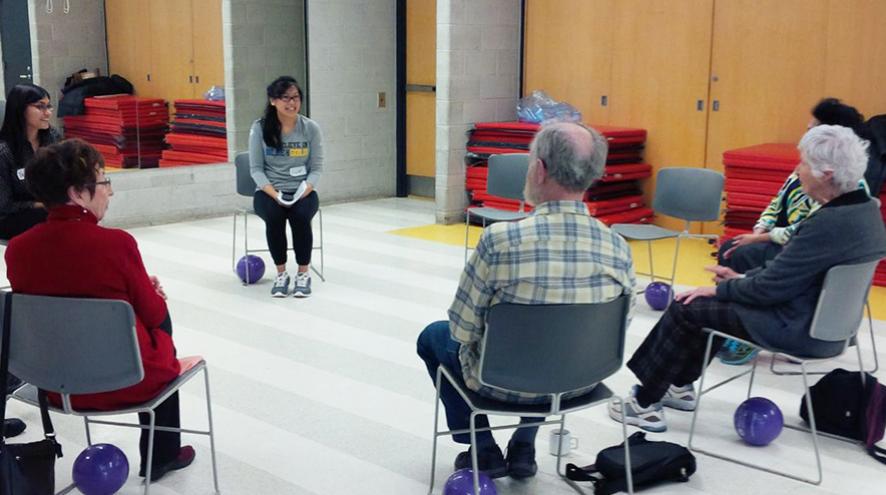 For more information about this exciting new program, to get involved or to register contact the Alzheimer Society office at 902-628-2257 or [email protected].
What is Minds in Motion?
Minds in Motion® is a Canada-wide initiative that provides the research basis to support our pre-existing Brain Fitness Fun programs
Laughter and chatter unfold throughout the program as relationships are formed with others sharing similar experiences.
The Participants
Minds in Motion participants have early to mid-stage signs of dementia and are typically accompanied by their care partners. In some circumstances individuals may also be permitted to register on their own. A minimum of 12 and a maximum of 20 participants are enrolled in each 8 session program.
The Program
The Minds in Motion program is held in a community setting such as a recreation center, community center, or church.
The 2-hour program consists of a combination of the following activities:
45-60 minutes of gentle and easy to follow physical activities facilitated by a certified fitness instructor
45-60 minutes of mentally stimulating activities (i.e. games, interactive discussions, etc.) focused on building personal skills facilitated by trained volunteers
15-20 minutes of social time with healthy refreshments
Program Benefits
Both individuals with dementia and their care partners receive many benefits from participating in the Minds in Motion program. Participating in a socially, physically and mentally active lifestyle helps reduce the risk of dementia and slows the progression of the disease by encouraging the development of new cells and connections in the brain. For the care partners, it's also an opportunity to focus on their own health, and have fun with their partner. Other benefits include:
Improved balance, mobility, flexibility, and alertness
Increased confidence, and comfort with their own circumstance
Mutual support from others facing similar experiences
Sharpened mental functioning
Increased sense of social participation
Increased sense of independence
Get Involved
Minds in Motion is a program intended for people with early to mid-stage signs of Alzheimer's disease or other dementias and their care partners. However, other individuals are welcome to join on their own as well!
Three ways you can get involved with Minds in Motion include:
1. Become a participant
Join Minds in Motion in your community by contacting the office directly. Upon sign-up, participants will be asked a few questions to ensure the program is the right fit for them. Become a participant today!
2. Become a program delivery partner
Are you part of a community group or recreation facility that would like to offer your services or space to host Minds in Motion? Get in touch with the Alzheimer Society office today to find how you can bring this exciting program to your community.
3. Volunteer!
Are you looking for a fun and interactive opportunity to give back to your community? Minds in Motion is a great program to volunteer your time for. Make a difference in your community and join our team today!