A message from the Alzheimer Society of Durham Region's CEO and Board Chair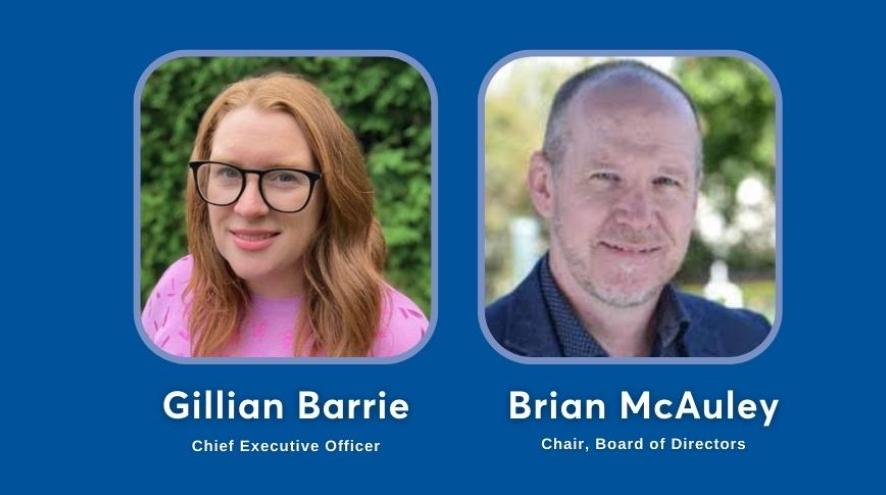 Hello there! As the former Director of Clinical Services at ASDR, I am delighted to step into the CEO role and take on the responsibilities of leading this wonderful organization. As a registered Occupational Therapist, I lead with a passion for collaborative and engaging programs and services that respond to the needs of persons living with dementia and their care partners to live a meaningful and fulfilling life.
COVID-19 certainly had its challenges; but it also provided opportunity for ASDR to grow and change in ways we had not expected. Virtual (or online) service is now a standard way for clients and families to meet with our staff, which allows us to support our clients when and where it's convenient for them. And although online services are here to stay, we recognize they are not for everyone. We continue to offer many of our beloved support groups, education workshops, and active living programs in a safe and supportive in-person environment.
Our working model has also been "refreshed", allowing our staff to work from home, in the community, and from our Whitby office space so they can meet the needs of our clients, and their own families more effectively. Our office remains open to the public between the hours of 9am-4pm although our staff can be available outside those hours to accommodate the needs of our clients. Building a flexible work model allows us to care for our staff so they can care for our clients.
ASDR has also built a solid business and fundraising plan that places us on a trajectory to meet the changing needs of our clients post-pandemic. With the rapidly growing number of people being diagnosed with Alzheimer's disease and related dementias each year, the need for support and services for those facing the disease in Durham Region has never been greater. With additional focus on training programs for healthcare providers, hybrid service delivery models, Accreditation, and expansion of our Active Living and Young Onset Dementia Adult Day Programs, we are excited about what the future holds. But we can't do it alone. If you are interested in our fundraising plan or would like to donate, we would love to speak with you about how you can support the mission and vision of the Society.
As we start to embrace a "new normal", we look forward to seeing you at our support groups, education workshops, and community events once again. May the coming year be one filled with hope as we navigate this journey together. 
Gillian Barrie, Chief Executive Officer and Brian McAuley, Chair, Board of Directors