SOUP'S On!
Thank you so much for supporting of our first Annual SOUP'S ON and Silent Auction.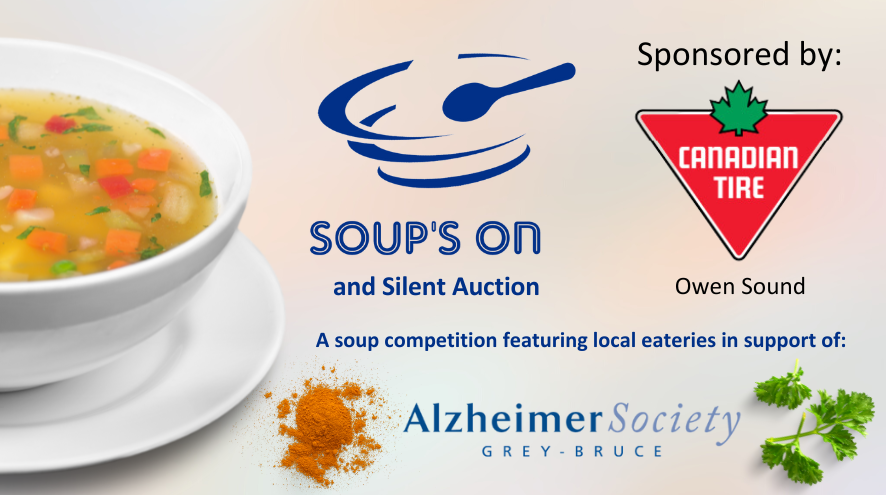 The winners of the 2023 SOUP'S On competition were:  
Best Vegetarian Category:  Pumpkin Coconut with Root Vegetable, Sheardown's in Meaford
Presented by the Alzheimer Society Grey-Bruce
Best Cream Soup Category:  Bacon, Mushroom and Swiss Soup, Heat n' Eat, Shallow Lake
Sponsored by the Summit Place
Best Hearty Soup Category:  Lentil Soup, Sabitri's, Owen Sound
Sponsored by Troy Life & Fire Safety
People's Choice Award:  Green Chile Corn Chowder, Walker's Catering in Tara
Sponsored by Huron Tractor
The auction link is now closed. We would like to thank everyone in the community that came out support the first Annual SOUP'S ON and Silent Auction.  
Thank you to all of our Sponsors, our Soup Vendors, our Auction item donors, and our volunteers for helping to make this such a memorable event. We hope we see you Saturday, January 27, 2024 at the 2nd Annual Soup's On Event.
2023 SOUP'S On Sponsors: 
🥣  Bronze Sponsor: Huron Tractor
🥣  Bronze Sponsor: Troy Life & Fire Safety Ltd
🥣  Bronze Sponsor: Summit Place, Owen Sound
🥣  Media Sponsor:  Bayshore Broadcasting
2023 SOUP'S On Vendors:
🥄 Harrison Park Inn Restaurant
🥄 The Elk and Finch Coffee Pub and Bistro