Types of volunteering
There are many ways you can make a difference through volunteering with the Alzheimer Society of Grey-Bruce.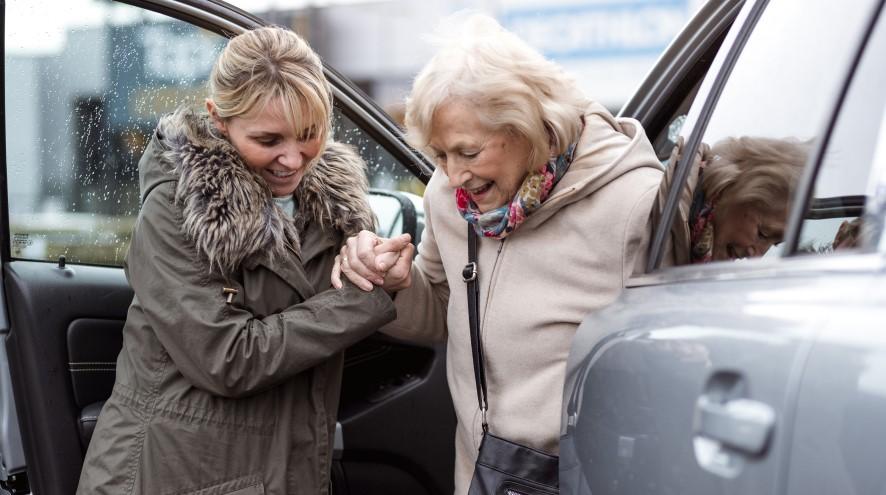 Be a community connector
Community Connectors have a very interesting and important role to fill for the Alzheimer Society.   This front line contact volunteer will become familiar to those in their community as one who can provide a direct link to information and services of the Society.  As a community connector, the volunteer would be responsible for:
assisting with the posting of notices about events being held by the Society in the community
organizing Alzheimer Society brochures in local library, nursing and retirement homes and other appropriate locations
forwarding media articles about Society events and volunteer activities and forwarding them to the Owen Sound office
distributing kits and materials for campaigns in local community if required
assisting staff with displays at local trade shows, health fairs  etc.
the Connector volunteer may also consider helping with local fund raising activities
being the local Community Connector contact for the ASGB
Benefits:  A personal feeling of satisfaction and accomplishment knowing they have helped the Alzheimer Society of Grey-Bruce to provide education or direct service to support individuals with AD or related dementias and their families.  As well volunteers have the feeling of being an important part of the ASGB staff and volunteer team.  Community Connector volunteers are welcome to avail themselves of educational workshops and presentations organized by the ASGB.
Accountability:  The volunteer is accountable to the Volunteer Coordinator.
Time commitment:  Minimum one year, then reviewed.  The volunteer would work independently but be available to respond to seasonal demands.
Requirements:  Community Connectors must have a good knowledge of their community and possess a genuine interest in providing referral information to those who may ask for assistance.  The volunteer will be asked to be in touch with the office on a regular basis.   Access to transportation would be helpful.  
Training:  An orientation to the Alzheimer Society will be provided and the volunteer will be asked to sign a confidentiality form and a volunteer agreement.
Be an education volunteer
Help spread awareness of Alzheimer's disease, other dementias and the Alzheimer Society by volunteering in education activities.
The Alzheimer Society of Grey-Bruce strives to educate the public on issues relating to Alzheimer's disease and other dementias.  The Society does this in part through health fairs and public speaking engagements.  We are in need of dynamic volunteers to assist with health fairs and community displays, speakers bureau and school presentations.
Health fairs & community displays
Volunteers are needed to assist in promoting the programs and services of the Society to the participants of Health Fairs.  Volunteers will provide basic information about Alzheimer's disease and direct people to appropriate community support services.
Time Commitment: 2 – 4 hours depending on Health Fair
Responsibilities:
Pick up display and brochures at the Society's office
Set up the display
Answer general questions and distribute information about the programs and services of the Society
Take down and return the display
Speakers Bureau
Speakers Bureau volunteers participate in speaking engagements on behalf of the Society to educate the public about Alzheimer's disease and related dementia, the challenges and needs of caregivers and developments in research into Alzheimer's disease and related dementia.
Time Commitment: 1 hour per presentation
Responsibilities:
Attend planning and training sessions with the Education Coordinator
Study script as prepared by the Education Coordinator so that there is a high level of comfort with the material
Accept speaking engagements according to your schedule and the needs of the Society
Deliver presentation in professional manner
Be punctual and prepared
Complete report re: presentations and submit to the Education Coordinator
Submit recommendations to improve the program and/or the presentation to the Education Coordinator
School Presentations
Volunteers working to promote school presentations will be asked to:
Research the best approach to gain access to the appropriate grade levels to make presentations about Alzheimer's disease 
In collaboration with the Education Coordinator, make arrangements with various schools and classrooms to make presentations to the students about Alzheimer's disease
Prepare and present material appropriate to each grade level
Evaluate each presentation
Evaluate the program as it develops and at the end of its first year
Be a support service volunteer
Help support people on their Alzheimer journey by volunteering in support services.
Volunteers assist the Alzheimer Society of Grey-Bruce's Support Services program by supporting our counselling staff in program delivery.
Please call the office for further information 519-376-7230 or 1-800-265-9013.
Minds in Motion
Our Minds in Motion programs in Owen Sound, Southampton, Markdale, and Hanover have volunteers who can support the facilitator in delivering the program and also prepare the social time snacks. As a part of our Support Services, these volunteers will receive additional training.
Be a special event volunteer
Help the Society raise much-needed funds by volunteering for our fundraising events.
The Alzheimer Society of Grey-Bruce has five core annual fundraising events which together raise over $150,000 annually for local programs and services to people in our communities who are touched by dementia.  Each event provides a number of volunteer opportunities and the success of the events are thanks to the hardwork of all volunteers involved. Our three core events are:
Be an administration volunteer
Help support staff by assisting with various administrative tasks.
Volunteers assist the Alzheimer Society of Grey-Bruce with various administrative duties including:
Office help
Volunteers help around the office in a number of ways including:
Counting Coin
Preparing mailings
Preparing educational materials and information packages
Photocopying and collating
Reception and answering phones
Preparing Coffee Break packages
Data entry
And more... 
Time Requirement: Minimum 1/2 day per request.
Deliveries and pickups
The Alzheimer Society of Grey-Bruce provides services over a large geographical region. Volunteers are needed to assist with delivering materials from the Society's office in Owen Sound to communities throughout the county and returning materials from these communities back to the office.
Time commitment: Varied
Responsibilities:
Pick-up and/or return materials as requested in the time frame provided
Keep materials organized and in good condition
Qualifications:
Valid driver's license
Good driving record
Access to a reliable vehicle
Trustworthy & reliable 
Mileage will be reimbursed at $ 0.40/km.