Board of Directors
The Alzheimer Society of York Region is grateful to its board of directors for volunteering their time and expertise to ensure York Region residents impacted by dementia receive the programming and services they require.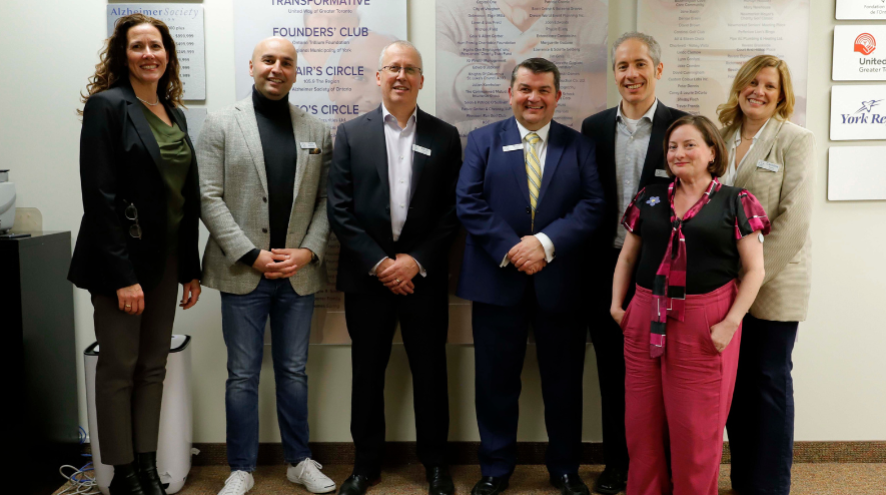 Executive
Rachel Egan, Chair
Rachel Egan joined the Alzheimer Society of York Region as a board member in September 2016. Rachel is the Chair of the board and is a member of both the Fund Development and Communications and Quality Safety and Performance Committees.
Rachel joins the board with more than 18 years of consumer package goods experience in sales, marketing and organization development. Rachel held a variety of roles focused on development, efficiency and effective growth. Rachel is a King's College, University of Western Ontario graduate.
Rachel resides with her husband and three children in Aurora.

Patti Reed,  Vice Chair
Patti Reed joined the Alzheimer Society of York Region as a board member in September 2020.
Patti is recently retired with more than 40 years working in the not-for-profit human services sector. Patti's management experience includes strategic planning, program development and operations, financial accountability and organization development. She has worked in children and youth services, adults with developmental disabilities and adults with mental health issues. She spent the past decade as a passionate advocate supporting older adults living with dementia or other related neurological diseases and responsive behaviours. Patti graduated with a doctor of education degree (with a focus on organizational change), University of Toronto in 1998.
Patti is the primary caregiver for her mother who lives with Alzheimer's disease and is now residing in a long-term care home. Patti currently resides with her husband and dog in Newmarket.
Adrian Cobbald, Treasurer
 
Adrian is the chair of the Audit and Risk Committee.
Kathleen Jinkerson, Secretary
Kathleen Jinkerson joined the Alzheimer Society of York Region board of directors in late 2018.
A management consultant specializing in advising organizations on HR governance, strategy and practices, Kathleen works closely with organizations of all sizes across the globe. She partners with these organizations to help them understand how to leverage proven and trending practices to build and optimize their teams as well as refine their HR, talent and total rewards strategies and practices.
A passionate advocate for elevating talent and people practices within HR and total rewards, Kathleen is an active participant and speaker at several HR, leadership and Industry conferences and events.
Members at Large
Michelle Frauley
Michelle has over 3 decades of nursing experience, including: family medicine, palliative and end-of-life care, women's health, complex long-term care, operating room, and community nursing. Her experience has taught her that providing quality healthcare is built from a foundation of care and compassion.

Michelle lives and owns her private homecare business in King City. She founded Hospall Private Homecare in 2013 with the belief that she could lead an amazing group of caregivers to support residents of King and surrounding areas. Michelle has experience showing that interactive caregiving is a method of caring for seniors that promotes physical, mental, social, and emotional well-being. She is highly respected by patients and colleagues and has been nominated 3 times for the Toronto Star Florence Nightingale Award for Ontario nurses.

In 2016, Michelle received an award from the International Nurses Association as a Worldwide Leader in Healthcare for her overall achievements with Hospall and in her prior position at King City Medical Associates. Michelle believes in using her experience to support and better her community. She volunteers with the King City Food Bank and has volunteered with the local flu clinic. Throughout the pandemic, Michelle worked with King Township as a care coordinator for the local vaccine centre and supported local COVID testing initiatives. 

Michelle is currently the President of the King Chamber of Commerce and has previously held other executive positions. In 2022 Michelle was named Citizen of the Year for King Township. Michelle is a member of Accreditation Canada, Home Care Ontario and the Canadian Home Care Association.

Roxana Kobuta, MBA, BHSc
Roxana Kobuta is a senior consultant at a pre-design and facility programming firm in the healthcare, academic, library and research sectors. Her experience spans both healthcare and laboratory environments, with a focus on strategic planning and operational initiatives. Roxana's interest in joining the AS York Board of Directors is to make a difference in the lives of patients and their families amidst the growing population that battles this disease. Roxana is a graduate of McMaster University (MBA, Healthcare Management, and HBSc.).
Dr. Mauli Mehta
Dr. Mauli Mehta completed her bachelor's degree at University of Toronto and went on to complete medical training at Wayne State University. 
She subsequently completed internal medicine training at University of Western Ontario and fellowship in geriatric medicine at University of Toronto.
She has been practicing at Markham Stouffville Hospital since 2019.
Tarik Mohammed
Tarik Mohammed joined the Alzheimer's Society of York Region as a board member in October 2020.
Tarik lives in Toronto and brings with him 10-plus years experience in Enterprise Cyber Security software sales. His focus is on partnering with some of Canada's largest organizations to help them solve problems that impact their businesses from a risk and exposure perspective - helping them to protect their employees, safeguarding their client information, and keeping their brand name safe.
Tarik and his family have experienced, first-hand, what it is like to have a close family member live with Alzheimer's disease: his dad, Feroze, lives with this fatal condition. Tarik is the Chair of the Fund Development and Communications Committee. Tarik understands the positive impact an organization such as the Alzheimer's Society of York Region can have on a family and how resources and funding are always a challenge.
Frances Monardo
Caroline Petrova, ACC, CDTLF
Caroline Petrova, principal at Pivot Point Consulting, is a senior business leader and HR professional with more than 18 years of experience in helping people and organizations maximize their potential.
Caroline is a certified Leadership and Personal Coach trained by Co-active Training Institute, certified by the International Coach Federation and is a Certified Dare to Lead™ Facilitator. Caroline's strengths lie in connecting individuals and teams to their full potential by empowering them to take courageous action in their lives.
Caroline has been a member of the board of directors of the Alzheimer Society of York Region since 2018 and is the Human Resources Committee chair. She joined the board to help York Region residents impacted by dementia as she is passionate about making a difference by giving back locally.
Caroline is an avid hockey mom and loves to travel. She was raised and lives in King City with her husband and two sons.
Michael Polisuk
Jennifer Smith
Jennifer has a degree in English and Psychology, as well as a Bachelor of Education. She has taught Primary Junior students in Ontario and in London, England. In 2018 Jennifer retired from teaching Kindergarten in Aurora. Since then, she has enjoyed volunteering for Alzheimer's York Region and is a member of the Board of Directors and the Fund Development and Communication Committee. Because Jennifer's mother lived and passed away with Alzheimer's Disease, she is committed to helping this organization continue to offer assistance and excellent programs to those living with the challenges of dementia and Alzheimer's Disease.

Jennifer loves to volunteer in the community and works in three different roles for Southlake Regional Health Centre. She has also been a member of the Youth Justice Committee for seven years, participating in restorative justice conferences to help youth offenders in York Region.

Jennifer has lived in Aurora for over thirty years where she and her husband have raised their three children. In her spare time, she enjoys travelling, baking, time at the cottage kayaking, paddle boarding and golfing, as well as skiing and snowshoeing through the winter.