Board of Directors
read
The Alzheimer Society of York Region is grateful to its board of directors for volunteering their time and expertise to ensure York Region residents impacted by dementia receive the programming and services they require.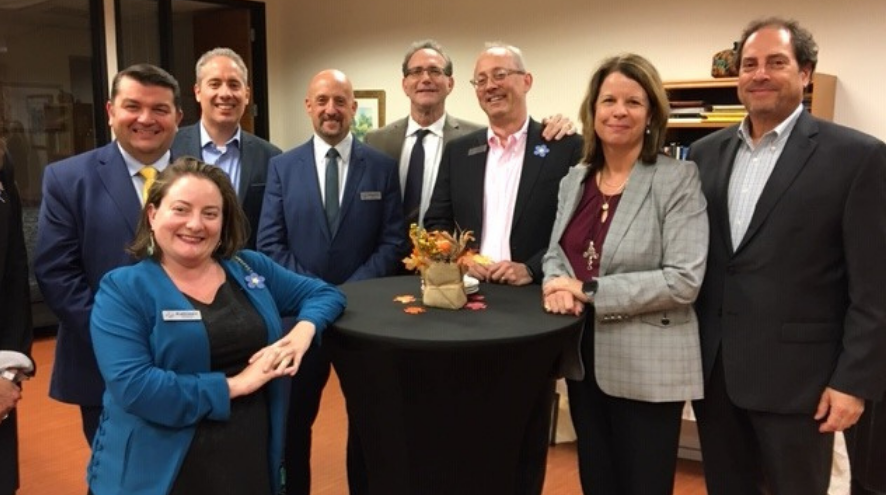 Executive
Stuart Pasternak, CPA, CA, Chair
Stuart is a Chartered Professional Accountant (CPA, CA) with more than 30 years of business experience and currently is the Chief Financial Officer (CFO) at Capital Infrastructure Group and Regional Director of the CFO Leadership Council.
Stuart's experience includes strategic planning, corporate management, financial reporting, accounting, treasury & risk management, human capital and cross-border transactions. He has testified as a financial expert at the Canadian International Trade Tribunal, defending corporations on various tax matters with the Canadian Revenue Agency and the Department of Justice, negotiating with financial institutions and government agencies, and implemented business process automation, best practices and internal controls.
Stuart joined the Alzheimer Society of York Region as a board member in September 2014. Before becoming the vice-chair in 2018, he held the position of treasurer.
Stuart is a University of Toronto graduate and a member of Chartered Professional Accountant (CPA) Canada and Chartered Professional Accountant (CPA) Ontario.
Scott Crone, Vice-Chair
Scott Crone, the councillor for East Gwillimbury, has 20 years of corporate business experience managing multi-million dollar budgets. As a member of an executive team, he shared the responsibility for nearly half a billion dollars in capital and assets. Scott gained his corporate experience in the insurance industry.
Scott started as an insurance agent and eventually worked his way up to vice president of Underwriting & Distribution. In his roles, he was responsible for business development, marketing and profitable risk selection. Scott is currently the principal of Lone Oak Consultants.
Born and raised in Mount Albert, Scott has called York Region home for most of his life. Scott grew up on a farm and learned the value of hard work and community service early in life. His family goes back six generations in East Gwillimbury.
Since 2016, Scott has been a volunteer board member for the Alzheimer's Society of York Region. He chairs the fund development committee.
In his spare time, Scott enjoys travel, movies and volunteering for community organizations. Scott resides in Mount Albert with his wife, Saleena, and daughter Kayla.
Simon Francis, Treasurer
Simon Francis is a Chartered Professional Accountant and Partner at Fuller Landau, a mid-sized strategic accounting, tax and business advisory firm specializing in mid-market, privately held companies. As a partner in the firm's Audit & Assurance practise, Simon works closely with entrepreneurial companies to provide assurance services, along with strategic business and tax advice.
Jane Casey, Secretary
Jane Casey is the Program Director, Emergency Program and Command Centre at Humber River Hospital where she leads the highest patient volume single-site emergency in Ontario as well as the development and implementation of Humber's Command Centre with GE Healthcare, helping transform patient care by prioritizing patients safety, quality and flow with real-time data and predictive analytics.
She also mentors students and hosts placements in her role as Adjunct Lecturer at the Bloomberg Faculty of Nursing, University of Toronto. Jane has a master's degree in Nursing Management Focus from D'Youville College, a bachelor's degree in Nursing from Ryerson University and a registered nursing diploma from Cambrian College. Jane joined the Alzheimer Society of York Region as a board member in 2014.
Members at Large
Rachel Egan
Rachel Egan joined the Alzheimer Society of York Region as a board member in September 2016.
Rachel joins the board with more than 18 years of consumer package goods experience in sales, marketing and organization development. Rachel held a variety of roles focused on development, efficiency and effective growth. Rachel is a King's College, University of Western Ontario graduate.
Rachel resides with her husband and three children in Aurora.
Kathleen Jinkerson
Kathleen joined the Alzheimer Society of York Region board of directors in late 2018.
A management consultant specializing in advising organizations on HR governance, strategy and practices, Kathleen works closely with organizations of all sizes across the globe. She partners with these organizations to help them understand how to leverage proven and trending practices to build and optimize their teams as well as refine their HR, talent and total rewards strategies and practices.
A passionate advocate for elevating talent and people practices within HR and total rewards, Kathleen is an active participant and speaker at several HR, leadership and Industry conferences and events.
Roxana Kobuta 
Roxana Kobuta is a senior consultant at a pre-design and facility programming firm in the healthcare, academic, library and research sectors. Her experience spans both healthcare and laboratory environments, with a focus on strategic planning and operational initiatives. Roxana's interest in joining the AS York Board of Directors is to make a difference in the lives of patients and their families amidst the growing population that battles this disease. Roxana is a graduate of McMaster University (MBA, Healthcare Management, and HBSc.).
Domenic Manzo
Domenic Manzo, his wife and two children live in Woodbridge. Domenic owns a criminal law practice in Newmarket. Most of his cases are heard at the Newmarket court, where he is also a part-time crown prosecutor.
Domenic graduated from York University in 1987 with an Honours BA in philosophy and sociology, graduating from Osgoode Hall Law School in 1990. He was called to the Ontario Bar in 1992.
Domenic is interested in helping those impacted by dementia after watching both his father and mother-in-law battle the disease. Both are currently living in long-term care facilities.
Domenic said he joined the AS York board of directors in order to help those who, like him, found the dementia journey long and difficult, with resources lacking. This is Domenic's way to give back and help others.
Tarik Mohammed
Tarik Mohammed joined the Alzheimer's Society of York Region as a board member in October 2020.
Tarik lives in Toronto and brings with him 10-plus years experience in Enterprise Cyber Security software sales. His focus is on partnering with some of Canada's largest organizations to help them solve problems that impact their businesses from a risk and exposure perspective - helping them to protect their employees, safeguarding their client information, and keeping their brand name safe.
Tarik and his family have experienced, first-hand, what it is like to have a close family member live with Alzheimer's disease: his dad, Feroze, lives with this fatal condition. Tarik understands the positive impact an organization such as the Alzheimer's Society of York Region can have on a family and how resources and funding are always a challenge.
Caroline Petrova
Caroline Petrova, principal at Pivot Point Consulting, is a senior business leader and HR professional with more than 18 years of experience in helping people and organizations maximize their potential.
Caroline is a certified Leadership and Personal Coach trained by Co-active Training Institute, certified by the International Coach Federation and is a Certified Dare to Lead™ Facilitator. Caroline's strengths lie in connecting individuals and teams to their full potential by empowering them to take courageous action in their lives.
Caroline has been a member of the board of directors of the Alzheimer Society of York Region since 2018 and is the Human Resources Committee chair. She joined the board to help York Region residents impacted by dementia as she is passionate about making a difference by giving back locally.
Caroline is an avid hockey mom and loves to travel. She was raised and lives in King City with her husband and two sons.
Patti Reed
Patti Reed joined the Alzheimer Society of York Region as a board member in September 2020.
Patti is recently retired with more than 40 years working in the not-for-profit human services sector. Patti's management experience includes strategic planning, program development and operations, financial accountability and organization development. She has worked in children and youth services, adults with developmental disabilities and adults with mental health issues. She spent the past decade as a passionate advocate supporting older adults living with dementia or other related neurological diseases and responsive behaviours. Patti graduated with a doctor of education degree (with a focus on organizational change), University of Toronto in 1998.
Patti is the primary caregiver for her mother who lives with Alzheimer's disease and is now residing in a long-term care home. Patti currently resides with her husband and dog in Newmarket.
Sheldon Wisener
Sheldon Wisener is a criminal defence lawyer. He has been representing clients in York Region and throughout the GTA since 1992. He also practices child protection law and represents children as a member of the Personal Rights Panel of the Office of the Children's Lawyer.
He is a former director of the Criminal Lawyers' Association (2007-2009), a member of the Advocates Society and is a director of the York Region Law Association. Sheldon is a graduate of Osgoode Hall Law School (1984) and McGill University (BA Honours political science 1981).