York Region society welcomes new CEO
Welcome Kari-Quinn Humphrey, incoming CEO at the Alzheimer Society of York Region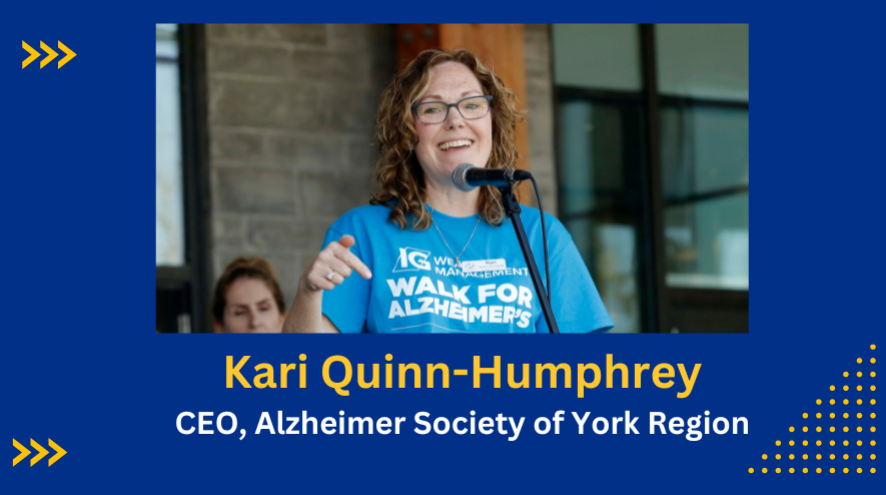 Please join us in welcoming The Alzheimer Society of York Region incoming CEO, Ms. Kari Quinn-Humphrey, who assumed her new responsibilities on May 8th.
Kari Quinn-Humphrey
Chief Executive Officer
Kari Quinn-Humphrey joined the Alzheimer Society of York Region (As York) as the Chief Executive Officer in May 2023.
She is a creative, strategic thinker that enjoys working in collaboration, building strong long-standing relationships both internally and externally.
Prior to joining AS York, Kari held the position of Interim Chief Executive Officer at the Alzheimer Society of Toronto (AST). She first joined AST in 2005 as a educator and has not looked back. Kari has held many positions within AST including Chief Operation Officer for 4 years.
Kari joined the Alzheimer Society's mission even before joining the Toronto chapter when she served as a board member for the Alzheimer Society of Simcoe County.
Before joining the Society, Kari worked in the field of gerontology in long term care and retirement home settings in and around Toronto.
She holds at Bachelor's degree in Psychology with a certificate in Gerontology from the University of Windsor.
Kari can be reach by:
Email: [email protected]
Phone: 905.726.3477 ext 223