Leadership team
read
The senior management team ensures the smooth day-to-day operation of the Alzheimer Society of York Region. Learn about the organization's leaders and the experience they bring to our society.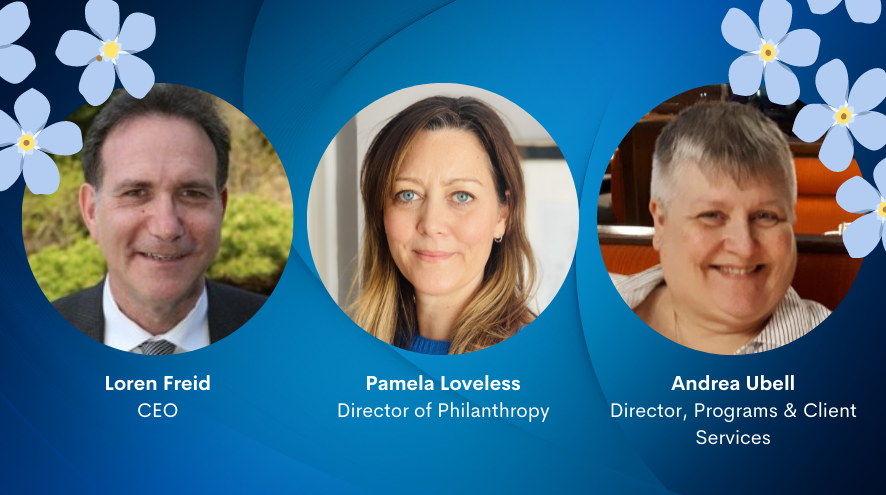 Learn more about the work the Alzheimer Society of York Region is doing by signing up for its newsletter and other communications. Register here
Loren Freid
Chief Executive Officer
In June 2008, Loren Freid joined the Alzheimer Society of York Region as its CEO.
An entrepreneur and issue-driven public policy advocate, Loren's values of human dignity, compassion, social responsibility and community service are at the core of his executive leadership decisions.
Loren leads a team of dedicated professionals providing person-centred service excellence to alleviate the personal and social consequences of Alzheimer's disease and other dementias.
He works in partnership with community stakeholders to expand and diversify programming, heighten awareness and build a more integrated and sustainable healthcare system to meet the rising tide of dementia. Loren also secured the organization's first six-figure gift and successfully used it as an incentive for matching gifts.
His dedication to positioning Alzheimer Society of York Region to address the escalating prevalence of Alzheimer's disease and other dementias across the region has resulted in organizational growth and capacity to serve more individuals, providing quality and safe client and family-focused care.
Prior to joining the Alzheimer Society of York Region, Loren dedicated more than 20 years to alleviating hunger and poverty in Toronto as the founding executive director of the North York Harvest Food Bank.
Loren holds an Honours B.A. in Political Science and History from the University of Toronto, a degree in Classical Animation from Sheridan College and completed the Advanced Health Leadership Executive Program at the Rotman School of Management.
Pamela Loveless
Director of Philanthropy
Pamela Loveless joined the Alzheimer Society of York Region in January 2022 as the Director of Philanthropy.
Pamela leads the Fund Development & Communications team, which is responsible for strategically planning and executing the fundraising, communications, recognition and stewardship programs for the organization. 
With more than 15 years of experience raising funds for human services, Pamela is relationship focused and takes a donor centric approach to fund development. Pamela is a CFRE and obtained her Bachelor of Arts degree at Dalhousie University and a Fundraising Management certificate at Ryerson University.
Andrea Ubell, MSW RSW
Director, Programs & Client Services
Andrea Ubell is the Director, Programs and Client Services at the Alzheimer Society of York Region, where she is responsible for the supervision of the Caregiver Support & Education program and the DAY Centre programs.
With her background in clinical social work, Andrea has been supporting families and individuals living with Alzheimer's disease and other dementias in York Region since 1992 through supportive counselling, support group facilitation and education groups.
Andrea has worked closely with the families to help them navigate through the disease process by advocating for services, linking to resources and assessing for respite DAY program services.
Her passion and commitment to easing the burden of Alzheimer's disease for those affected have earned her several awards. Andrea has a Master's degree in Social Work from Wilfred Laurier University, a Bachelor of Arts degree from Carlton University and post-graduate certificates in gerontology and human services management.