Research Partnership and $5M Funding
The Alzheimer Society of Alberta and Northwest Territories partners with Campus Alberta Neuroscience to launch funding competition for innovative research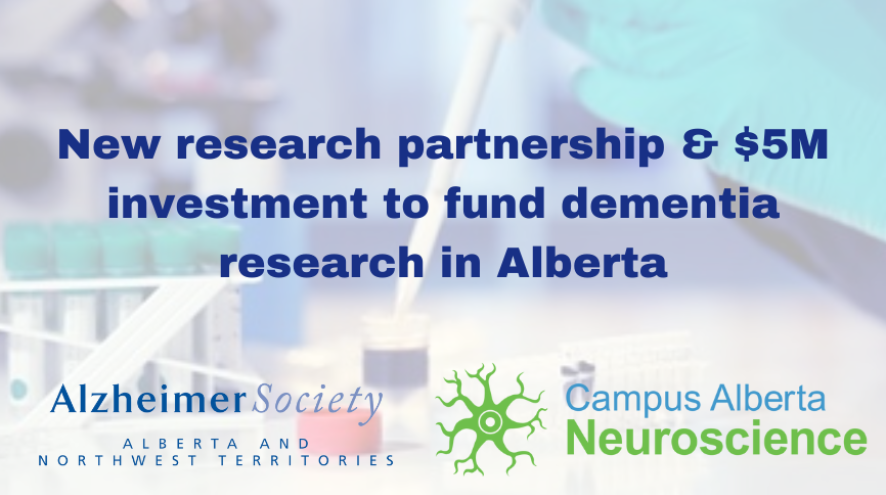 Neuroscience researchers at three Alberta universities will see a new source of funding for innovation in dementia knowledge and practice, thanks to a partnership between the Alzheimer Society of Alberta and Northwest Territories (AS AB/NT) and Campus Alberta Neuroscience (CAN). A new research competition will launch in September 2022, providing up to $1 million annually into high-priority areas concerning Alzheimer's and dementia. This initiative will enhance the quality of life for those living with dementia - in Alberta and beyond - and will generate new knowledge toward finding a cure.
"This is a great example of the work happening every day in our health system to develop better treatments and give patients a higher quality of life, with the support of groups like the Alzheimer Society. Thank you to the Society for this initiative and all the work they do on behalf of patients and families, and I'm proud to support this initiative and many others through Campus Alberta Neuroscience."

  — Jason Copping, Alberta Minister of Health
Alzheimer's and dementia in Alberta
"We all know someone whose life has been affected by Alzheimer's disease. Nobody wants to fade away or have a loved one forget who they are, but so far we haven't been able to stop Alzheimer's. Investing in research offers our community hope for the future, gives dementia the attention it deserves and moves us one step closer to finding a cure for this dreadful disease."

  — George Andrews, CEO of Alzheimer Society of Alberta and Northwest Territories
Research into the cause, prevention, treatment, and cure of dementia increases the potential to significantly improve the lives of the more than 58,000 Albertans living with dementia. Without the critical knowledge developed from research, dementia will continue to disrupt the lives of many more Albertans - up to 1 in 30 by 2043.
Current knowledge about dementia is limited. Though commonly associated with the aging process, dementia is not a normal part of aging. Dementia is a grouping of symptoms caused by damage to the brain from strokes and diseases like Alzheimer's. Exactly what causes dementia is unknown: it does not discriminate by demographic, and there is no prevention. People living with dementia may experience memory loss, mood changes, or trouble with thinking and language. Dementia is progressive, eventually disrupting a person's daily life and independence.
A partnership to boost dementia research
"Alzheimer's is a disease for which there is currently no effective treatment. By forming these strong partnerships, pooling resources, and providing funding into science, both of our organizations are more effective. This partnership enables not just extensive research into Alzheimer's disease, it also connects this research with the community that needs it, resulting in a better quality of life for Canadians."

  — Dr. David Park, Director of Hotchkiss Brain Institute and Chair of the Advisory Committee for Campus Alberta Neuroscience
Research partnerships are integral to boosting research impact in Alberta. For 10 years, CAN has supported this goal by connecting Albertan researchers and enabling collaborations between neuroscience departments at the Universities of Alberta, Calgary, and Lethbridge. Partnering with AS AB/NT further empowers CAN's network by activating the community and funding of a major stakeholder in dementia health, accelerating positive impacts on the lives of those living with Alzheimer's and dementia.
The partnership between AS AB/NT and CAN aims to amplify Alberta's capacity for research and community impact regarding the cause, prevention, and cure of age-related neurodegenerative diseases. AS AB/NT is committing a total investment of up to $5 million over five years, distributed through an annual research competition, administered by CAN. 
Hope for Tomorrow: A research competition
"Research funding is critical for advancing scientific discoveries and breakthroughs that will create a brighter future for Canadians who are impacted by or at risk of Alzheimer's disease and other forms of dementia. This partnership reinforces our commitment to helping Alberta researchers do outstanding work for Canadians." 

  — Dr. Svenja Espenhahn, Executive Director, Campus Alberta Neuroscience
The research competition will launch on September 21, World Alzheimer's Day, as part of the Hope for Tomorrow campaign and bring optimism to the search for a cure by supporting innovation in major research areas. This competition from AS AB/NT and CAN will support Alberta-based researchers in progressing the development of more effective treatments and building pathways to a cure.
To determine priority research areas, AS AB/NT and CAN are asking interested parties for their input, including researchers, people with lived experience, community groups, and any other stakeholders. To share your opinion on this important topic, complete the survey linked here before August 31.
About AS AB/NT, CAN and HBAD
AS AB/NT and CAN have a history of working together on Healthy Brain Aging and Dementia (HBAD) programs. CAN's HBAD initiative was established in 2012 to accelerate diagnostic advancements, improve cognitive health, and reduce the overall burden of dementia on Albertans through province-wide, multi-stakeholder collaboration. In support of this strategy, AS AB/NT has been a major sponsor of the Promoting Healthy Brain Aging Symposium and Preventing Dementia: Research and Translation Symposium since 2016. These events bring together experts from Alberta and around the world to share knowledge and contribute to the ongoing discussions about dementia and aging research.
The 2017 Hope for Tomorrow: Dementia Research Catalyst Grant also saw a collaboration between CAN and AS AB/NT. CAN supported three Alberta-based researchers with their applications, recognizing the significant potential of this investment into increased research capacity, as part of a larger strategy to improve dementia research and care within the province. CAN also contributed to the AS AB/NT joint commitment to develop a cross-provincial speaker series and researcher mobility program. These initiatives increased connections with national and international experts, elevated scientific discourse around dementia, and enhanced province-wide collaboration.

The Alzheimer Society of Alberta and Northwest Territories is working to change the face of dementia and improve the quality of life for those with the disease. Serving Alberta and the Northwest Territories, the Society offers a network of educational and support services for people diagnosed with dementia and their care partners, builds partnerships with health professionals and the community, and advances research into effective treatments and finding a cure for this devastating disease. To learn more about Alzheimer's, dementia, and the work done by AS AB/NT, or to get involved, please visit alzheimer.ab.ca.




Campus Alberta Neuroscience (CAN), established in 2012 with support from the Government of Alberta, is a province-wide neuroscience network connecting the Universities of Alberta, Calgary, and Lethbridge to increase the impact of neuroscience and mental health research, education, and translation, developing the province as an epicenter for neuroscience excellence. Through collaborative partnerships with researchers, government and health system stakeholders, industry and community organizations, CAN supports and accelerates innovative brain and mental health advances that improve brain health, patient care, and quality of life in Alberta and beyond.
Healthy Brain Aging and Dementia, or HBAD, is one of CAN's key focus areas. The HBAD Team is made up of CAN members - researchers in Alberta - covering the entire spectrum of HBAD research. As an overarching goal, the HBAD Team works to accelerate diagnostic advancements, improve cognitive health, and reduce the overall burden of dementia on Albertans. The HBAD Team has collaborative partnerships with a variety of Alberta health and research organizations, including AS AB/NT. HBAD members are also involved in developing the Alberta Dementia Strategy. To learn more about the HBAD Team and other CAN initiatives, visit albertaneuro.ca. 
Donate Today
Alzheimer Society of Alberta and Northwest Territories recently announced a $5M in research funding for innovations in dementia research.  This is made possible through the generosity of donors in our community.  Donate to our campaign now if you would like to invest in cutting-edge research and create Hope for Tomorrow. 
Press Release